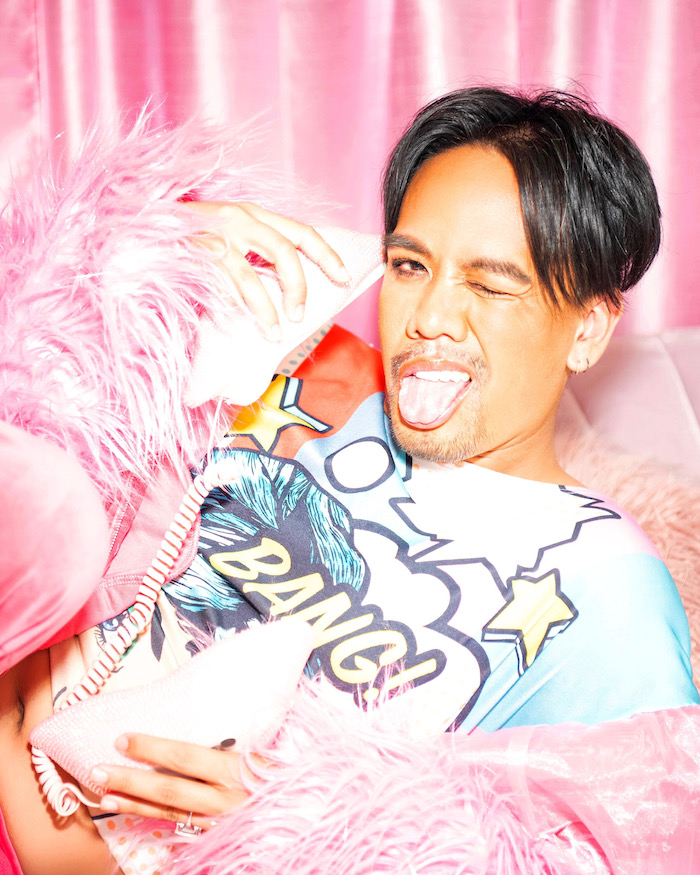 Rising superstar and recording artist Sir Christopher Saint has just released his sugary new pop dance single called "HAPPENIS." A vibrant personality and visionary activist for human rights, his mission is to "tell his own love story and share his experience as a queer artist of color." His goal is to communicate through his music, creating a legacy of love through his platform.
Aside from his new release, Christopher has proudly written the anthem for McDonald's' first ever House of Pride campaign and he's also written songs for Paris Hilton, Netflix, Verizon Media and Count the Nation. As an entrepreneur who has already been named in Forbes as one of "the Next 1000" in America in 2021, he hopes to continue empowering others with his music while spreading his message of love.
That's some crazy and cool song title. I love it, of course. What inspired the song?
It's quite a summer bop, for sure. I cowrote it with my friend, a fellow artist named Brooke Tomlinson. It really came from a sincere place. I wanted to write a song essentially about finding your soulmate and finding that person that you connect with, but in the songwriting process, that's sort of what came out. It was definitely an unexpected, magical moment. It reminds me of Katy Perry in 2008, when her whole teenage dream era came out and she would have peppermint swirls on her bustiers and was kind of dressed in candy, but she was sexy. That's the whole energy of it. The video is also fun and colorful, but has a fun little cheeky twist to it. 
Aside from your fabulous new release, you also wrote the LBGTQ anthem for McDonald's?
Yeah…it was really awesome. It's the first time that McDonald's wanted to lean into the queer community at that level. So they throw an event called "House of Pride." They had a whole billboard for it in Times Square and basically, this was the anthem for the event, which featured myself, two other queer artists and Laganja Estranja from RuPaul's Drag Race. The song was called "We've Got Love" and it's a very feelgood song. Honestly, it was an honor. This was one of these moments. Obviously, all of these corporate brands are starting to be a little bit more visible, whether or not it's authentic….but for me, being someone that doesn't have a huge platform yet and this being so early in my career, being chosen to write the song and be featured in it was very cool.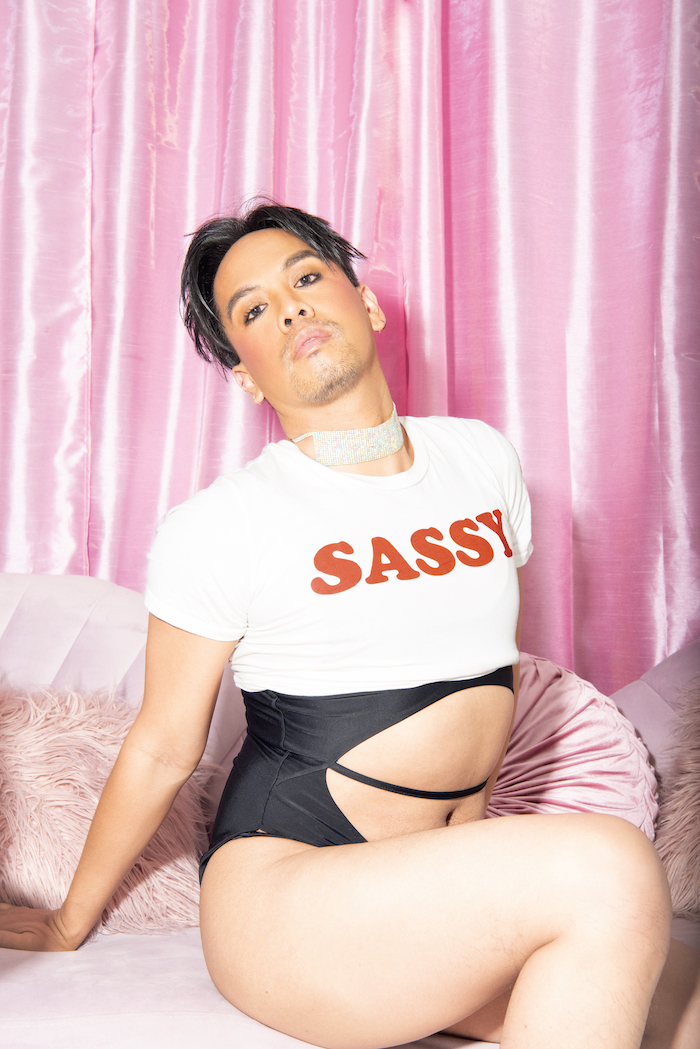 Why do you think you were chosen?
For me as an artist, I appreciate that I am here to call forth the light and the love for all of us, and I've always seen pop music as the platform for queer politics. I use pop music to galvanize people and to make them feel something. That could be anywhere from happiness to "We've Got Love", where it's actually us changing the dial and changing the way the world sees our community. It's something that I feel being able to tell a story through song, that ingredient if it feels genuine and authentic, it doesn't really matter where it comes from. People respond to it and are attracted to it.
Fabulous! What is your next project?
I have a fun song that I'm working on which is called "Let's Manifest" and is inspired by the fact that I am currently the head of socials for Paris Hilton and her media company. I work with Paris and all of her creative and social media stuff, so the video has that early 2000 nostalgia. It's really about transforming into this artist that I'm becoming and sort of embodying that. I'm excited about just coming into a character. 
You have also written songs for Paris, correct?
I wrote the song to promote her show. She just had a show last year in the summer called Cooking With Paris on Netflix. I wrote a song for her called "That's Hot." I wrote that around her signature phrase. It was one of those things that, as a kid, at 16 years old, I was closeted. 
I loved Britney Spears and I loved Paris Hilton. They were my idols. And as a kid, I always thought, "Why doesn't Paris have a song called 'That's Hot'?" Who would've thought that a little bit over a decade later, I would be working for her and writing music for her. I wrote a couple of other songs for her that she may record this year. I'm excited about that. Paris is also the world's highest paid female DJ. 
If you could have me ask you any question on the planet, what would it be and how would you answer it?
Question one would be "Who's my celebrity crush?" My celebrity crush is Zac Efron. Just putting it out there to the universe…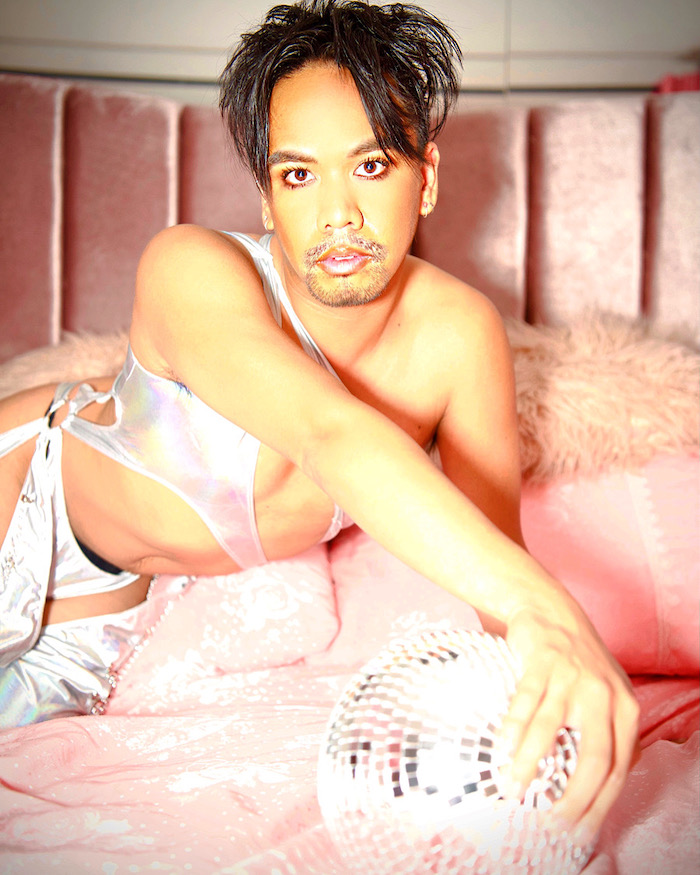 Of course he is.
More seriously, "Why do I want to be a pop star?" As an artist, I feel like artists are the ones that can articulate their creative vision. For me, I know that if there was an artist like me when I was growing up, for the three decades that I did not live authentically, my life would've been changed. I was the first artist to perform on the city of West Hollywood's stage for Pride. It was a stage that they constructed right in the middle of the street in 2019. Usually, Pride festival has the festival grounds and you buy tickets to go into it. But this was a stage they put right in the middle of Santa Monica Boulevard. So, whether you were gay, straight or whatever, if you were just passing through, you were seeing these artists perform. I had this 30-foot LED screen behind me that said "God loves all of us". I feel like for me and my journey of self discovery and self-love, I've always had a soft core for everyone in the queer community. We are so resilient and so strong and so vibrant. We have to survive and persevere, even though being fractured from who we are. I think that the more we could be celebrated and lifted as artists and as talented individuals that contribute to the betterment of this planet is why I'm fighting so hard. I own a company and was on Forbes' list last year. I am an entrepreneur and I can support my own music. I am completely self funded. I find my visuals and my art myself and I'm really proud of that.