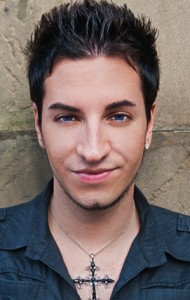 Former boy-bander Adam Barta is all grown up now, hitting the Billboard and Logo Click List charts and working with the industry's top producers. The Bronx-born performer is being compared to Lambert and Gaga and is hitting the ground running on the gay scene with his most recent smash hit "VIP."
Get Out!: You've had a number of dance/club hits. Describe the feeling you get when you're in the recording studio. Which song was your favorite to record? Which one are you most proud of?
Barta: Recording is a mixed bag for me. It can be fun and exciting but it also can be pretty grueling and emotionally draining. However, when you walk away with something that's amazing, it's all totally worth it. To really get into the heart of song, you have to emotionally be able to connect with the words, and when you are in a studio, you have a chance to do that and really make it perfect. The only problem is, if something's off, you have to repeat it, over and over. Redrawing out that emotion each time can take a lot out of you, but it's the most rewarding.
The song I am most proud of would be "Q&A." I got to work with Mr. Mig, who has produced for everyone from Akon to Taylor Swift. We wanted to change up my sound a bit from dance to more R&B pop and have it be more emotionally intense. I wrote it about a past love, and using those kinds of experiences often makes the best music because they have the most passion put into them, and thus more people can really connect to them, which is what it's all about.
The one that was my favorite to record would have to be "VIP." I got to work two awesome producers, Mysto and Pizzi, who are totally hot right now on the scene (they've produced tracks for R. Kelly, Kelly Rowland and more!). If you aren't having fun while you are singing about popping bottles and kissing lots, there's something wrong.
G: What do you have to say about celebrities/artists who stay in the closet, as well as those who eventually come out (most recently Vanessa Carlton and Ricky Martin come to mind)? Are we past the age where sexuality matters for a high-profile individual?
B: Who knew Vanessa Carlton was gay! She's incredibly talented (and so is Ricky for that matter) so maybe there's something to be said for the gay "gene" adding a bit of artistic genius, LOL. But seriously, I don't consider myself openly gay in the regard that if I chose to have a girlfriend, I'd want people to be okay with that in the same regard as if I chose to have a boyfriend.
We as artists shouldn't have to hide WHO we are but it's OK I think to acknowledge or ask that what we do in our personal lives is sacred to us. I really believe in taking away the brand from "straight vs. gay" artists and just make it about the music and art above anything else. People like Gaga and Lambert are doing that, and following on a trend that I think Grace Jones and Bowie started so many years ago, infusing this hybrid of glam-rock with pop with everything else and not have it be "gay" but just overall COOL.
I think any artist–straight or gay–needs to embrace the fans and the people who love their music. And that might be the best way to move forward with a big step for equality for all of us. The gay community has been amazing to me, and I want to do as much as I can back to love them.
G: You have said you wanted to be a performer since you were a little boy. But performing and being a professional performer are two different things. How, when and why did you decide that is what you wanted to do for a living?
B: I think it was just a natural progression for me. The business aspect of it pains me sometimes, and it gets so distracting from the art part of it, which is why I'm so lucky to have such a great team behind me. My manager Shaun (Shakir Entertainment) and publicist Robyn (R*Star Publicity) have both been a blessing in helping to keep my career on path. But I think in order for me to do it as much as I love, I had to make it my career, otherwise I'd never be able to do things on the grand scale that I want. I have this vision for myself doing a full concert on tour, and so many cool concepts I want to share, but the only way for that to happen is to financially and successfully get to the place where I'm able to do it with my own creative control.
G: Are you single? Looking, or open to the possibility? Is it difficult to develop and maintain relationships when people already have a preconceived notion of who you are before they meet you?
B: Single, definitely open to the possibility! It can be hard to meet people, even as friends, because both guys and girls can latch on for the wrong reasons, sometimes without even realizing they are liking the performer and not the real me. And even if they don't know who I am, it's always hard to tell someone that my music is so involved in my life, without knowing how they will react. I've actually gone on dates where people have told me they couldn't date me because they felt intimidated. But it's no different than dating a doctor who may be on call most of the time, or a lawyer dedicated to a case. Passion drives me, and I'd want someone to respect that.
G: What are a few songs in your iTunes collection that people would be surprised you have?
B: Randomly, "As the World Falls Down" by David Bowie (from the movie "Labyrinth"), "Milk" by Garbage, "Amnesty" by SK8.
G: I heard you're performing at "Market Days" in Chicago in August. Can you elaborate?
B: I'm currently working on a new single with Carlprit, the rapper from Cascada's "Evacuate the Dancefloor." We are meeting with a few record labels later this month regarding it and I'm really feeling good about it. Market Days is one of the biggest gay street festivals in the country held every year, and I'm honored to be one of the headliners this year along with Joan Jett, Jon Secada, Blake Lewis, Jennifer Holliday and White Tie Affair. I'm performing Sunday, August 8th, on the big stage. I'm putting together a 40-minute set like I've never done before. My two dancers, Dana (who has danced for the NY Knicks) and Katie and I are going to be doing everything from a jazzed-up version of my dance single "I Wanna Hold You" set to the song "Fever" to a dominatrix-ish style "VIP." I'm definitely excited to put together an actual story and show to go with the songs than just performing them, and hopefully this is just the start.
Catch "V.I.P." on HBO Zone's "Feedback" and at Vevo.com, MTV.com and on Logo's "Click List Countdown," or buy it on iTunes. We recommend: "V.I.P. – Mixin Marc & Tony Svejda Explicit Extended" mix.