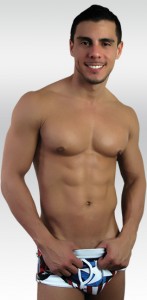 How has go-go dancing added to your life?
It's allowed me to be more open with people.
What can you tell someone who is looking to get into gogo dancing?
Be focused, have fun and always stay on point to your goal.
What is the wildest things that's ever happened to you when dancing?
Does getting poked in the butt by a plastic sword by a drunk for Halloween count?
Do you think male gogo dancers are more competitive than female gogo dancers?
It's 50/50.
Can you tell me about the gogo doll aka G Doll?
People have always asked if they could take me home, so I thought twenty bucks and I'm all yours—the doll, that is.
Is there someone in the dance industry who has inspired you to do all that you do?
Travis Payne.
What other endeavors have you ventured into?
Well, I created the go-go doll, started a line of go-go gear, and that's just the start of it at this point.
If you can let the public know one thing about G what would that be?
I love Subway cookies.
Where do you see yourself in five years?
Hmm, I'll have to get back to you on that in the sixth year.
Check out www.gogoidol.net and www.swirlrecords.net.
– Frankie C