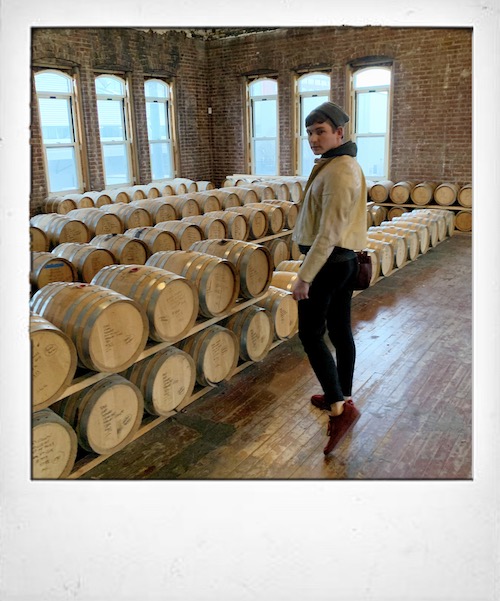 When my friend Jack asked me to go to a whiskey tour & tasting, my answer was a resounding "Uhm… Why?"
I don't like whiskey—most people know that, certainly my best friend—furthermore, I find most of those tours boring. I don't need to know the history of Rose, Karen—I came here to get drunk.
"What else are you doing today?" Jack asked. That I didn't have an answer for, and before I knew it I was in a cab with three friends in our way to Brooklyn.
We arrived at Kings County Distillery, New York City's oldest and largest craft distillery. I expected it to smell overwhelmingly like whiskey, but it didn't: it smelled like yeast. I imagined someone making bread, likely the hipster in a beanie and plaid flannel that was mixing liquids in the corner of the work room.
We went upstairs to a large room that resembled a museum: there were old photos on the walls with long descriptions below, and a lot of old equipment scattered around. This set the scene for the beginning of our tour: The history of whiskey.
After that, our tour guide (in a cheery, bright green sweatshirt that contradicted his quiet, cool Brooklyn manner) walked us into a room with all of their barrels of whisky, explaining how they age them and make sure the taste is perfect. (I particularly liked his story of the sisterhood of the traveling barrel [phrase coined by me]: a syrup company bought a used barrel to make a whiskey syrup in, and afterward Kings County Distillery bought the barrel back and made a sweet syrup whiskey.)
Finally, we made our way into their tasting room, sampling 8 whiskeys. I tasted each of them—but JUST a taste, giving the remainder of my plastic shot cup to Derrick beside me, just to make sure he'd be more drunk than any of us. Afterward, we asked the tour guide to try one more, a grapefruit whiskey—it tasted like a margarita. Even I had to admit it was delicious.
When the tour was over (and my friends bought more whiskey than they could carry) we headed to their bar, The Gatehouse, a gorgeous little spot a short walk from the distillery. This room did smell overwhelmingly like whiskey—but by then I'd gotten used to it, even ordering a whiskey Bloody Mary. If you're not a whiskey fan like me, I'd still take my chances trying the tour out—and if you DO like whiskey, there's really no question at all.
@kingscountydistillery
Kingscountydistillery.com