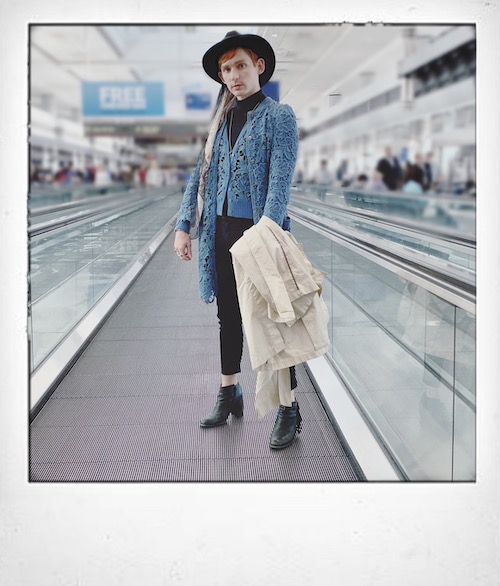 Thanksgiving is a perfect excuse to get out of the city for a long weekend.

My first Thanksgiving in New York, I was not so lucky: I couldn't afford the time off from my hourly job ($10/hour in 2012), let alone the $600 plane ticket (New York to Iowa never fails to be around $600 round trip), so I stayed in, eating McDonald's by myself on a mattress on the floor. (We've all been there—right?)

Last year, however, better paystub in hand (and my mattress on a bed frame), I bought two tickets to take my boyfriend home for Thanksgiving.

Well, not actually home: A year ago my grandparents moved from Iowa to Nebraska, a few houses down from my mom's sister, and they'd decided to host there. I'd never been to Nebraska before. The North Platte airport is the smallest I've ever been in, one plane at a time. I stepped off the plane in a dusty blue lace Dolce & Gabbana jacket and immediately faced an old-school diner attached to the airport. ("Everyone loves it," my grandmother assured me later.)

My grandfather made six pies, as is tradition. (That's not an exaggeration, and if you've ever tried his pies, you'll know that all six of them, homemade crusts and all, were devoured in entirety.) For Thanksgiving dinner, the Lawrences go ham: with ham, turkey, stuffing (always my favorite), homemade cranberry sauce, mashed potatoes and noodle gravy (a family secret recipe of my late Great Grandma Lawrence, which none of us have quite gotten right since her death); the list goes on and on. My grandparents, chefs at heart, make everything themselves from scratch.

It was the first time my boyfriend met my family, and both of our first times in Nebraska. We ate too much food; we drank too much wine; we watched the entire series of "Brain Dead" with my aunt and uncle; we got a VIP tour of my aunt's library; we even found a few Nancy Drew books at a local bookstore, guarded by a live-in cat. (My boyfriend and I are after the entire original collection: The only rule is we have to find them in person at bookstores, never online.)

It was an incredible time, but my Thanksgivings with family aren't my only memorable ones. I'll never forget the year I stayed in New York and brought cocktail shrimp to a Friendsgiving. (The food took a bit longer than planned to make; the cocktail shrimp served as a perfect pre-meal appetizer.) The key to a perfect Friendsgiving is doing a potluck: You'll get all kinds of food you never imaged at a Thanksgiving table, and everyone always brings at least one bottle of wine. The more, the merrier!

Whether you're getting out of New York to see family, or staying in New York with the family you've made for yourself: Happy Thanksgiving. Eat some extra stuffing for me!