Everyone's favorite teddy bear, Daniel Franzese, will host three LIVE episodes of Teddy Talks on the GROWLr app, beginning this Friday night at 9pmET.   He will discuss several topics including body image, using humor to navigate through life, and what it's like to be bearly famous.  Additional shows on 10/2 and 10/9.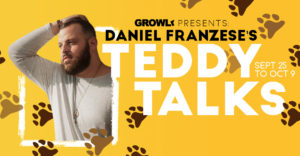 "When GROWLr approached me about doing these live events, I saw it as a great opportunity to speak to the community that has embraced me since day one," Daniel Franzese says from his home in Los Angeles. "Once GROWLr and I decided to collaborate I joined the Live streams daily. I'm building friendships and community in my streams because I want to know my audience and communicate personally. I don't want to talk AT the audience, I want to talk WITH my peers."
The Teddy Talks shows will stream on GROWLr Live, the in-app live video broadcasting feature on its gay dating mobile application, GROWLr.  It follows and expands upon recent live virtual presentations and performances from queer nightlife celebrities Big Dipper, Jackie Beat and Varla Jean Merman.
"GROWLr began hosting these live entertainment shows in May, after bars and clubs first closed due to the pandemic," says Phil Henricks, Senior Director of Marketing at GROWLr.  "The response has been overwhelmingly positive."
According to Henricks, GROWLr has wanted to work with Daniel for some time.  "He's a strong and visible member of our bear community.  We're incredibly excited about the partnership and look forward to his live streams."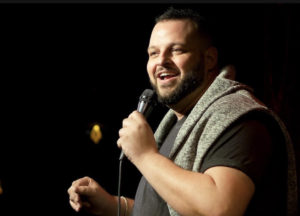 Each interactive Teddy Talks show will be one hour-long, starting at 9pm ET.
On Friday, September 25, Franzese presents "Bearly Famous: Being a Bear Star in a non-Bear World."  He will discuss his experiences in film, television, theater and stand-up comedy and takes questions from the audience.
The next Friday, October 2, Franzese will present "Stay Hungry, Never Thirsty."  He will talk intimately about body acceptance, self-worth and self-esteem; and offer tips on how to have an egoless healthy relationship with yourself.
On the final Friday, October 9, Franzese will present "Bear Cub Comedy Club," hosting insightful chats with comedians and writers in the bear community with each sharing their unique experiences and perspectives in using humor to navigate their lives.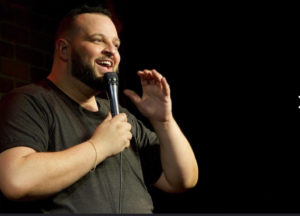 All three of Daniel Franzese's TEDDY TALKS shows are free to everyone on the GROWLr app.
"The Bear community is and always will be my people and I have a lot of thoughts to share,"  Daniel Franzese says. "It is one of the most underrepresented communities in the LGBTQ+ spectrum.  It is time we bears rise up to who we all are which is, in my opinion, the kindest and most welcoming part of the gay community."
GROWLr is owned and operated by The Meet Group, Inc.