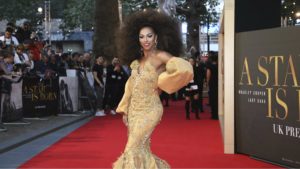 Whether she is singing, acting, or dancing her heart out on RuPaul's Drag Race, Shangela is like that delicious piece of cotton candy that you simply can't get enough of. This entertainer has always had star dust in her eyes, but only when Lady Gaga hand picked her for a role in A Star Is Born did the rest of the world start to see what many of us have known for ages. I caught up with Shangela post A Star Is Born's London premiere to talk about working with Bradley Cooper and Lady Gaga, living with another fabulous living legend, and how her brand new one woman show will have us all "Shook"! 
I recently saw you at REBAR in Chelsea post Drag Con and when you tipped drag darling Zeta Jones, everyone noticed Shangela! Does it ever get tiring when people come up to say hi?
Oh I had a great time there! Anytime you see me out, come over and say hello I don't mind at all! 
You are in the biggest movie in the nation right now, playing (what else) the owner of a drag club in A Star Is Born. Are you still able to soak in all of this wonderful positive energy?
I am absolutely thrilled! I feel like Cinderella at the ball, don't let it be midnight!
Does it almost feel like you are watching someone else on screen when you see your first scenes? it must be completely surreal.
To be honest, people have to remind me to take it all in. People will say "oh my god can you believe this is happening" and it reminds me to stop and take it in. You know me, I'm a "Werqin Bitch"; I'm on a one hundred and eighty one city tour this year. I am so thankful to have a number of jobs and protects that I am working on. I love this and I am so excited to have this moment, but to this day she is ready to work right now!
You were handpicked by Lady Gaga to audition for the role in A Star Is Born. Did you know that you had made such an impact to someone that herself has made such an impact in the world?
I did not realize that she remembered me, but I certainly was thankful that she did! When "LG" puts out the call for you to do something, honey you answer. The fact that she hand picked me for that, I take that with a lot of honor and I thank her so much. I also was there to do my absolute best work because I wanted to make her proud.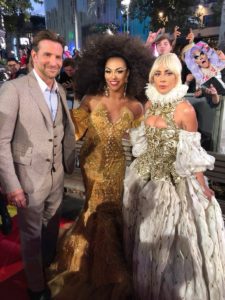 Many of us followed you from the beginning of your career, from your first moments on Season Two of RuPaul's Drag Race to your return in Season Three, and your amazing run on All Stars 3. That, coupled with your role in A Star Is Born, it's almost like Baby Shangie has almost become Mama Shangie.
It's so funny you say that. In the remix to RuPaul's song "Kitty Girl" that we did for the All Stars 3 finale, I wrote the line "started as baby now I'm all grown up". I definitely feel that way and I am very thankful that we are in this moment where I can truly feel like all of the skills that I need to be the very best drag entertainer I can be have all caught up to each other. I am always thankful to RuPaul's Drag Race for being there. I am also so thankful to my fans who have really been with me since I came in the door on Season Two with a dream and no makeup on! (laughs)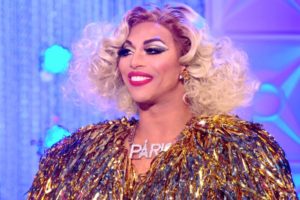 Being on a set with people like Lady Gaga and Bradley Cooper on A Star Is Born and being directed by Bradley Cooper, there have to be some nuggets of wisdom that they gave you that you are going to be able to take with you and apply them later on in your career right?
Well you know, Gaga told me once in the dressing room during one of our breaks, she looked at me and said "Shang' you're really good at this, you should consider doing this and working as an actor". Now part of me wanted to tell her about me guest starring on Two Broke Girls and Glee but I simply said "thank you" and "I will Gaga". That really meant something to me. To hear that from someone at the top of their game, not just as an actor, but as an entertainer. In this film she was everything that you would want and more. To get that kind of validation and encouragement from her, it really meant a lot and I am definitely going to keep pushing forward.
Let's talk about All Stars 3. The last time we saw you the fans were ready to take to the streets when you didn't snag the All Stars 3 crown. Have you yourself managed to move past that loss and onto the next chapter of your career? Or does it now make you not necessarily take people at face value any longer?
Well, it did motivate me to write my new one hour cabaret and performance show called Shangela is Shook! I am going to be touring that in the UK in large theaters as well as an upcoming tour in Australia and in Asia, so that is fun.
Honestly, in that moment at the time I was very sad abut how I did not get the opportunity to lip sync. I will say this though, it really motivated me to keep doing more. I think that is my whole story and my whole journey on Drag Race. Get told no, come back stronger. Then, get told no, come back stronger. I will always be thankful to World Of Wonder and the Drag Race franchise for the opportunity to be a better me, and the show has really taught me to be a better me. Even All Stars 3, the show taught me to do that. I couldn't let it take me down! And who knows honey, I may come back again, I'm Shangela!
Where does this take you now? You are featured in the biggest movie in the world, you have a huge tour currently going on, and a one-woman show happening; where does Shangela go from here?
You are right, and that tour is one hundred and eighty one stops. It is the largest single person tour in all of the Drag Race contestant history. I am thankful for that and to the fans that come out and fill up these places. In addition to that, I am going to keep working as an actor. We filmed Hurricane Bianca 2 which is on Netflix currently.  I am featured in a couple episodes of my drag mother Alyssa Edwards Dancing Queen series which is also on Netflix. I have a new song called "Pay Me" on iTunes . I am looking to continue to explore as many opportunities as possible. There are some people in LA that I would love to work with. Writers like Lena Waithe, and of course Miss Shonda Rhimes. I just want to be out there to let them know that I am available for hire!
The legendary Jenifer Lewis is a godmother of sorts to you, you had a web series and you live in her home also. What advice have you taken from her that has set the path for your career?
Oh so much! Jenifer is a wealth of knowledge. She is not only a friend, but a mentor, a guru almost. She has helped shape who I am as an entertainer is Los Angeles, and has helped me ride the wave. There is so much she has taught me, but I think the best piece of advice she has given me is "know who you are". She said that the entertainment world can be rough, there are a lot of great ups and there can be a lot of downs also. There is a lot of rejection and you have to know who you are before you go in that audition room, so you know who you are when you come out. That to me, gives me the motivation to be a better person before even being a better actor. I want to be the best actor possible, but I also want to be great person. and Jenifer is a great person. In addition to her being fabulously talented and entertaining, she is also a really good person and that is all I can hope to be as well.