After two seasons of RuPaul's Drag Race, many would think that they have seen almost everything there is to see of Texas's dancing diva, Alyssa Edwards. The man behind Edwards, Justin Johnson is ready to step in front of the camera in the new Netflix show Dancing Queen. Set in his Beyond Belief Dance School, Johnson's life is filled with love, laughter, and some heartwarming surprises (tissues should be required viewing for some of the episodes). While interviewing Alyssa Edwards several times has been a treat, this was my first time talking with the man behind the force of nature that is Alyssa Edwards, We talked about how difficult it was to be open on camera, what the children of Beyond Belief mean to him, and looking back on his career, what is next for this multi faceted dynamo.
Dancing Queen is absolutely spectacular; I laughed, I cried, it was better than Cats!
(Laughs). Thank you! I think I did the same actually! Watching it I usually am so guarded and I am so proud of myself that I allowed myself to be so vulnerable around other people.
Your alter ego Alyssa Edwards is such a dynamic and outgoing personality, yet on Dancing Queen we really got the opportunity to see Justin. Do you think that is a fair assessment?
You know what, yes I do. I watched it and I said to myself "you know what Justin, you are a human after all". You have feelings and there is so much heart in this. When this all came about, I did not want to do things like this, it's not what I do, it's not what I am creating at my school, I am not about that.
https://www.imdb.com/videoplayer/vi2042411545
What do you think is that hardest thing for you to be open about that you now decided to face.
To really face things that I have hidden away. Things that I have packed up, hidden away and put in the attic. I thought, the more I do, the more I do, the more I do, then the less I will have to face those things. I am sitting across from my sister and I told her that "I wanted to tell you this for years". If I had left things alone, I used to think that things would always work out, like life always did.
You clearly learned so many lessons from your seasons and guest spots on RuPaul's Drag Race. Conversely,what lessons are there that you have learned through your Dancing Queen experience that you did not realize you still had yet to learn?
Justin you are human. Its ok to cry. It's ok to fall. Its ok to lay there, gather your thoughts, jump back up and keep it moving. I have also learned that my role as an entertainer is so much bigger than just being a drag queen. My learn as being a teacher is so much bigger than me just being a teacher! I watch the show and I start crying because these kids really look up to me and really value my opinion and sharing my expertise and its important for me to handle that with care. These kids are the future of today and the future of tomorrow. I want them to leave my studio with not just great dance technique, but I want them to leave being good people and great humans, as they go into society.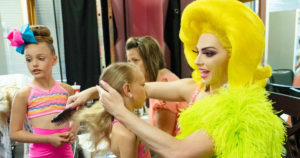 "Beyond Belief Dance Company" is a business and is so much of who you are as a performer and a person. Tell me what these kids mean to you.
They are the closest thing that I will ever have to children. Unless there is a plot twist, and I am open to that (laughs). I just think that Beyond Belief completes me; it's my family. That and the House of Edwards, that is my family. That is why on the sign it says "Beyond Belief Dance Company-A Family Of Champions". We are a family and I have built that out of a garage, and I am so proud of it. For me, I can say proudly that it is the greatest accomplishment of my life.
You do see some of the dance mother's venturing into Real Housewives territory during some of the scenes. Was it hard ensuring that the show stayed focused on the heart that is Beyond Belief and not delve too into the catfight territory?
The only thing I wanted to guarantee was that it be one hundred percent authentic and real. You are not contriving situations in your head. Contrary to belief, I am okay with those intense situations because those situations are filled with passion and heart, you can see it. We are all there for each other and all there for the reason and the rhyme. That is my purpose. For me, I don't ever allow it to get too dark. you can tell when the storm clouds are coming in and you just get your umbrella out! I have learned how to do that.
So the children are almost like extended family for you it seems, correct?                                                                               Here's the thing, the lines can be a little blurred. I go to these kids school functions and am very involved with their lives, its not just the business; I really like these people. We have one little girl  and she is a second generation Beyond Belief; I helped her apply for college and make her future plans. I have gone to these kids weddings and done their makeup. I know today I am so tired, I stayed up and watched the entire series and was so full of emotion. I know today that I am a very blessed man. I have everything that I have ever dreamed, imagined, or could have hoped for. The young little gay boy that was awkward and a little lost, I have found that path and it was well lit and it was my yellow brick road. It is just amazing. The feeling that I have right now, I cannot even put it into words.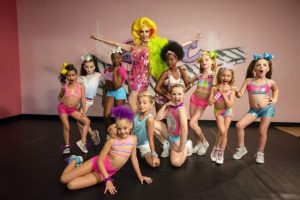 What do you tell the little boy out there who is watching Beyond Belief and says "I want to do that"; what is your message to him?
When I saw the Rocky Horror Picture Show and I saw that phrase "don't dream it be it" it never left me; I ingrained that in my mind. If you ever have an idea, a dream or a goal, stay steadfast. Just know that there will be dark times. There will be a light and even if that light is inside you, allow that light to shine inside you. Remember that it will get better. I am glad that I held onto that light. This chapter, chapter thirty eight…oh my gosh-it is so beautiful.
Is there going to be room in your life for a Mr. Justin Johnson perhaps?
You saw me trying to date and how awkward that was. I can say today that I have found my missing puzzle piece. We have been year together and he teaches dance as well. He gets me and my quirkiness and celebrates me and appreciates when when my shoes don't match and my socks don't match and I don't brush my hair. (laughs). We see now in todays time, it is very hard for these kids and they are taking their own lives so I am terribly lucky.
You are now part of the Netflix family. if you had to guest star on, say Grace and Frankie and you had to totally choreograph a number for Lily Tomlin and Jane Fonda, would you love that?
Are you kidding me?! Oh my god YES (laughs). See, that would be hard, because I would have to do my job or would I be that little gay boy who tells them about watching 9to5? (laughs). This show is going to open up so many windows of hope for so many little boys and girls, and so many adults and families! I am glad that this is done so beautifully and how Netflix handled it with care. I hope you all enjoy it as much as I enjoyed making it. 
Dancing Queen is streaming now on Netflix