Hailing straight from the tiny southern European country of Montenegro, Slavko Kalezi?, aka Slavko, rose to international fame after performing in the 2017 Eurovision Song Contest, the most widely watched show in the world (after the Super Bowl), which has a loyal LGBTQ fan base. Slavko continued to impress audiences and judges Simon Cowell and Nicole Scherzinger that year with his signature hair twirls and sultry style and vocals in the X Factor UK. Since then, Slavko has made a major dent in the European music scene, performing all over the continent and in Australia in 2018 too.
The Balkan pop star will be making his American debut this month at Hardware Bar and meeting fans as part of the EurovisioNYC (facebook.com/EurovisioNYC) fan club party, performing his Eurovision hit "Space" along with some of his original songs. We got a chance to catch up with the entertainer shortly before his arrival.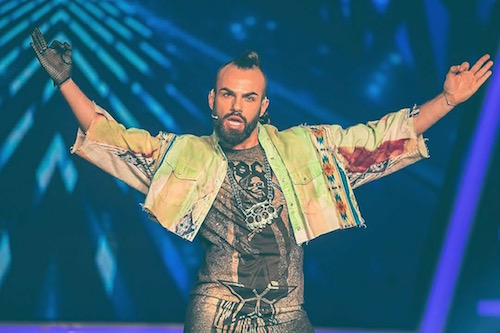 If you had to describe yourself in three words, what would they be?
Talented, brave and true.
What were the highlights for you during your time at Eurovision?
Visiting so many countries. Meeting a lot of beautiful people. Having a chance to show the world my artistic vision and talent—it's such a big honor and blessing. When I said at the end of the [Eurovison] performance, "Majko, volim te!", which means, "Mum, I love you!"
Who are your biggest musical inspirations?
One and only Beyoncé.
How exactly would you describe your music to American audiences?
My music is not only for listening; it is also for watching. I deliver performance to the audience. I am walking, performing art.
What type of message do you hope to bring to audiences with your music?
Just to be free. To be true to yourself. Freedom is priceless. Whatever you want to do, do with full passion and work really hard towards it. Don't look anywhere else. There will be a few distractions, but if you can be true to yourself, you will be successful for sure.
Apart from performing here in New York, what's in store for you this year?
I am working on a new music project, an EP. It will be very interesting and special. I will also be doing videos for songs. I am preparing a huge show where I will represent the whole project. I am very busy at the theatre. I will also travel the world and deliver my performances. There will be a lot of surprises, I promise!
See Slavko live at the EurovisioNYC party on February 16 at Hardware Bar! Visit the Facebook page for more details (facebook.com/events/2101976840027208).
Find out more about Slavko on his website at slavko.me.