'She's Ferosh' Tracy Young Never Gets Old
Tracy Young is celebrating her birthday in style this year with a VIP celebration at District 36 on November 10 hosted by downtown fashionista Patricia Field. The superstar DJ/producer has a lot to celebrate. For two decades, Young has delivered empowering energy through dance music, spinning the hottest tracks, concocting the fiercest beats and headlining the globe's largest, most exciting events. Now she's bringing that youthful exuberance to retail stores, with her first-ever T-shirt and gift collection, Ferosh Wear. The line features tees, buttons and even backpacks with inspiring slogans like "4Ever Young" and "NY Says I Do." With her merchandising and production ventures (including her annual Genesis New Year's bash in Miami) plus a book in the works, Young is proving she is more than the girl behind the DJ booth.
What inspired you to merchandise yourself?
My fans have heard me and seen me. Now I want them to wear me. The slogan for the line is Forever Young. I'm very excited about it.
What does Ferosh mean?
Ferosh is short for ferocious. I once witnessed Alan T. working it in my studio and I said "Ferosh!" We recorded the line for a song called Ferosh. It's available on iTunes.
What is your best seller?
The Forever Young tee. I think because most of us can relate with wanting to be young forever: young in our minds, hearts and appearance.
Have you thought about designing an anti-bullying tee for the line?
Absolutely! That is definitely a message that needs to be spoken louder, and I fully support that. When New York passed gay marriage we did the "NY says I Do" T-shirt, and it's doing well. Bullying is next on Ferosh Wear's agenda.
Will you ever grow tired of the DJ life? What do you love most about it?
DJing is the focal point of my career and my passion in life. However, I do get tired of certain aspects. The hours are hard at times, and the travel isn't easy. I'm so grateful to still be remaining strong in this business after 22 years. Now, I'm concentrating on building and expanding into new artistic ventures.
What's left for you to do?
I have so much more to do. I've been writing more original music and also screenplays and books. There's more television to explore, and I plan to win a Grammy. I like to joke that I'm part octopus. I get my hands into everything. I like to challenge myself with new projects and ideas.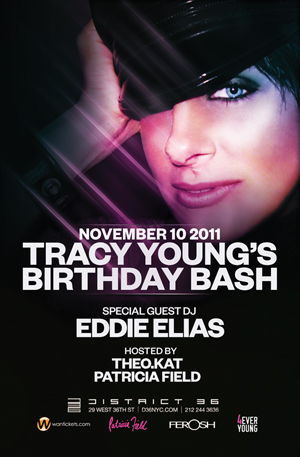 It's fitting that Patricia Field will be on hand to celebrate the birthday of the ultimate city girl.
The funny thing is I'm actually from Virginia, and I consider myself very country. My dream house would have a few acres of land, a lake and a large quantity of cocktails that I could enjoy with good company and conversation. I often visit my family's Chesapeake Bay cottage and ride my bicycle through the countryside.
Who would you most like to see wearing your shirt?
I create things that I think would look ferosh on everyone and their pets. We all have the right to feel forever young.
Especially as we celebrate a new birthday. Happy Birthday, Miss Young!
Don't say it now. Wait to wish it to me in person at District 36!
Tracy Young's Birthday Bash takes place Thursday, November 10th at District 36 with special guest DJ Eddie Elias. TKTS available @ wantickets.com
Ferosh Wear is available now at Cafepress.com/feroshwear

– Randy Guestello