Time to "Protect Your Backside"—literally—an MD's Point of view.
Scientific reports on the incidences of sexual device-related injuries are on the incline—and often life-threatening—causing reputed Radiologist Dr. Brendan Miner to take action by developing a simple yet effective safety device to mitigate one of the most preventable medical conditions due to improper insertion.
Dr. Brendan Miner, MD, is a radiologist in Florida who trained at the Mayo Clinic and has practiced Medicine for 24 years. As a radiologist, he has seen several hundred thousand studies in his career, including cases of accidentally retained sex toys in the rectum. He explains below further below.
Use of sex toys has become common with the sex toy industry anticipating sales of approximately $30 billion in sales worldwide by 2020. I have seen an increasing number of lodged/stuck sex toys in the rectum which is a serious condition requiring medical attention. If you lose your toy in the rectum, one can try to carefully extract the toy if you or your partner can see it. If it goes into or above the rectum, prompt medical care is important, as many cases are made more complicated and severe by delayed treatment as a result of reluctance to seek care due to embarrassment or other reasons.
The delay can cause significant issues with bleeding, damage to the colon or sphincter mechanism, as well as potential perforation with potential for death, which has been reported. If the motor is still vibrating, there can be increased damage to the lining of the rectum or colon, depending on the place of impaction. Typically when a patient presents to the ER with pain, discomfort, or bleeding related to a retained sex toy, they will be assessed by a physician, and often times undergo an x-ray or CAT scan to confirm retained toy, which is when I get involved as a radiologist. Once a toy is documented, attempted retrieval can be performed after mild sedation, or for more complicated cases, under anesthesia or retrieval by means of an operation.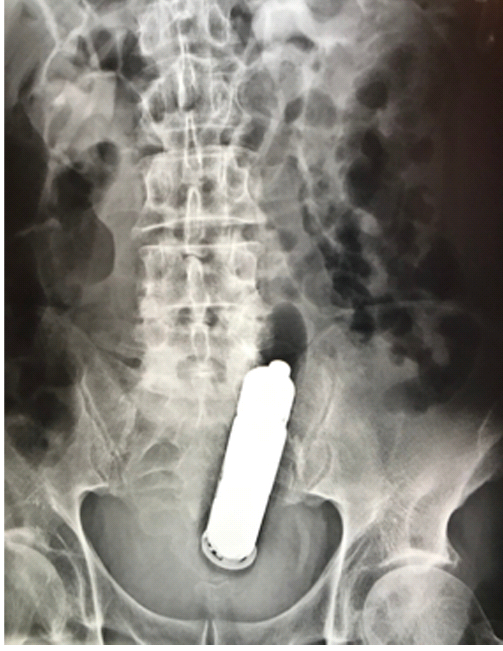 Unfortunate cases can result in the removal of the damaged rectum or colon and a diverting ostomy bag on the skin. It can be difficult to grasp the toys with a scope, which is why operations may be necessary. There will be a period of observation afterwards typically to ensure a full recovery.
In Europe, there are ongoing efforts to regulate the sex toy industry for increased safety to decrease or avoid these complications. Similar efforts will likely follow in the United States. There are designs currently available to make sex toys safer.
Most individuals have a wonderful and safe experience with sex toys. Since accidents do happen, it pays to be educated before you use sex toys, particular about potentially preventable complications.
Although many leading sex toy manufacturers and brands may attempt at reducing the risk of injury through the use of flared discs and suction at the end of sex toys to prevent them from becoming severely lodged and stuck in the anal and/or vaginal cavity, injuries continue to occur and increase in ER visits that lead to surgery due to its flawed design.
The RISE (Revolutionary Industry Changing Safety Enhancement) technology was developed with the ingenuity of a doctor and the simplicity of the end-user who doesn't want to worry about an ER visit during a moment of intimacy. While this product is not yet on the market, you can keep a lookout for this crucial safety innovation that serves to not only enhance pleasurable sensation, but also mitigate risk that comes with insertion.
For more information and inquiries on licensing this patent for your product line, email ruthi@iconnectyou.today.