"Night of A Thousand Gowns"
Empress XXXII Gaye Banter Emperor XVII &
Regent Emperor XXVII Rob Hunter de Woofs:  "Night of A Thousand Gowns"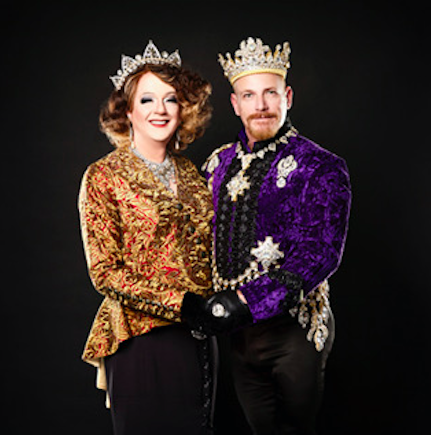 The celebration and spectacular extravaganza of 2019, the 33rd Annual Night of a Thousand Gowns, will be presented on Saturday, April 6, 2019, at Marriott Marquis in New York. Hosted by the Imperial Court of New York, the event will be bursting with color, sparkle and majestic royalty, and will include dazzling entertainment, gourmet food and flowing drinks.
The Imperial Court of New York has provided service to the
LGBTQ community for 32 years and will benefit Trinity Place Shelter this year. The coronation will include the red carpet, cocktail reception and silent auction. The entertainment includes Debby Holiday and Skyla Versai.
Get Out! shared questions and answers with monarchs Empress XXXII Gayle Banter and Emperor and Regent Emperor XXVII Rob Hunter de Woofs.
When will Night of a Thousand Gowns take place, and what charity will it be considering this year?
Empress: Night of a Thousand Gowns will be happening at the marvelous Marriott Marquis Hotel in the heart of Times Square on Saturday, April 6, 2019. The festivities kick off at 6 p.m. This year, we're supporting Trinity Place Shelter, a wonderful organization that we have a long relationship with. Their mission is to help homeless lesbian, gay, bisexual, transgender and queer youth and young adults to safely transition out of the shelter system and grow into independent, positive and productive adults. They're amazing!
What guests will be featured?
Empress: Well, we're still finalizing our guest list, so there will certainly be some surprises. But I'm very excited to share that we have as a headline entertainer Billboard Top Ten international recording artist Debby Holiday! We'll also have veteran drag performer Skyla Versai, as well as special command performances by some of the superstars of the Imperial Court System.
Tell me a little about yourself.
Empress: I started with the Imperial Court of New York about eight years ago, but attended my first Night of a Thousand Gowns long before I joined the court. I've served on the Court's Board for a number of terms, three years of them as treasurer. In my secret identity, I work for an arts philanthropy service organization, and I'm very active with HRC, both in New York and nationally. What else would you like to know?
Emperor: I am Emperor XVII and Regent Emperor XXVII Rob Hunter de Woofs.
I joined The Imperial Court of New York in 2003 and was Emperor XVII during the years of 2008-09 with Empress Charlene Chivoe and now Regent Emperor with Empress Gaye Banter.
I have been a resident of Asbury Park, New Jersey, since 1996 and consider this city my home. I was introduced to The Imperial Court of New York while I was the general manager at Club Paradise, also in Asbury Park, by one of our customers and court members, former Empress Twinkle Montgomery.
For many years involved in the New Jersey bar business, I have also volunteered my time and efforts to many local New Jersey charities, and since being introduced to The Imperial Court of New York, I have found many good friends that are like-minded and hard-working people for different charities in the NYC and surrounding areas that need special funding that The Imperial Court of New York can help provide.
When I reigned as emperor the first time 10 years ago, I had a blast representing the court and said I would not do it again, simply because I didn't think I could do better. However, last year we did not have an emperor candidate running for that position, so I was appointed by our College of Monarchs and Board of Directors to fill the vacancy, thus giving me the regent emperor title. Being this is my second time around and 10 years later, I've come into the regent emperor role with a lot more confidence and experience of what my job is as emperor and maximizing our fundraising efforts for our chosen charities to support with new, larger events as well as maintaining our traditional events.
I've served on the Imperial Court of New York's Board of Directors for many years, traveled extensively supporting other courts and helped in the effort to raise tens of thousands of dollars for a lot of charities over the years, because I believe in the work and fundraising our organization can uniquely provide. The Imperial Court of New York, although sovereign in our fundraising for the New York area, is one Imperial Court among 70 that are spread across the U.S, Canada and Mexico. United, all courts are under the International Court System's umbrella.
Is there anything new to expect this year at the event?
Empress: There always is! But I'll tell you what will stay the same… it will be the same glamorous, glittering evening, with more sparkles and rhinestones than you can shake a stick at! We've added more dancing this year, so that everyone can join the party. And we're working on a special something that I'm not at liberty to talk about, but that will generate a lot of heat, I can tell you that much!
Emperor: The Imperial Court of New York is always evolving to make Night of a Thousand Gowns bigger and better each year to try and maximize our fundraising efforts for our chosen charities—this year's beneficiary, Trinity Place Shelter for homeless gay youth, as well as making our event highly entertaining for our guests. We encourage our guests to go way over the top with their formal outfits like our membership does. Our entertainment is always top notch, an extensive silent auction, the three-course dinner is always delicious and we offer a five-hour open bar in the gorgeous Marriott Marquis Grand Ballroom. A feast for the eyes and a place to be seen!
For those who aren't aware, can you explain why Night of a Thousand Gowns takes place every year?
Empress: The Imperial Court of New York is governed by a Board of Directors, but is also led by monarchs, an emperor and an empress, who are elected by the membership and serve for a year as the figureheads and spokespersons of the organization. New monarchs are crowned at the annual coronation ball, which we call Night of a Thousand Gowns. It's also a great opportunity for us to showcase the important outreach and fundraising work that the court does throughout the year, and to highlight a particular cause or charity near and dear to our hearts, as we're doing this year with Trinity Place Shelter.
Emperor: Night of a Thousand Gowns is The Imperial Court of New York's largest fundraising event of the year. Each year the court membership elects an emperor and empress to be the court's ambassadors for the year. So, this ball is a celebration of the reigning monarchs and membership's year of fundraising, and at the climax of the night, there are the coronation walks and swearing in of the next year's emperor and empress, and the year begins anew!
How can people purchase tickets?
Empress: Tickets are available through our website, www.icny.tix.com.
Is there anything that I didn't mention that you would like to make people aware of?
Empress: I'm not sure there is, but I'm probably forgetting something!
Emperor: Although Night of a Thousand Gowns is our biggest event of the year, we are fundraising for different charities almost every week of the year. Some of the charities over the past year, besides Trinity Place Shelter, were for Hudson Pride Center, Tyler Clementi Foundation, Thursday's Child, The Asbury Park Police Local 6 PBA, Save-a-Pet USA in Port Jefferson with the outreach program Gays for Strays, MCCNY Homeless Youth Services, CitiLeaf, Coco LaChine Scholarship Fund, God's Love We Deliver and so many more. We hold many of our events at Stonewall Inn, Industry Bar and Pieces.
The Imperial Court of New York also provides outreach programs like Hearts and Voices that visit and perform at HIV/AIDS shelters throughout the boroughs and potluck dinners at homeless youth centers like Trinity Place Shelter. Refer to our website for upcoming events at www.icny.org.
The ICNY is a very diverse and welcoming organization inclusive of our GLBTQ and straight allies. We are always looking for new members to join the Imperial Court of New York! We invite everyone to come join in the fun, network and find a place where you can make friends, perform or help in the background and be part of an amazing organization!