Love Concert Review – Toggo Ultrarock In New York City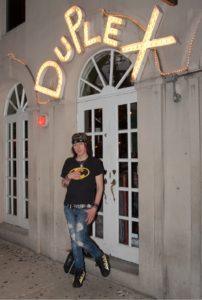 Like a "Cannonball", Toggo Ultrarock in a explosive blaze of fire and revelry ignited the visual and auditory fascination of those who were lucky enough to catch the sonic celebration, in New York City, at Bowery Electric and the Duplex, before the band headed out on an international tour of Norway and London. Amidst the essence of an illusive cascade of stardust flowing from the hem of his garment, vocal mastermind Toggo Ultrarock orchestrated a sophisticated and romantic anarchy that is promising to revolutionize the way we listen to lyrics today.
Opening the show with an eerie, haunting, and compelling version of "Wonderwall", complimenting his appearance, a divided percentage of goth, punk, and adorable, adorned with  dramatic bursts of colorful hair, and an attitude almost as unique as his voice. Immediately following Toggo rocked the venue with several songs off his recently released EP, "Toggo Ultrarock", beginning with his EDM-Rock, hard driving sound, "I Want Nothing". His own creative rendition, a flawless mix of Rihanna and Lordes, "California Royals", quickly became an audience favorite, followed by "Monday Morning", a song that is quickly becoming one of my favorites.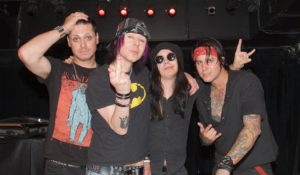 By this time Toggo Ultrarock had captured the crowd forever, causing an ultimate fan loyalty, parallel to a contagious and radical newly formed obsession. When he engaged the crowd in a song participation of "Fucked Up Hair", that sealed the deal, the congregation fell hopelessly in love. Subsequently adding an angry love song to the mix,  "Fuck You Just Fuck You", and then a heartfelt love composition, "Its You That I Want", served to manifest the sensitive side of the artist.
The grande finale, "Cannonball", their uproarious single currently provoking a substantial buzz both in the US and abroad, with its edgy grooves and unforgettable vocal delivery ensured the fact that this band will shortly become ferociously sought after in huge arenas.
The Ultrarock faction, all accomplished musicians in their own right is a quaquaversal phenomena, moving in every direction instantaneously. Guitarist and back up vocalist, Johnny Santoro, born in Philadelphia, based in LA, is a songwriter and sessions musician, and has opened for "Lemmy". Jay Stevenson, a Native American warrior, raised on a reservation, is a talented multi-instrumentalist, focusing on bass and back up vocals, and is currently based in North Dakota. Drummer and back up vocalist Tony Erickson, hailing from Minnesota, is also a brilliant multi-instrumentalist.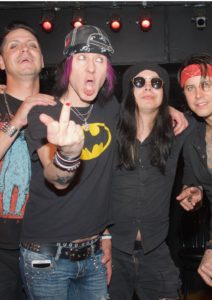 Toggo Ultrarock is an inspiring picture of the future's musical blueprint, a seed of possibility planted in the soul of music. The band defies music and sensibility, while defining it at the same time. Each performance is is like a sun baked carnival. Catch them in London at the Finsbury on Saturday September 23, and at Mau Mau on Monday September 26.
For more information:
https://www.toggoultrarock.com
Twitter: @ToggoUltrarock
Facebook: ToggoUltrarock
YouTube: ToggoUltrarock