Once again Revolushn rocked the New York stage of one of the most iconic and historic Cabaret Theaters and Gay clubs in the world, "The Duplex Piano Bar and Cabaret Theater", featuring the YMCA , multi-platinum, Billboard charting, actor, producer, author, and Cowboy, Randy Jones  of the Village People. This time the gig was performed in a rare and classic, one time only acoustic format via the San Francisco Psych band Revolushn. 
Former Devo drummer, DeKay (Dave Kendrick), played on what he referred to as a "Home Depot special", consisting of a large orange, industrial " spackle" tub, and a single cymbal, and was still the best drummer I've ever heard. He gives the art of drumming a completely different meaning and a new found sensibility.  The beautiful, classically trained keyboardist, who is also an incredible artist, Ilene Schubert, played those keys like an angel playing a harpsichord in Heaven. Her rendition of "Dinosaurs" gave the track a new and different life than it has on the raw message giving hit single and creative video, that by the way was mastered by her. Q Guinevere, is a performer. She's bright and sunny and can make that bass sing with tones I didn't think  existed. Her positive energy and creatively alluring appearance adds fire and fun to the faction. Young the guitarist, who is also a multi-instrumentalist, works his guitar to its fullest capacity. Then frontman "No", (aka Frank Schubert), adds a whole new dimension to rock, and an entire new spirit to freedom. He's worked and played guitar with artists such as Devo, Aretha Franklin, Rod Stewart…..whoops I wasn't suppose to mention that….sorry No.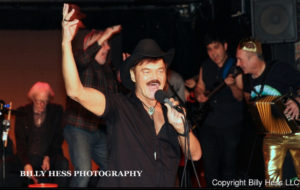 Then all at once in a blaze of fire and decadence, Randy Jones was called to the stage. Still making noise, Randy has recently charted on Billboard with his newest hit single, "Hard Times", and on the eve of his 40th anniversary of the first time he ever appeared on the charts.  He is the only original member of the disco phenomena, the "Village People" to chart with a solo career. He is also starring in, writing and producing Horror films, including: "Tales of Poe: The Cask of Amontillado", and "Prepper's Road". The multi-platinum recording star is also  working on an EP and touring the country, performing on stage everywhere, as well as appearing at comic-cons, nationwide. After being in the entertainment business since 1966, it was an extraordinary privilege seeing him sing YMCA with Revolushn, but what happened next was more than an honor that I will remember forever…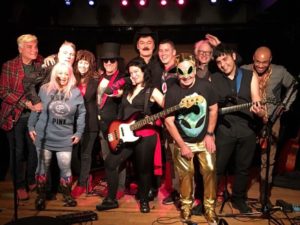 A sudden shout from the audience, recording star and Best Male Performance nominee for The Glam Awards, Aaron Paul yelled out. "Can I sing back-up"?  Randy welcomed him on stage and then he was joined by TV/radio Host Jimmy Star, from "The Jimmy Star Show with Ron Russell", followed by myself after some coaxing by Randy. Can you imagine the lifetime fantasy of singing on stage with someone as esteemed, celebrated, praised and admired as Randy Jones as well as standing on stage next to the iconic and saluted drummer of Devo, not to mention the talented band Revolushn? That only happens in fairytales….but it happened. They said that the three of us looked like The Shirelles, so we decided to call ourselves "The Starettes" ….it didn't go to our head now did it? Personally I have never been so honored. It was certainly the highlight of a lifetime for the three of us. Randy did another number, dedicated to Revolushn, "So Glad We Had This Time Together", and we remained on stage for "The Alien Poker"  with Revolushn, featuring Eddie Spaghetti the road manager who was playing the cortina. 
Burned in our memory forever, it was a night filled with talent, dreams come true, and a bunch of superstars playing as one.
Ultimately Revolushn is consumed and assimilated with thriving talent and creativity, even stripped down, it works for them. An extravaganza of showmanship and life, you have one last chance to see them before they leave New York at Off Key Tikki (31 Baker Place in Patchogue), on Saturday November 11 from 7 to 11 pm….
Special thanks to Randy Jones, one of the nicest and warmest human beings in and out of the industry.