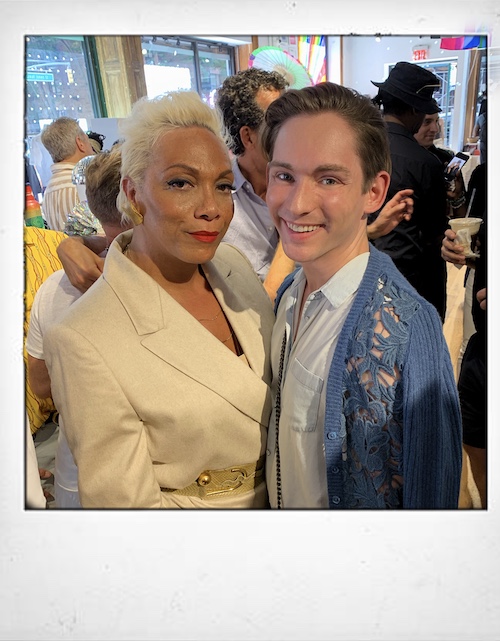 Whenever I attend an event at The Phluid Project (Broadway and 3rd), I know it's going to be a star-studded event, and the premiere of the mini-documentary "Linnish," a film by Manu Rodriguez, was no exception.
When I arrived at Revry's event, I made my way to the back for a rainbow-emblazoned beer, spying Miss Jay Alexander (well known as a head judge on "America's Next Top Model") towering confidently above everyone at 6'5", and Jonah Blechman in a stunning romper, an actor I recognized from one of my favorites, "Another Gay Movie."
Beer in hand, I made my way to the food (food and drink, always my first priority), beautifully catered by Cafeteria (17th and 7th). After loading my plate with mini tacos and Red Velvet Yodels, I perused the store.
The Phluid Project had rainbows left and right (well, more so than usual anyway), from rainbow handkerchiefs to rainbow-sequined pants to rainbow tie-dyed crop tops. When you shop at The Phluid Project you get the feeling that it's Pride all year round, but they still found a way to outdo themselves for June.
DJ Lina Bradford, the subject and star of "Linnish," arrived fashionable as always in a fitted blazer and snakeskin belt. When she saw me, she smiled and embraced me in a hug: She continued to hug everyone, thanking them for coming.
I first met Lina Bradford years ago, when I was a host at Cafeteria (whose mini fish tacos I continued to eat like candy as she made her way through the store), and she came in for lunch. She has this infectious smile: You cannot help but be happy whenever she's around. Within a few minutes of conversation you feel as if you've known her for years; she has such a relaxed and welcoming way of talking. She's the kind of person you want to be around all the time, the kind of person you want to be more like yourself.
The store was packed by the time the documentary started: Shoulder to shoulder, we clapped, hollered and tongue-popped for Bradford. When it was over, I wanted more: a full-length documentary, or better yet and entire docu-series, all about Bradford and her life. The taste it gave of a weekend with her in Fire Island was not enough: I made a mental note to make it to more of her parties, always advertised on her Instagram.
"The best part of my life is loving and living my truth," she says with pride in the documentary. I peeped over shoulders at Bradford in the front, beaming at herself. I kept repeating that line to myself after I left, making it my personal mantra: The best part of life is loving and living your truth. Whatever it may be.
@thelinabradford
@thephluidproject
@revrytv
@cafeterianyc