One of the most creative and vibrant queens I have ever seen is certainly EleKtra. She is involved in Drag Queen Story Hour, which is all about acceptance for children and adults and about tolerance for people who might be out of the ordinary. She has performed at Stonewall, Rockbar and The Phoenix, and can currently be seen in the nightlife scene around New York.
Known for her glam and poise, EleKtra performs music theater and wears a different costume to every event.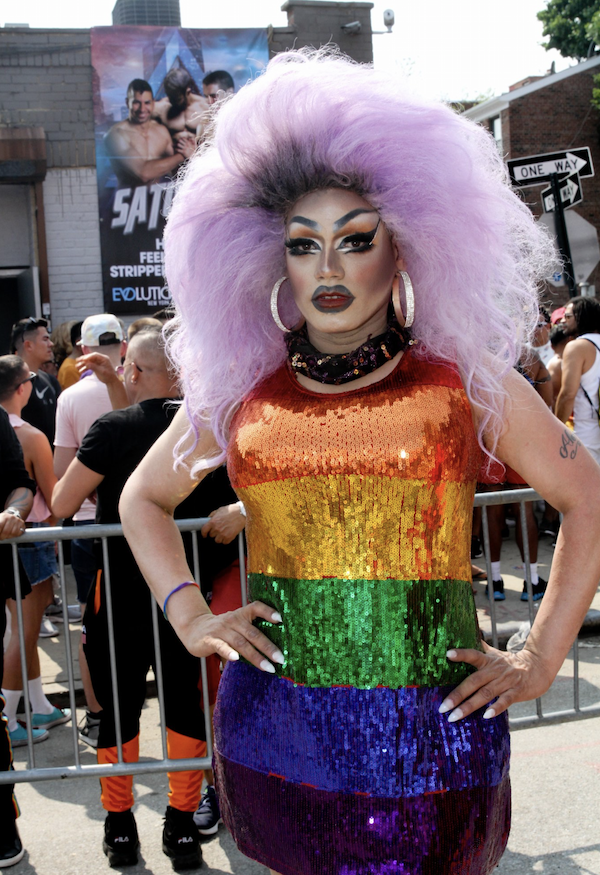 INTERVIEW
Every queen has a story. When did you start doing drag, and why do you do it?
I started doing drag in Fire Island at The 40th Annual Invasion of the Pines along with my husband, who is known as Shay D'Pines. I do drag because it allows me to express my style and creativity. I also work with an organization named Drag Queen Story Hour, which allows me to help others, not only children, accept that there are different people in our world. Acceptance and tolerance is our key lesson for our future!
Do you appear regularly in New York, so people will know where to find you?
I do. I recently did a show with my husband at Stonewall celebrating our 20th year anniversary. Week before that I was a guest at the Heidi Haux show at Pieces Bar. We had a weekly show at Rockbar and The Phoenix, but those are things of the past! I host a weekly show in Yonkers, my current hometown, every Tuesday and occasionally guest in NYC/Brooklyn events.
Do you perform, and if so what are you known for?
I'm known for always looking glam. She has a new outfit AT EVERY GIG, she sews her own costumes and she styles her own wigs! I perform musicals, theater-type genres: lots of Jennifer Hudson, Whitney and I love me some Liza and Judy Garland.
Who are your drag influences?
I've always been inspired by glam Dorian Corey, Jessica Foxx, Karen Covergirl and Laritza Dumont, to name a few!
Is there anything that you would like to tell us as far as future projects that you are working on or on current events that you are involved in?
Currently involved with DQSH NYC/Westchester County chapter. The organization started 3.5 years ago in San Francisco by Michelle Tea and Radar Production. I started working with the organization two years ago, and ever since then it's been a magical experience! I have a few readings through NYC and Westchester in July, along with some events I'm working on before finally taking a little vacation to Fire Island. Otherwise, you can find us every week in our hometown: Yonkers, New York!