Kimmi Moore – Queen of Queens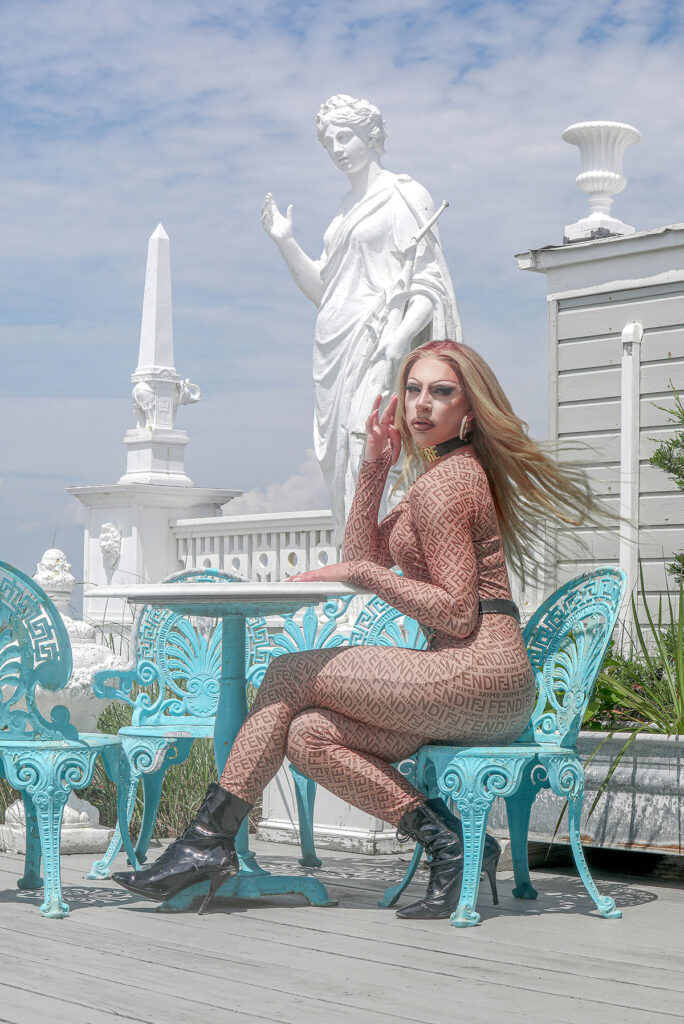 Diva Kimmi Moore is the hottest drag ticket on Fire Island, but underneath the eyelashes, dazzling body suits and nine-inch heels, she is a super talented dude…a/k/a Harrison. Part of the Haus of Assassins, Kimmi does several shows a week at Cherry's on Fire Island, giving the audience a chance to see the global superstar he could well become.
A Sayville, Long Island native, Kimmi did musical theater in high school, but drag wasn't her thing until she became inspired. In an intimate conversation, Kimmi talked about her drag inauguration, her hopes for the future and, of course, her love for Britney Spears.
How did you start doing drag and how did you incorporate all your music?
Since I was little, I was just a little gay faggot. I impersonated everything in my bedroom. I was obsessed with Britney Spears. When I was trying to figure out my sexuality, I was confused. When I saw my first drag show, I was like "No, I'll never do that. That's too gay." My school did a semesterly drag show. So they do two shows a year. The second semester in high school, I just wanted to do it so bad. And then, I just kept on doing it. Before that, I was in all the musical theater shows. I was on the hip hop team. In a cappella groups. So I was pretty musical and theatrical, but I wasn't going to school for that.
What were you going to school for?
I graduated with a bachelor's in social work and a minor in Spanish.
Do you write your own music?
I do. I started in college. I didn't release any of those songs. Once I became a popular drag queen in New York, I started putting things out when they were ready. Now, I am writing one song a year. I'm working with a new producer on some new things. Yeah, I do produce my own music, but I am stepping away from the production side because I don't really love sitting at a computer. So now, I have a producer to help me out. Yeah, we're working out some things.
I know that you are one of the hottest drag show tickets on Long Island right now. And that's great. But do you want to do drag for the rest of your life? Where do you want to be in five years?
In five years, I would like to be able to do drag comfortably. I honestly want to move past the bar scene. That's been my goal forever. I quit drag last year. I came back to it two months ago. I'm really happy right now, but I am definitely looking towards a bigger goal. My goal has always been to be big enough to perform half a show in drag and half a show out of drag, for a concert. So I want to do all my own original music and the concert would be like half and half.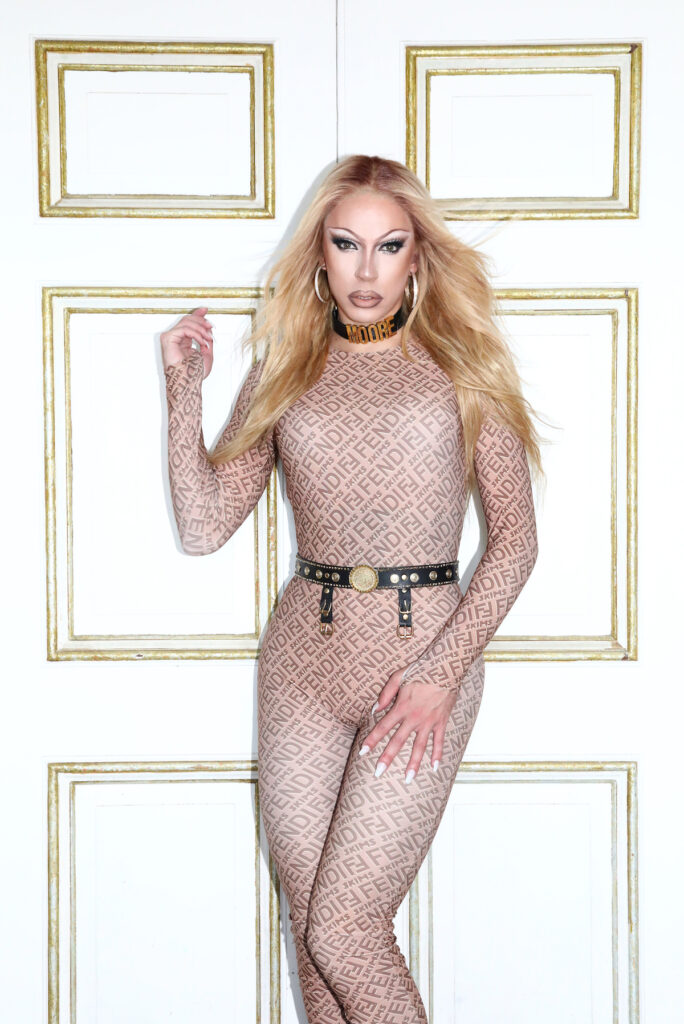 Where do you play in New York? Do you just play the gay bars?
I have been working at only the gay bars in New York and right now, I am just centered on Fire Island.
Do you recall a moment in your life that changed the whole trajectory of it?
I would have to say working with Boudoir LeFleur and the Haus of Assassins. Their perspective on drag and performance in general is so amazing, and they really help me develop. I learned a lot from being with them.
If you could have me ask you any question on the planet, what would you want me to ask you and how would you answer it?
I would love you to ask me if you could be my matchmaker.
Are you looking for a boyfriend?
Not looking. But open to it.
Do you have a favorite queen that you've been influenced by?
I'll be honest. With my drag, I look up to more pop culture and it's definitely centered in pop culture as well, but I don't have a specific drag queen that I'm obsessed with. I've never really been obsessed with one person besides Britney. I just like to think about what's great about a certain individual and be able to be inspired by that. I kind of have had a collective of influences over the years.
How did you get the job on
Fire Island? How did you gravitate towards there?
I was working really hard as a drag queen in Manhattan. I was overwhelmed and wanted to make a name for myself, but I still wasn't getting booked for performance gigs. So, there was a competition called "So You Want A Job?" on Fire Island. I wasn't entered into it and I got an email like a week before saying that someone dropped out, so there was an opening. So I got into the competition and came out to Fire Island and won. A week or two later, I ended up serving and bartending and doing drag out here.
Do you have a boy's name?
My name is Harrison.
What was it like growing up in Sayville? I used to own the Bunkhouse. Are you familiar with it?
Shut up! I missed the Bunkhouse. I only went there one time. Growing up in Sayville, you know, I give it a lot of shit. But I felt really respected as a person. Back when I was in high school, being gay wasn't really a huge thing. I felt comfortable in my school, being who I was. I was very flamboyant, but I was pretty respected by every person who was popular or jocks or nerds. Even if they made fun of me, I didn't know it. So I felt really comfortable. But I do wish there was a little more diversity when I was in school.
Tell me the shows that you do on Fire Island?
Friday night is my solo show concert. It's at 9 PM. It's called Kimmi Moore. Saturday at 4 PM is the Assassins, which is me, Boudoir LeFleur, and Nick Gaga. Sunday at 9 PM is the whole Haus of Assassins. It's crazy. Out of control. Absolutely nuts. It's always sold out.
Is there anything you would like to promote?
I have OCD, and one of the things that I like to promote is mental health and acceptance. Because life is really crazy. And the brain is absolutely insane, especially when you have a mental illness like OCD or depression. It takes a lot of understanding with the brain to deal with those things. I really want people to be more aware of themselves and accepting of other people, because it's hard to know what's going on in somebody else's brain. And until you ask or whatever, people can't be more open to differences. People over the years have really gotten into the mental health thing. The gay community can sometimes be a little toxic. But I feel really great about our community.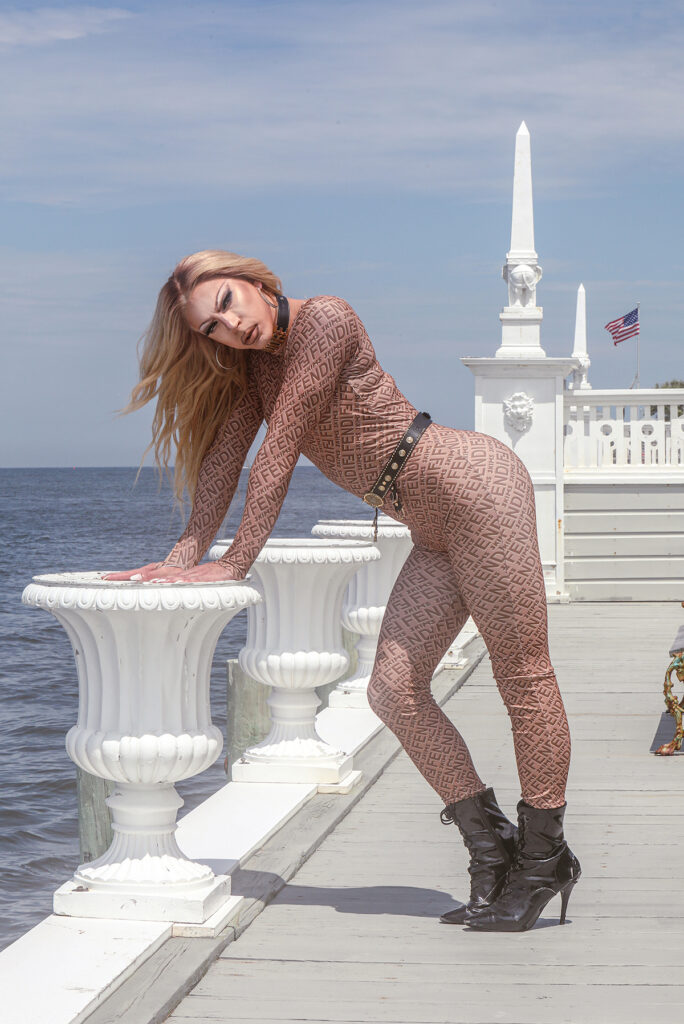 So, what's next for you?
On July 7th, on my birthday, I'm putting out a cover of "Gimme More" by Britney Spears. That is the opener of my show every week. I think I'm going to start working on a new EP or a couple of singles. My door is open to whatever possibilities are going to come. I have no plans for October yet. I have a couple of things I've been asked to do here and there, but I'm still letting life happen and see where it's going to take me.
Is there anything that I didn't cover that you want to say?
I want to give a huge shout out to Cherry's on the Bay and the Haus of Assassins. I want to thank Mike Todd for coming up to me. One of my first shows, afterwards, I was beating myself up because the audience was kind of weird that night. I was like, "Oh, no, is this not going well? I have no idea. I don't want to get fired. I want this show to be a success." He told me so many nice things and really made me feel so confident and so good about my show.