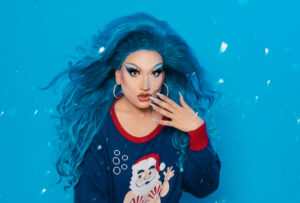 Mermaid drag queen Lagoona Bloo is wishing fans a "Bloo Christmas" this holiday season with a new song and video. Produced and co-written by SIXFOOT 5, Lagoona describes "Bloo Christmas" as a joyous, up-tempo and incredibly catchy holiday jingle with a classic rock/pop vibe.
"We have all heard Elvis croon 'I'll Have a Blue Christmas Without You' and I have experienced quite a many of them," Lagoona admits. "My single, however, is the antithesis of that! The main message in 'Bloo Christmas' is 'My Christmas won't be blue, because I have you!' It's about sharing the joy of being in love with someone over the holidays and how much of a game changer it is. Love truly is one of the greatest gifts we can give to one another!"
The inspiration for "Bloo Christmas" came from Lagoona's own true-life experience. She met the most amazing man this summer and is excited to spend Christmas in Kansas City with him and his family. "My last few Christmases have been spent alone as I am very separated from my family so spending time with my new love and his family is something I'm very much looking forward to."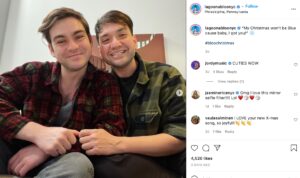 Lagoona grew up in Prairieville, Louisiana. Her favorite part about Christmas was always the music. She says, "I grew up in the church and school choir all through my childhood and Christmas was a big deal! I went to Northwestern State University in Natchitoches, Louisiana and one of the highlights of that tiny town and my theatre program was the annual Christmas Gala. The entire music, theatre and dance programs would unite to put on a spectacle and people from all across the state would come and see it! Christmas music became an integral part of the holiday in my life," she explains.
The "Bloo Christmas" video production team was made up of queer artists from New York City, including director and choreographer Daniel Gold, producer Brian Blum and director of photography Mark Simakovsky. Filmed at The Q, a queer night club in Times Square, the music video depicts a magic filled journey through an evening at a Lagoona Bloo holiday show.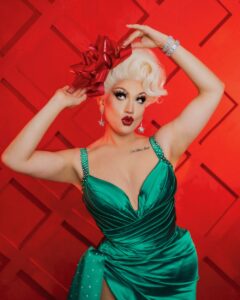 "The video invites anyone and everyone to join in the holiday celebration," Lagoona continues. "The viewer follows me through the piano bar, into a sexy Holiday Barbie dance scene and then to a Christmas concert spectacular!"
Lagoona Bloo wishes her fans all around the world, affectionately known as the Bloo Crew, a very happy holiday season, and hopes they have the opportunity to spend time with their friends, family and loved ones.
Lagoona Bloo's "Bloo Christmas" is available on all streaming platforms. Visit her website and follow Lagoona Bloo on Instagram, Twitter, and TikTok @lagoonabloonyc.