BY Michael Block
The days are long, the nights are hot and clothing is minimal! With summer upon us, weekend getaways are a must. While you may be used to seeing her tear up the stage throughout New York City, Honey Davenport
will be spending her weekends at the beach. This summer, you can
"Get a Taste of Honey" in Asbury Park and see her "Spunk" on Fire Island.
I caught up with Honey as she gets ready for a summer of fun!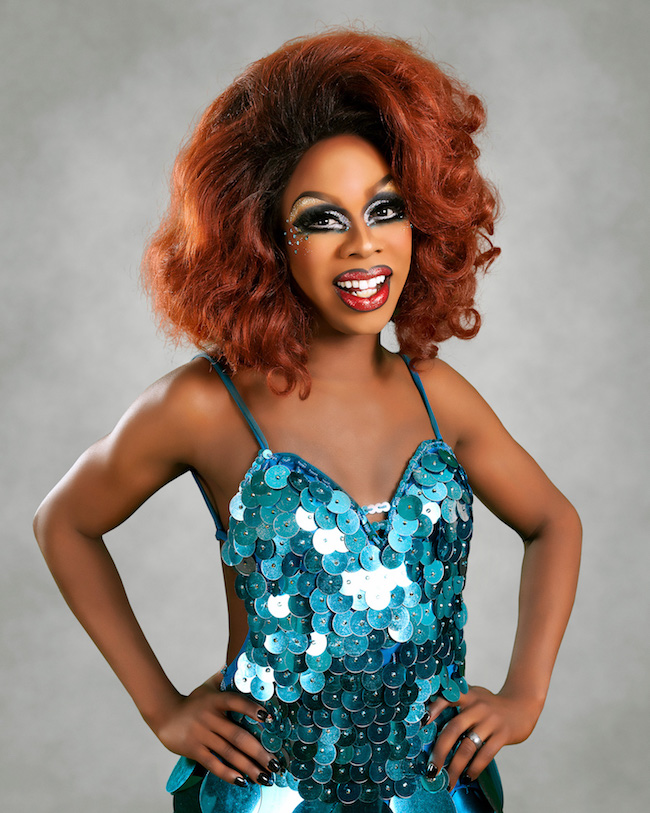 How are you?
Great!
What's new in the life of superstar Honey Davenport?
So many things. Two beach towns in one summer. I will be performing in Asbury Park and on Fire Island this summer.
We'll get to that in a second, but any pageants on the horizon?
No, I'm taking a break from pageants to prepare for a huge pageant. Eventually I would like to go back to a national pageant, and I want to take a break from smaller pageants for a year or so to prepare to go back to a big national.

The weather has finally gotten beautiful! The sun is shining, the sky is blue and the crop tops and booty shorts are in full bloom.
Hello.
It means it's time for summer. Are you ready?
Yes, hello. I've got a sea full of crop tops. One of them, my favorite new one, was given to me by my assistant and good friend Lindsey. And it's a pineapple crop top.

Amazing! So with summer being right around the corner, you'll be venturing out to the beach. Tell us about your gigs over on Fire Island and Asbury Park.
I get two beach days in one weekend in two different very open and accepting towns. The first one is on Friday nights; I'm in Asbury Park for my show, A Taste of Honey. I'm the current reigning Miss Paradise there, which is kind of awesome, because … I get to be like the queen there, and they treat me like the only royalty. And the boys are sexy as hell. Asbury is like so cool, because Paradise was actually opened by Shep Pettibone, who, you know, worked with Madonna for years on "Vogue" and "Erotica" and you name it. He's also like a big, huge part of our LGBT history with the music he's created for various celebrities, and he opened up Paradise and the Empress afterwards. So it's cool to be working for somebody that's so much of a legend. He's created, kind of, the gay sound, you know. So yeah, that's always a wild adventure every Friday, and the music is incredible, because it's Pettibone's club. And then on Saturday night, I bring a party that I do in the West Village on Thursdays to Fire Island. It's called Spunk Party, but when we do Fire Island we up the game, and it's like more of a show. It's like "Magic Mike" meets Fire Island. So it's like completely different than we do in the city.
Why is Fire Island such a mecca for the LGBTQ community?
It's shut off. Like, it's like separate from America. You know, when we leave Fire Island, sometimes my friends are like, yeah I'm going back to America for a second. I'm like, it's separate. It's a beautiful, untouched, gay island—you know, like, all you need is suntan lotion. And if it can double as lube, then you don't need anything else.
Beach or pool?
Beach.
What are the five beach essentials you need to bring?
Five beach essentials you need to bring? You need sunglasses, and I always forget mine. But you need sunglasses. You need oil, in my case, or sunscreen if you don't have a lot of melanin in your skin. Which is nothing wrong with that—I just like mine. You need a sarong, because wearing clothes on the beach is so wrong. Wait, how many is that? Glasses, oil, sarong. A joint, duh, because you should really embrace everything Mother Nature has to give you. You know, blunts on the beach are the best thing. And then, like, you know, a hot power bottom who's also going to get naked with you.
Amazing.
Go ahead, Gilda Wabbit.
And last, what's your all-time favorite summer jam?
My all-time favorite summer jam is "Summertime," Will Smith.
Yass!
"Summer summer summertime!"
---
Michael Block is a Drama Desk member and a theater, drag and cabaret critic for Theater in the Now. Drag365 is his latest project, where he will attempt to see 365 drag shows within 2018. To watch his journey, follow him @michaelbblock on Instagram or @theaterinthenow on Twitter.