I kicked off 2012 with a huge move from New York to Los Angeles and had the honor of attending The Golden Globes, The Oscars and many other events during awards season.
We love seeing our favorite talents get recognized, but let's be real – what we really live for is the red carpet! If you think your favorite actors are gorgeous, there is nothing like seeing them glammed up in the flesh. At the Oscars, there were no real fashion flaws but tons of sophistication and a simplicity to every lady that walked the carpet. Of course, every celeb that walks the carpet gets the crowd rumbling and the paps in a frenzy, but no one does it better than Brad and Angelina. Their energy together is like no other – it's as if the king and queen arrived, and everyone lining the carpet is hailing! While attending the ceremonies is great, let's be real – we're party boys, and the after-parties are where it's at: open bar, tons of food and unlimited celeb access! It doesn't get better than sitting at a table with Sarah Michelle Gellar, dancing the night away with Idina Menzel and that awkward moment when I'm humming "Moves like Jagger" and Adam Levine is in the urinal to my left! As we Golden Globe party-hopped we ran into my guiltiest pleasure, Kim Kardashian. This girl does not miss a beat and is as sweet as she is gorgeous! Just when I thought my introduction to L.A. couldn't get any better, my fellow star fucker Neil Frias hands me a ticket to a major post-Grammy fundraiser held for Children's Hospital Los Angeles, where deadmau5, Calvin Harris and Rihanna performed. I'm still not sure who the headliner was, but Paris Hilton was all smiles and didn't mind us at her table. Let's just say she wore her sunglasses at night!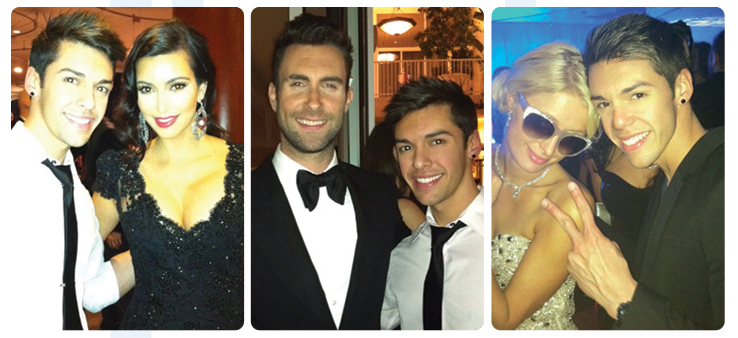 I miss my boys in N.Y., but I am definitely enjoying my time in L.A.!