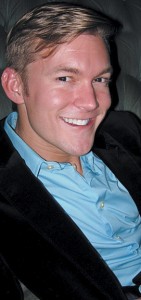 Greetings, Get Out! readers! Mike Todd, the publisher of this magazine, was kind enough to invite me into this week's edition (my first byline in ANY publication after my recent inauguration as Mr. Gay USA 2011). Plus he arranged for the mega-talented Andrew Werner to snap my photo for the cover. MUCH THANKS, Mike and Andrew!
I welcome this opportunity to talk to my neighbors and fellow members of the LGBTQ community. When I captured the title of Mr. Gay USA in Philadelphia on November 13, I was given some lovely gifts and a sash. My plan over the next year is to give of myself…to you. I intend to live up to the expectations of MGUSA contest judge and Village Voice icon Michael Musto, who spelled out his criteria for the ideal candidate: "…an intelligent and personable guy…who can represent all…by being an individual – someone with spunk, spirit and smarts worthy of our community's respect." Pageant founder Don Spradlin added Mr. Gay USA should "combat gay stereotypes."
A little about my background. Hailing from Lexington, South Carolina, I received a BA in Musical Theatre from Point Park University. A resident of Hell's Kitchen here in Manhattan, I'm employed as an administrator in a private K-12 school for high-profile children working professionally in the performing arts.
I volunteer with Broadway Cares/Equity Fights AIDS, and was a 2010 team captain of its annual Broadway Bares fundraiser. Since 1988, BC/EFA has raised over $195 million for essential services for people with AIDS and other critical illnesses across the United States. Marriage, gays in the military, employment, HIV, discrimination and bullying…my new office allows me to influence and escalate the conversation on all of the above. Take a look at my video contribution to the "It Gets Better"  campaign on my YouTube.
Public forums like Get Out! help to publicize my passions and hopefully empower others to act on theirs. Leadership is contagious!
Please indulge me in a few more thank-yous. To the MGUSA judges, including City Council at-large candidate Christopher Hayes, Village Voice columnist Michael Musto, celebrity hairstylist David Evangelista, Paper Magazine's Mr. Mickey, TV producer Terence Noonan ("The Dr. Oz Show"), and Ryan Nickalus and TJ Kelly from Logo's "The A List." And especially producer Bruce Yelk of the Greater Philadelphia Tourism Marketing Corporation and Don Spradlin, founder and president of San Francisco's Noble Beast Foundation, which organizes the Mr. Gay competitions.
And a SUPER shout-out to my mom and co-workers who cheered me onto victory in Philly!
Wish me luck at the International Mr. Gay (IMG) Competition, coming up in a few months.
Happiest of holidays!
– Eddie Rabon