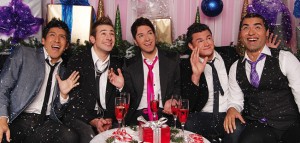 Living in Manhattan is expensive, especially as a young, gay man with so much pressure to fit the perfect Hell's Kitchen or Chelsea boy mold. The guys featured in the upcoming reality series "Made for Manhattan" aren't out to prove anything, but to show the world a different side of the LGBT community. Not everything or everyone is on a list, and these guys are no exception.
It began as an idea of making a reality show that would showcase the lives of a group of young, dynamic gay men who had made a point to become a part of the Manhattan social elite, but creators/producers Patrick Santos and Jonathan Black decided to change that and focus on a show that they could both be proud of and that is a positive, accurate portrayal of the LGBT community.
Although with a fairly small budget and production crew, this duo set out to capture the lives of everyday guys who just so happen to be gay. Santos (who is also a part of the cast) and Black have set out to garner an audience who is looking for a more realistic, unadulterated perspective on reality television, and "Made for Manhattan" delivers exactly that and more.
Although, like real, unscripted, everyday life, no footage is free from its imperfections. These guys are living their lives in real time, and thus mistakes are made, relationships broken, and an entire spectrum of intertwined social stereotypes and differences emerge. No one is perfect, and neither are the guys of "Made for Manhattan."
[divider style="thin"]
So, just who are these boys that are soon to hit the World Wide Web and more?
ADAM BARTA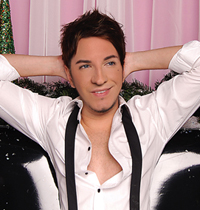 Adam Barta is the most recognizable cast member and was featured in our August issue with his single "VIP." This Bronx-born star just snagged the #2 music video of 2010 on MTV's Logo network for "VIP," alongside another famous Adam (Lambert, who was #5). Word has it he's collaborating with one of those real housewives on a new music project, and also working with other talents, including Kathy Sledge (from Sister Sledge). He brings the voice of reason and experience to any situation, especially when it comes to issues between some of the guys.
DAN MAJERLE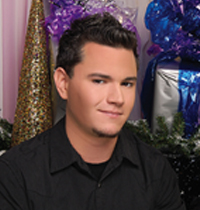 Dan Majerle is a music marketing manager and veteran captain for one of the New York Gay Football League teams. He hails from Michigan and rejects being characterized by friends as a "daddy hunter." His Italian, Bronx-born tough guy boyfriend (20 years his senior) seems to suggest otherwise. He is currently the only one of the six guys in a long-term relationship.
JIMMY PRADA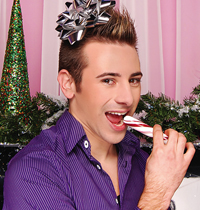 Jimmy Prada is originally from upstate New York and is an advertising designer-turned-disc jockey, nightlife promoter and bartender. This outspoken party boy rubs elbows with many a fabulous drag queen in the nightlife crowd. Usually the life of the party, he's never afraid to speak his mind. Many may mistake Jimmy for just an over-the-top social butterfly, but there's another side to him that most seldom see, including a past that may surprise not only viewers but the boys in the cast as well.
RICKY RIVERA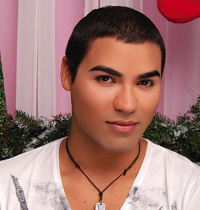 Ricky Rivera, from New York City, has worked as a model in the past and currently works in personal training and fitness sales. He's been through more in his life than someone might think, including spending part of his late teens homeless. Although one might think that having such a rough upbringing would affect this Latino looker, he's not ashamed of his past—or his body, for that matter.
CARSON ROSS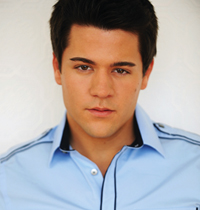 Carson Ross just relocated to NYC this past spring from Ohio. He's still adjusting to the ins and outs of Manhattan life, including following a career and working part-time at one of Manhattan's most notorious hair salons. Straight out of college, this singer/songwriter is anything but the boy next door.
PATRICK SANTOS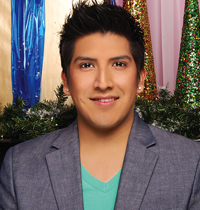 Patrick Santos comes from the West Coast via Orange County, California. Pursuing a career in musical theatre, this actor supplements his work with anything and everything Disney related. A grown kid at heart, he's always ready to take a bite out of the Big Apple (but not the Snow White kind).
[divider style="thin"]
Living in a post-Stonewall era, these boys make up more than just a group of nightlife party-goers when it comes to making the rounds at venues like The Ritz, Splash Bar, The Stonewall Inn and Elmo Lounge, but each has a unique story of how they came to call Manhattan home and what being a young gay man in today's society has allowed them to progress with in their lives.
If it weren't for the history makers and trend setters of the 1960s to present day, these boys might all be at a different place in their lives, and they not only acknowledge what the past has given them, but they each make a point to strive for success and equality in modern-day New York.
In one of the episodes, cast member Adam Barta makes a point to speak to the attendees of both his and Dan Majerle's birthday party at The Stonewall Inn: "I think it's really important for us to realize the amazing freedoms and the opportunities that we have. And I hope that isn't lost on anybody—the fact that we're here, and we're happy, and with our friends is an amazing gift, and we need to remember that. We need to support each other in the gay community, in the straight community, and between the two. I think we'll all agree that if we come together and we celebrate the positive stuff about each other, that's what's going to make a difference, and nothing else."
Featuring guest appearances including Kathy Sledge (Sister Sledge), Michael Musto (The Village Voice), Sahara Davenport (RuPaul's Drag Race), Kerry Schwartz (VH1) and many more, "Made for Manhattan" will debut later this month on YouTube and Facebook. You can find and "like" the boys at their fan page.
Article: Anthony Lee. Photos taken at: Elmo Restaurant. Photographer: Andrew Werner. Stylist: Jersey Murray. Make Up: Lucianne Ungerbuehler.