Every Saturday night, party promoter and producer Dougie Meyer and his team successfully bring the hottest guys to Splash for New York's largest gay dance party.
"Whether you are going out to dance with your friends, looking to meet a celebrity, simply to have a cocktail, or just to get laid, we pride ourselves in covering all of those bases," Meyer says.
Meyer has a reputation of working with some of the biggest-name DJs in the business. Resident main floor DJs include celebrity DJ Tracy Young, Grammy Award-winning DJ Hex Hector and Montreal's DJ sensation Stephan Grondin. Guest DJs/producers include Peter Rauhofer, Hector Fonseca and Yinon Yahel. Weekly, you will find resident DJ/producer John Marto in the lower lounge.
Saturday nights have had recent celebrity sightings including Fergie, Joss Stone and Janice Dickinson as well as surprise performances by Natalia Kills, Kristin Chenoweth and Tiesto's vocalist Jes.
"If I had to choose just one word to describe Saturday nights, the word would be 'fun,'" Meyer says. "This is one party where you can just forget about all of your worries and just have a great time! The energy in the room is truly incredible. The music and special lighting effects create such a happy environment within a room full of gorgeous guys."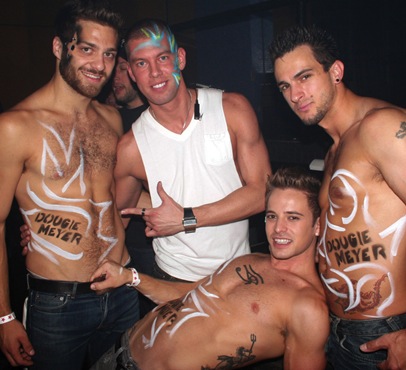 Not only are you certain to find 20 of the hottest go-go dancers every Saturday night, you will also encounter the hottest and most personable bartenders making your drinks behind the bar. Strong affiliations with Bel Ami, CockyBoys and Manhunt often bring some of the most famous porn stars in to host the night as well.
Meyer is an advocate for the NOH8 campaign and Broadway Bares, as well as Dan Savage's "It Gets Better" campaign. Recent awards include "2010 Promoter of the Year" by Get Out! magazine and "2010 Outstanding Supporter" by the Our Youth Foundation. He was also just announced as a nominee for "Best Party Promoter" in the 2011 Glammy Awards.
Dougie Meyer Presents Saturdays at Splash
50 W. 17th St. between 5th/6th Ave.
$10 before midnight / $20 after
www.dougie.tv