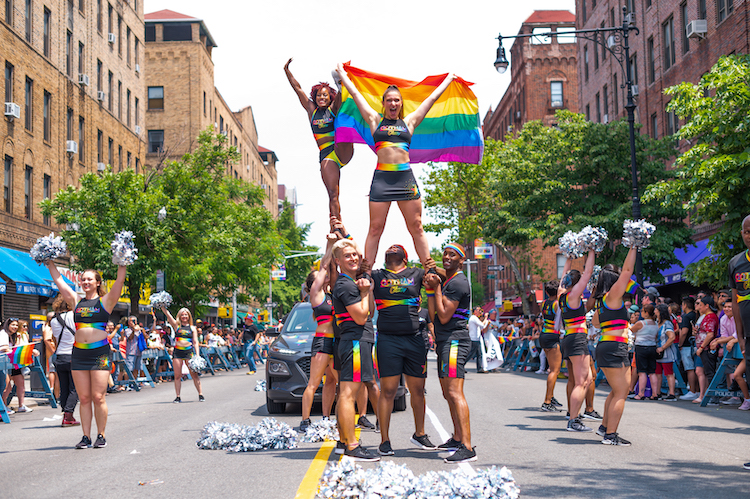 By Todd Larson
Cheerleading is conventionally an exhibition sport rooted in rousing a crowd's enthusiasm and/or patriotism for a particular sports team or public office candidate. With acrobatic theatrics, choreographed dances, catchy chants or songs, and sharply colored, lettered and logoed uniforms and pom poms, cheerleaders aim to persuade spectators to fully support the victory of the team or candidate.
Gotham Cheer, however, has been channeling cheerleading toward the charitable cause of stimulating public support for the lesbian, gay, bisexual and transgender community since the nonprofit's founding in February 2018 by fashion designer Latoya Leflore and child psychologist Felipe Hernandez. "We are motivators," said Ryan Davis, a nurse anesthetist who joined the Gotham Cheer board in 2019 and also serves as health advisor to the organization. "We use our voices and talents to raise awareness of LGBTQ issues, particularly youth homelessness."
Gotham Cheer also harnesses its members' fundraising and business/community partnership talents to collaborate with local enterprises and nonprofits to raise money for LGBTQ and homelessness causes, in addition to accepting donations via PayPal, Facebook, and Venmo through its website, gothamcheer.org. "In our short two years, Gotham Cheer has given over $16,000 to LGBTQ youth," said Davis.
Its beneficiaries include AIDS Center of Queens County, dedicated to improving the well being of people and their families living with and at risk for HIV/AIDS and other chronic conditions, and Trinity Place Shelter, which helps homeless LGBTQ teens and young adults transition from shelters to independent living. Another partner is True Colors United, for which Gotham Cheer has raised more than $15,000 to help end LGBTQ homelessness through advocacy, training, education and youth collaboration initiatives.
For Bailey House, Gotham Cheer members voluntarily paint walls and sets and support fundraising auctions and gala dinners to help the 37-year-old nonprofit provide safe, affordable health and housing services for HIV/AIDS-afflicted homeless and low-income New Yorkers. Other community partners include SAGE Advocacy & Services for LGBT Elders, AIDS Walk New York, Queens Pride, Brooklyn Pride, NYC Pride and 22 other nonprofits.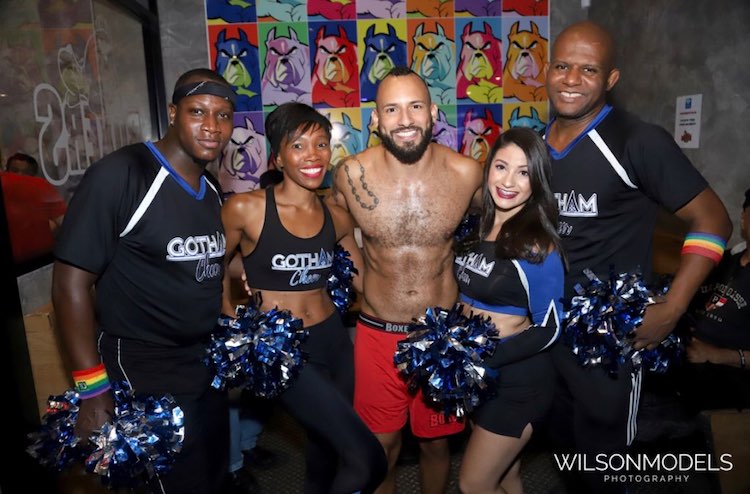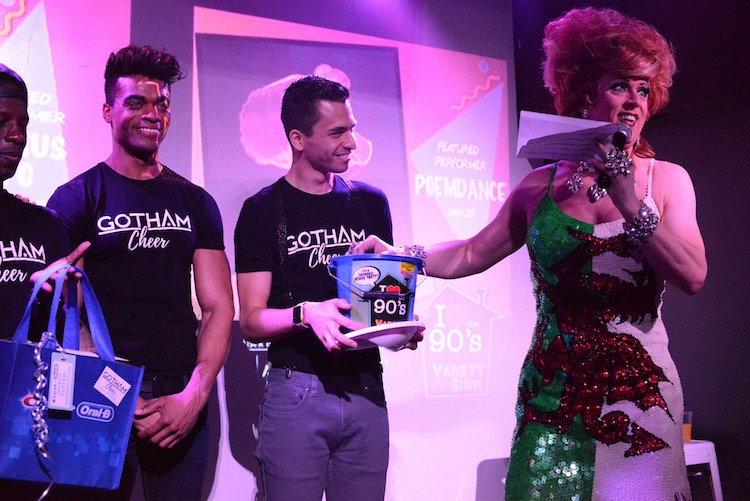 Business partners include Barnes & Noble, where Gotham Cheer collects donations while doing volunteer holiday gift wrapping for bookbuyers; local public and private schools, where members conduct youth cheerleading clinics; and Rise Bar/Lounge at 859 Ninth Avenue (risebarnyc.com), where members host an annual spring variety show fundraiser. Each show is themed differently and goes beyond cheerleading acrobatics to include dance, circus, theater, drag and stand up comedy, in step with Gotham Cheer's commitment to inclusion of people and talents of all stripes.
"We utilize our social network of volunteers and team members to find pro bono talent for the show, such as Broadway actors, professional dancers, drag entertainers and circus performers," said Davis, who added that the Gotham Cheer team is committed to selling a quota of raffle tickets during each show. "In conjunction with the performance aspect," he said, "we raffle off high end prizes, given in kind, to help us meet our fundraising goals. These are raffled throughout the night's show."
In light of the coronavirus pandemic quarantine, Gotham Cheer has postponed this year's variety show until the fall and has canceled, delayed or shifted all of its other planned events. In their place, they prepare video performances and personal messages and edit them into individualized energetic videos to support its community partners. "Because New York City is in quarantine, we decided as a board to postpone major fundraisers until after the quarantine is lifted," said Davis. "This decision was made to respect our team members and community partners who have been impacted financially.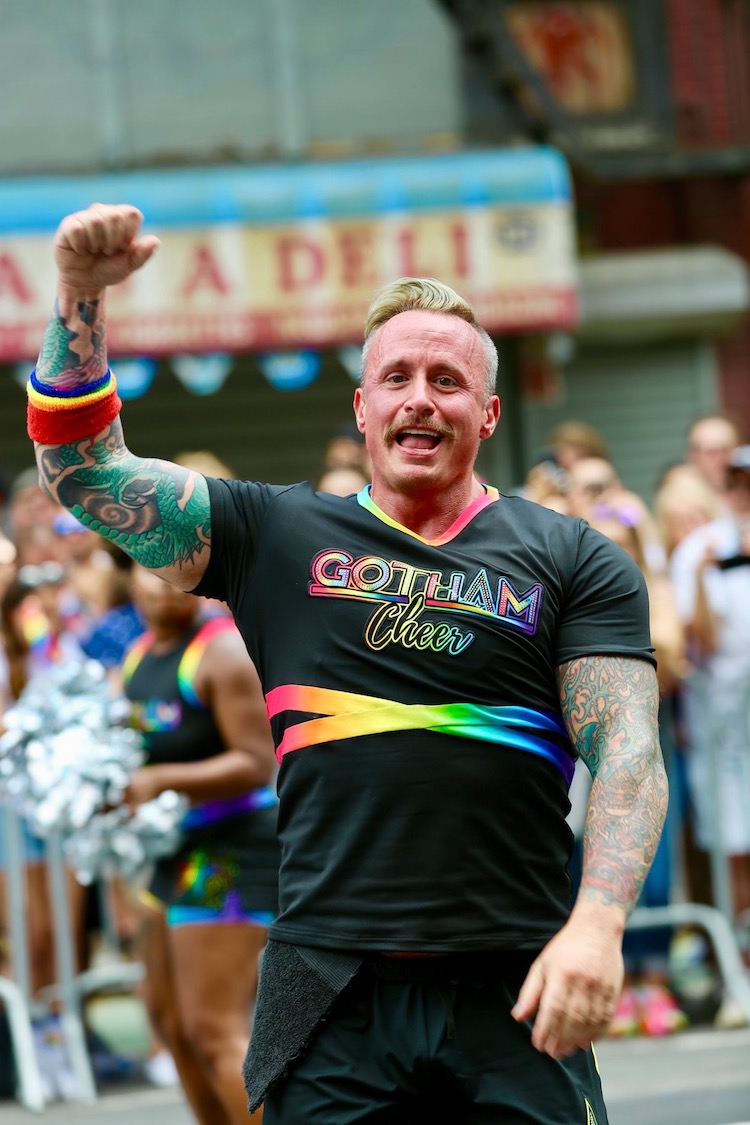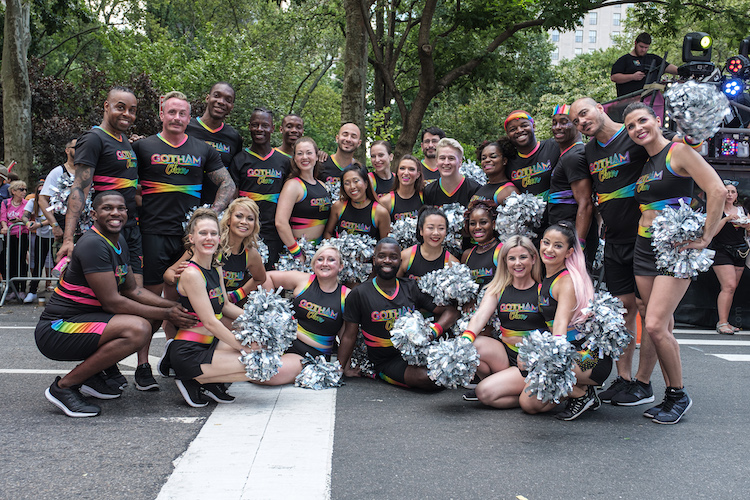 Although we halted our fundraisers, we still made charitable contributions to Trinity Place Shelter and AIDS Center of Queens County's LGBT Homeless Youth Drop-In Center to support their youth during the pandemic."
In addition, AIDS Center of Queens County told the organization that their youth would benefit from online mentoring programs. In response, Gotham Cheer created a mentoring video series titled "Origin Stories," in which members of the organization answered pre-submitted questions about their chosen professions. For instance, Erika Almanzar, a flyer, elaborated on her experience as a special education teacher for the NYC Department of Education; Michelle De la Paz, also a flyer on the team, discussed her work as a medical sales representative; and Ellison Barnes, a base, explored his role as a district general manager for an insurance company.
Also, both AIDS Center of Queens County and Trinity Place Shelter asked Gotham Cheer to create virtual workshops that promote general health and well-being during the pandemic. "As an organization with members in the health professional field, we were able to give virtual webinars and live chats for coping strategies during COVID-19," said Davis.
Gotham Cheer has gone virtual with its cheerleading performances and clinics as well, to stay equally connected with all of its community partners—not to mention the entire city—during the lockdown.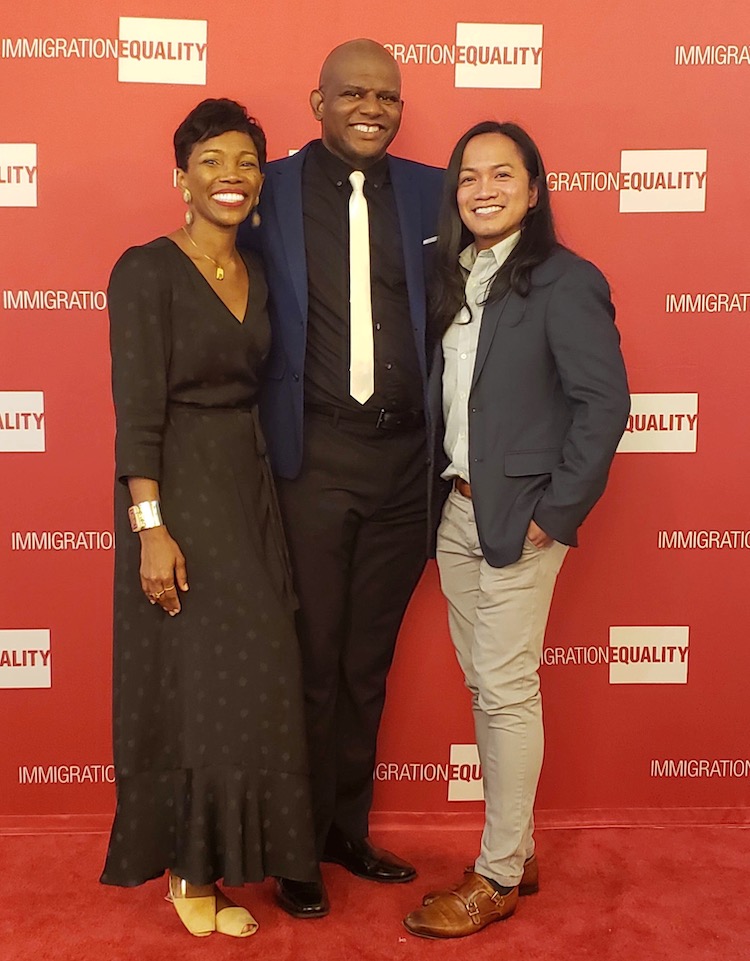 "The Manhattan Youth After-School program expressed the need to keep New York youth engaged during the pandemic, so we created video content with cheers, dances, and stretching to be distributed by cheerleading coaches in Manhattan," said Davis.
Gotham Cheer has made its cheerleading practices and team meetings virtual, too—which means greater connection beyond the city. "We have members and volunteers all over the globe that have come together to form types of breakout groups to develop strategies on how to best support our partners," said Davis. On the rare occasions that members need to meet other members or partner representatives in person, they duly practice mask-wearing, six-foot social distancing, sanitizing and other CDC guidelines.
But social distancing has not diminished Gotham Cheer's inclusiveness of diverse ages, races, backgrounds, occupations, sexual identities and genders in its membership. "We are dedicated to inclusivity, and we recruit members that reflect our community," said Davis. "The Gotham Cheer Board of Directors consists of Latino, Asian and African American men and women."
Beyond its unique fundraising initiatives, community partnerships and celebration of diversity, Gotham Cheer has another characteristic that sets it apart from other alliances of its kind: emphasis on volunteerism. "Members engage in numerous hours of volunteer work and community service," said Davis. "We are the only team that puts volunteering before athleticism and performing."