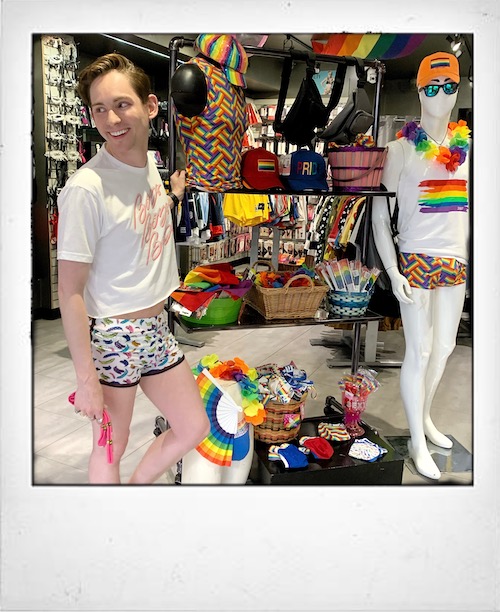 With Spring and Pride both fresh in the New York air, I went out in search of the perfect pride outfit.
I wanted to check out some local shops for something sexy, comfy and fun: something to take me from day-drinking brunch to parade-watching to dancing the night away. I bopped over to 8th Avenue (one avenue over from where the World Pride Parade will run) to see what I could find.
I started at The Blue Store between 20th and 21st Street. After looking around, I deemed The Blue Store the perfect go-to for new underwear (jockstraps specifically), new toys, and my favorite lube (and yes, I bought one of each), but it didn't have what I wanted for apparel. I made a mental note to go back with my boyfriend and moved on.
One block up, I wandered into a store I'd never been in: Chelsea Exclusive, exclusively for men. I was drawn in by the window display: a mannequin wore a sheer crop top and stunning $1,500 leather jacket, his crotch covered by a white satin bow proclaiming "JUST MARRIED." At his feet was a tray of dog treats (we love a dog-friendly business), a pair of groom cake toppers (but certainly one is a bottom?) in the middle.
Inside, the store is sleek and grey, t-shirts and underwear on the left, shorts and pants on the right. I tried on a pair of booty-shorts and a mesh t-shirt: maybe more for the clubs than brunch, but I got it anyway. I didn't try on the $1,500 leather jacket because I'd just paid rent, but if anyone wants to get me an early birthday present… You know where to go.
I was going to go home, but since I was already out I stopped into Vibe 212 on the corner of 21st Street. I've walked by a million times and always look in the window, but never stop in.
Vibe 212 is where The Blue Store meets Chelsea Exclusive: the front room is men and women's apparel and underwear, the back room leather harnesses and sex toys. (They had a chest harness in orange, my favorite color, if anyone wants to get me an early Labor Day present.)
While looking for something to try on with a pair of Andy Warhol-inspired banana shorts, I overheard an adorable brunette girl at the front: she was dropping off her first shipment of Pride t-shirts, which sold out the year before.
I introduced myself: her name was Megan Phillips, of Megan Phillips Collection. Every year, she releases a special edition Pride Collection that donates $2 to the Human Rights Campaign (the largest national lesbian/gay/bi/trans/queer civil rights organization) with every Pride purchase. Her t-shirts are adorable, proclaiming things like "I WANT TO BREAK FREE" and "I BELIEVE IN A THING CALLED LOVE." My favorite was a crop top spelling out "Boys Boys Boys." After trying it on with the shorts, I knew it was fate: I'd found my Parade Day Outfit.
See you at the Parade!
www.chelseaexclusive.com
www.vibe212.com
www.meganphillipscollection.com