By Steve Weinstein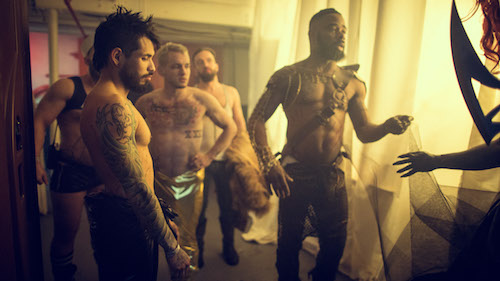 It's baaaack. The Black Party will take place from Saturday night, April 6, until well into Sunday afternoon. This year, Rites XL, the 40th annual rite-of-spring marathon celebration of music, men and machismo, has a new location: the Expo Center in the Hunts Point section of the Bronx.
Whoa, what's that? The BRONX?!?
That's right, muthafucka, the Bronx.
Five years ago, when Roseland, the party's longtime home after the legendary Saint closed its doors, was slated for demolition, I wrote about the slow demise of big-room nightclubs in Manhattan.
Since then, the pace has accelerated, and, with the end of Output, has reached Brooklyn as well.
As they say, out of crisis comes opportunity. Last year, I toured the Expo Center just before its transformation from cement factory to event space. This mammoth complex would be an incredible venue anywhere; in space-starved New York, it's nothing short of phenomenal.
On the Long Island Sound waterfront, Expo Center has to be the largest no-closing-time-required permanent space in the five boroughs. The main room is more like a stadium, with a warren of adjoining rooms and plenty of nooks and crannies.
If the South Bronx conjures up images of rubble-strewn lots and burned-out autos, you haven't been here lately. I know, because I moved here three years ago from Hell's Kitchen and never looked back. Safe? Hell yes, it's safe!
That doesn't mean we don't keep it real in the 'hood. There's still enough grit for all the decayed excess of Caligula's Rome, the theme of this year's party.
Photo BY: BUNNYZ
Once you've thrown off your winter duds and donned that revealing toga or gladiator skirt, get ready for a night (and morning; and afternoon) of serious dancing. Once again, the Saint-at-Large has made it a point not to book the same-old-same-olds. This year's five musical line-up constitutes a Who's Who of the most progressive and innovative DJs on the international gay underground club scene.
From right here in New York come ballroom legend Byrell the Great, returning BP fave Ryan Smith and Detroit native Mike Servito. From Berlin, both Boris and Roi Perez serve as resident DJs at Berghain, the Vatican of dance clubs. As for DJ Harvey, he's in a class all his own.
Called "the Keith Richards of dance music" when "Rolling Stone" named him one of "25 DJs that Rule the Earth," his sound was tailor-made to close the party.
As always, the Saint-at-Large is sparing no expense to ensure that the assembled thousands hear them in a state-of-the-art sound system and the most complex, soaring lights.
So don't miss what promises to be the party of the year, or you'll regret it—more than you may know: Rites XL may mark the end of one of gay New York's most beloved traditions.