Adore Delano joins the ranks of rocker greats Nine Inch Nails, Paramore, Fall Out Boy, twenty one pilots, Nirvana, Oasis, Radiohead and Marilyn Manson; gracing the cover of the Rock And Roll Hall of Fame-celebrated publication Alternative Press Magazine.
As the cover-queen of the magazine's first-ever Pride issue, she uses the platform to spill all the tea on her ongoing legal battles with her old management company, Producer Entertainment Group.   She also gets into the emotional turmoil she's been going through since the death of her dad,  what the dating scene is like for a queen, the impact of Trump's immigration crackdown on her Mexican family,  and her true unfiltered feelings on RuPaul.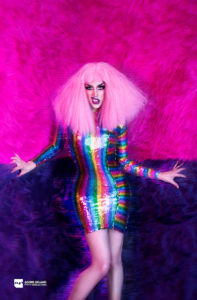 Move over Tyra Sanchez, you ain't the only Drag Race queen falling out of Ru's good graces!
Joe Scarpelli, the CFO of AltPress, says Adore Delano was an easy choice for the magazine's first Pride issue. "While other artists are scared to tackle truth for fear of losing opportunities, Adore demands respect by addressing her feelings head on and standing up for what she believes is right."
Additional LGBTQ musicians featured in the Pride issue are Julien Baker, Panic! At The Disco, Lynn Gunn of PVRIS, and Tobi Duncan of Trash Boat.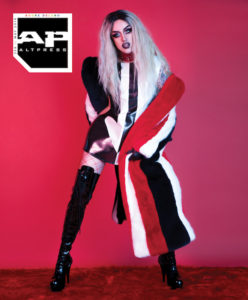 The issue celebrates the rock contributions of the LGBTQ community and, believe it or not, there have been plenty! From Little Richard in the '50s to Laura Jane Grace in the 21st century, some of the most exciting and inspiring music being made in the name of rock has come from quarters far and away from the constructs of binary gender.
AltPress founder/CEO Mike Shea says he's seen a profound shift toward acceptance of the LGBTQ community from the alt rock population and the music industry as a whole. He credits the gay marriage fight. "Suddenly, artists — from metal dudes to hip hop moguls and even top country stars from red states — came out in support of the community. Supporting the gay community, and even being gay, was no longer considered a business risk and that ultimately changed the game."
He also sees more young artists today proclaiming at the beginning of their careers, "I'm a singer, I'm a performer, I believe in this, I want to do that, and, oh, I'm LGBTQ, too."
With both Shea and Scarpelli being openly gay, Scarpelli hopes the first ever Pride issue of AltPress will help to instill the rocker mantra into this year's celebrations. His advice to the young queer generation: "Chase your dreams, and to anyone who says you're shit, give them the middle finger and keep on course. Go against the grain and be different, be yourself and rock on, gay rockers."
The special Pride issue of Alternative Press Magazine, featuring cover-queen Adore Delano, is available now.
Follow Alternative Press and Adore Delano.