Addy & Uno Extends It's Off-Broadway Run
Addy & Uno, the hit off-Broadway production that features a delightful cast of comical and melodious puppets with disabilities, has announced it will extend its run through March 10th.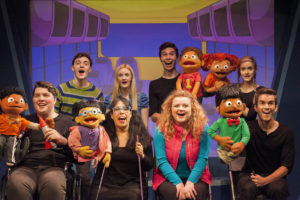 Fans and critics have hailed the show for being off-Broadway's first family musical comedy to celebrate differing abilities, friendship, and kindness. Even Mayor deBlaisio is honoring the show.  He issued a letter of recognition, praising the production for "teaching its audience the importance of embracing each other's differences and showing all people the respect and understanding they deserve."
Addy & Uno opened off-Broadway in October, after a sold-out run at the 14th Street Y. Its original score, heartwarming story, and incredibly talented cast — including those marvelous puppets! — quickly resonated with theatre goers; educating typical children about peers with challenges and offering those with differing abilities a poignant story they can relate with.
The show stars Uno, a young boy with plenty of mathematical ability that happens to have autism. He gains the courage to enter his school's math competition with help from friends who face challenges of their own: Addy has AHDH (attention-deficit hyperactivity disorder); Melody is visually impaired; Seemore has hearing loss; and RJ uses a wheelchair. The musical spotlights the beauty of individuality while whisking audiences on a wonderful journey of hope and big dreams.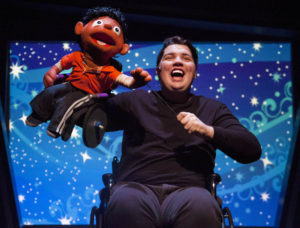 Says Addy & Uno's lead producer Tom D'Angora: "About one in six American children are born with a developmental disability: ADHD, autism, Cerebral Palsy, learning or intellectual disability, or hearing loss or vision impairment. These conditions impact day-to-day functioning and typically continue throughout a person's lifetime. A big part of our show's success is that it highlights some of the ways people with and without developmental disabilities can come together to form strong, diverse communities."
The show is directed by Emmy-nominated Donna Drake with music by Bonnie Gleicher.  It is produced by the Drama Desk nominated husband team behind off-Broadways NEWSical The Musical, The Marvelous Wonderettes and Naked Boys Singing!, Tom and Michael D'Angora.
The cast features Caitlin Donohue, Ty Gaines, Brent Jones, Derek Christopher Murphy, Vanessa Pereda-Felix, Noah Pyzik, Bryan George Rowell, Kate Ryan, and Annabelle Shea, and Stephen Velasquez.
Addy & Uno plays every Saturday at 12pm at the Kirk Theatre at Theatre Row. For more information visit its website.