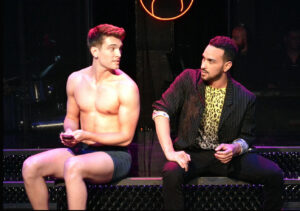 Florian Klein (aka gay porn star Hans Berlin) has turned his experience in adult film into a stage musical! Shooting Star – A Revealing New Musical begins its limited run at Brooklyn's 3 Dollar Bill beginning Oct 25.
The book and concept are by Klein with music by Thomas Zaufke and lyrics by Erik Ransom.
Shooting Star follows a struggling Hollywood actor as he rockets to stardom as adult film performer Taylor "TNT" Trent.  Through dance, music and comedy, the show presents a sincere look at the human side of porn, focusing on the performers in the adult film world – their desires, dreams, and, of course, their dramas.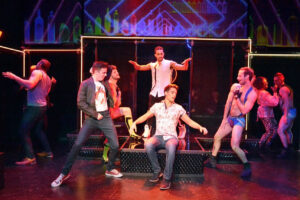 Dennis Corsi directs. Choreography is by Michael McCrary, music direction by Brad Simmons, and the show is produced by Shooting Star Musical, LLC, Bruce Robert Harris, and Michael Susko.   Clothing and costumes are being provided by ES Collection USA and its naughty little sister brand Addicted USA, popular for playful apparel including its line of crafted harnesses, singlets, and jocks.   Both brands are favorites in the adult world, especially among the men of BelAmi, where gear is often seen in film and on the stars during their live stage performances.
Shooting Star premiered in Los Angeles where it enjoyed a sold-out run.  The LA TIMES described it as "…a traditional American musical: a heartwarming tale of misfits," because at its core, the powerful show is about love and family in a world where many people do not believe love and family are possible.
Shooting Star runs from October 25th through December 18th.   Showtimes are Monday – Friday at 7:30pm and Sunday at 6:30 pm.   Doors will open one hour prior to showtime and ticket holders are invited to come early and #PartyLikeAPornstar before the show.
3 Dollar Bill is located at 260 Meserole Street, Brooklyn.
For tickets and information, visit www.shootingstarmusical.com