A CELEBRATION OF LOGO'S NEW SERIES, FIRE ISLAND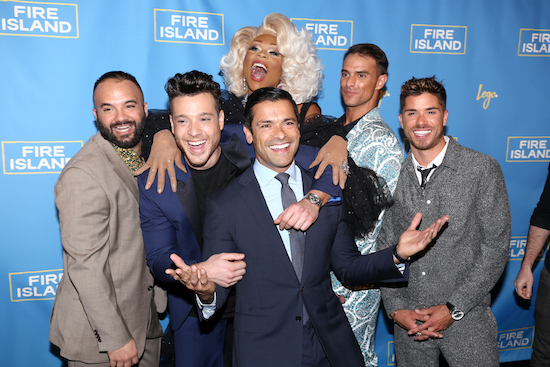 "FEATURING EXECUTIVE PRODUCERS KELLY RIPA AND MARK CONSUELOS AND THE BOYS"
A.S.C. was the scene last night for a gala celebration of Logo's brand new series "Fire Island", which is premiering April 27, at 8pm. The series follows the adventures of a group of young professionals in the Fire Island Pines, while renting a beachfront house for the summer.
Appearing at the event were celebrities including The "Fire Island" Cast Brandon Osorio, Cheyenne Parker, Jorge Bustillos, Justin Russo, Khasan Brailsford, and Patrick McDonald, with Executive Producers Kelly Ripa and Mark Consuelos.
Celebrities also in attendance, Jenni "JWOWW" Farley, Samantha Giancola and Vinny Guadagnino of "Jersey Shore;" Peppermint from "RuPaul's Drag Race" season 9.
Laced with beach balls, towels and remnants of summer, hot men, and fabulous DJs, the bar exploded with festivity and jolli cation, as Kelly and Mark addressed the crowd, and introduced the members of the cast.
"We are so thrilled and excited tonight that you could all join us tonight. We are very excited to have our special screening here. Fire Island Is one of my favorite places " ….Kelly
"We love Fire Island, we've been going there for a while now"….Mark
"Yes, for many, many years, and if this series works out, maybe daddy will buy us a house there…I wanted to thank the editors, especially because as you can see the men in this show are so unattractive, we had so little to work with. Thank god we had good editors who managed to put together a sexy bunch of men. We are so proud of you, and thank you for letting us into your lives. It's really fantasy viewing, and season two, is at daddy's house on re Island"….Kelly
"FIRE ISLAND" Premiers Thursday, April 27 – 8pm on Logo TV Get Out! Magazine reminds you to catch Live with Kelly – Weekdays at 9 am on ABC -TV