The Official RuPaul's Drag Race: Season 11 Tour will launch Sunday, May 26th in Los Angeles and continue to 16 cities throughout the US and Canada. All fifteen season 11 queens will star. Season 10 finalist Asia O'Hara will host, with Michelle Visage helming the Los Angeles and New York tour stops.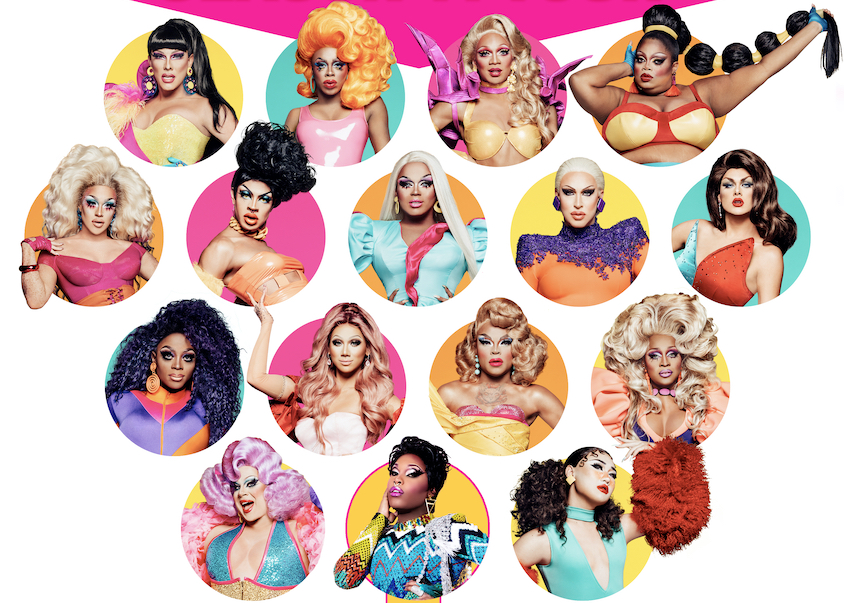 "I'm thrilled to bring, for the first time ever, the breathtaking Queens of season 11 LIVE to audiences in the US and Canada," says RuPaul's Drag Race judge Michelle Visage.
All fifteen season 11 Queens including A'keria Chanel Davenport, Ariel Versace, Brooke Lynn Hytes, Honey Davenport, Kahanna Montrese, Mercedes Iman Diamond, Nina West, Plastique Tiara, Ra'Jah O'Hara, Scarlet Envy, Shuga Cain, Silky Nutmeg Ganache, Soju, Vanessa "Vanjie" Mateo, and Yvie Oddly will slay the runway as the tour commences during the official RuPaul's DragCon LA after party, and continues to sixteen cities across the US and Canada, ending in NYC on September 6, part of RuPaul's DragCon NYC weekend.
"All bets are off and all rules are out the window as the queens show you what they are REALLY made of," adds an exuberant Asia O'Hara. "Of course, I'll be safe behind the microphone."
Ticket presale begins April 3rd at 10:00am PT, with public tickets on sale April 5th at 10:00am PT. Visit https://vossevents.com.
RuPaul's DragCon LA takes place May 24-26 at the Los Angeles Convention Center. Tickets are on sale HERE, and after party tickets are on sale HERE.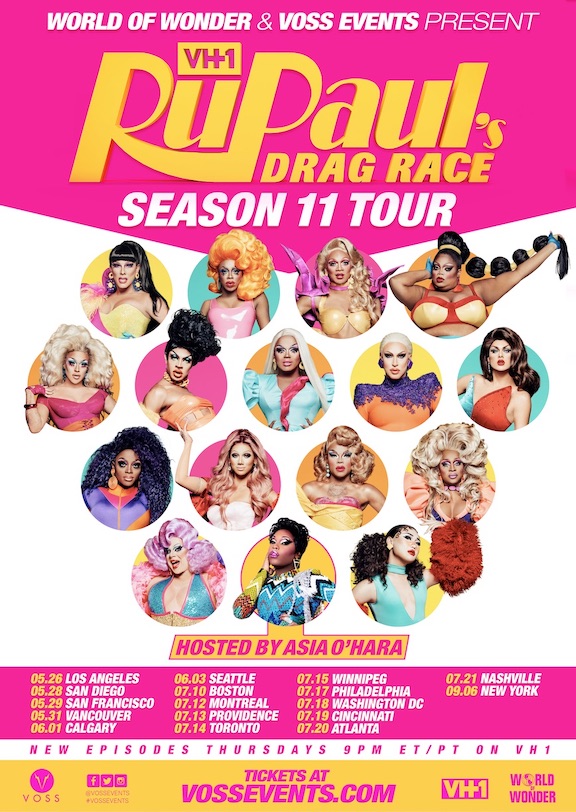 Here are the dates:
5/26 – Los Angeles (RuPaul's DragCon LA weekend)
5/28 – San Diego
5/29 – San Francisco
5/31 – Vancouver
6/1 – Calgary
6/3 – Seattle
7/10 – Boston
7/12 – Montreal
7/13 – Providence
7/14 – Toronto
7/15 – Winnipeg
7/17 – Philadelphia
7/18 – Washington DC
7/19 – Cincinnati
7/20 – Atlanta
7/21 – Nashville
9/6 – New York (RuPaul's DragCon NYC weekend)