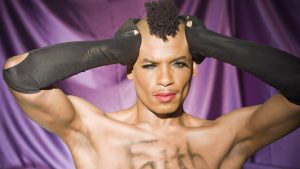 Get out and get ready! T-Boy—downtown NYC singer, songwriter, actor, longtime DJ at the iconic Boots and Saddle Drag Lounge and Get Out! cover boy last spring—is premiering a new music video for his latest single "You Tried It!" on Thursday, January 12, at Miss Peppermint and Scotty Rox' "Do The Right Thing" at the Ritz Bar and Lounge. It is the third video directed by Mikhail Torich and featuring cameos by Danilo Silva, Ari Kiki, Peppermint, Honey Davenport, Kareem McJagger and many more, and it is all about The Shade. Don't try him!
Hello! It's been almost a year since the release of the explicit "Lick My Boots" music video, which got thousands of views. What is coming up next?
Right now, my focus is on my new video, my third with director Mikhail Torich.
You've been a spotlight in a documentary film, "Black Velvet." Tell us a bit about it. How's it going?
Black Velvet is the little documentary by Tobias Daniels. We've opened the film up for more editing, so currently that's the tea. The film follows me, a gay black performance artist, and the ins and outs of my nightlife experience over the past 20 years and my past in the pre-"Don't Ask, Don't Tell" Navy.
Most entertainers love having a little extra in store other than the actual performances. Do you have something special saved for your longtime fans?
I teamed up with Jeffrey Grubb of House of Alchemy on a t-shirt line, with proceeds going to both final editing on "Black Velvet" and the Anti-Violence Project.
Tell us about this video. What's it about?
It's a rap song called "You Tried It," where I talk about the shadiness and contradictions of NYC nightlife. Society puts "us in boxes," then "we turn around and make rules for each other." I refuse to be put in a box!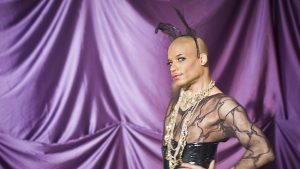 Have you been "tried" in a club? What's your own worst experience? I hope it's not about Markus Kelle!
Yes, I have been "tried" many times! The time I showed up to work at a gay sports bar and another DJ was doing my job. When I questioned the manager, his response was simply, "You should have figured it out!" Another time I was DJing a twink party, and the host, a white boy all of 20 years old, asked me if I was the night's DJ. I said yes, to which he replied, "Had to ask, cuz you're black!" My favorite of all though: I'm banned from The Cock! Why, you ask? My ex (of 10 years) refuses to let me in, lol! Talk to me personally about THAT tea! My song "You Tried It" is about all of these experiences.
How did it all begin? What was the process? Did the music video start with some screenplay? Script? And what about the premiere?
I moved to NYC with one motivation: to create music. I'm doing that now. I can die a happy queen. Music video director Mikhail Torich and I collaborate flawlessly on every project. This is our third together. I believe if it ain't broke, don't fix it! He draws me out a fully realized storyboard concept for each video we do, so we know exactly what are we filming.
Before I describe "Do The Right Thing" at the Ritz, let me tell you about its host! Peppermint is one of my dearest friends. She's not only the hardest-working queen in all of NYC, but she attaches herself to some of the most legendary parties in the city. This party is all hip hop and R&B with an LGBT twist. I have been both DJ and performer there. Pep started the party with another friend and legend Cazwell. Scotty Rox holds down the DJ booth now, and the party is slammin'! Barbra Streisand is not the end-all-be-all of the gay experience. I have a background in hip hop, and I can at least get my life every Thursday with Peppermint.
You can find T-Boy DJing Fridays and Saturdays at Boots & Saddle Drag Lounge in West Village, NYC.
facebook.com/T-Boyislive
facebook.com/just.tboy
youtube.com/user/TBoynyc
torich.nyc
Photo Credit: Mikhail Torich
Behind-the-Scenes Credit: Eric Halliwell