She's XXXPens$ve; Why Seeing Erika Jayne At Borgata Next Weekend Is Worth Every Penny!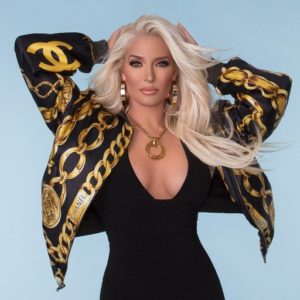 Between holiday shopping and Christmas card writing, it's always important to, as Retta & Aziz Ansari made famous, to Treat Yo Self! There is no better way to show some self love than to take in a concert at Borgata Hotel Casino & Spa, and with Erika Jayne hitting the stage on December 2nd, Christmas is definitely coming early for fans of this diva. 
First, a quick tutorial; Erika Jayne was a dance artist with a heavy presence on the LGBT dance floors and pride circuits, and then Bravo came calling. The Real Housewives of Beverly Hills snatched up this Malibu doll and along with husband, famed attorney Tom Gerardi, she has offered sass, style, and a whole lot of confidence to the ladies of the 90210, shaking up the cast like almost no one before her. 
Her career on the dance floors is storied, with one consistent fact threading through her catalog; Erika Jayne is a party. She is an event. She is XXXPens$ve! 
Crazy (Chris Cox Club Mix)
https://youtu.be/ulluVcgUGS4
In what would become a foreshadowing of Erika Jayne's musical catalog, pairing Ms. Jayne with a dance floor master like Chris Cox conspires to create magic on the dance floor. "Crazy" is a classic style peak hour dance hit, with hands in the air sensibilities and in the hands of a master like Cox, amped up to house music perfection. Produced by 2015 dance master Scott Storch, tracks like "Crazy" set the tone for what is to be come of Ms. Jayne's career.
Get It Tonight (Ft. Flo Rida) (Vino Mix)
https://youtu.be/LsE5PwB3_Rs
If there was ever a true summer style anthem, it was "Get It Tonight". Tossing in nightclub favorite Flo Rida to offer his own slick rhymes only adds to the dance floor readiness with this one, and the "Vino Mix" eases up on some of the verses, while putting maximum impact on the most high energy portions of the track, making this track a true collaborative effort that more than pays off on the dance floor.
Stars (Moto Blanco Remix)
https://youtu.be/yb3El4ZfcwA
The team of Moto Blanco may seem as an odd choice for a remix for an artist as big and as brash as Erika Jayne, but when she released "Stars" earlier in her career, they were a perfect match. Matching the hypnotic vocals that Jayne delivers on this track mesh perfectly with the mid-tempo early evening style mixes that Moto Blanco are sometimes known for.
How Many F**KS (Dave Aude Remix)
https://youtu.be/F-QSL6jdpjo
This cheeky anthem summed up exactly who Ms. Jayne was following her debut on "The Real Housewives of Beverly Hills". Between it's infectious beat and rapid fire lyrics, it was destined to be a dance floor hit. A remix from Dave Aude only elevated the best parts of the track, letting the verses take center stage, then giving us some slamming beats post-chorus.
Painkillr (Oliver Twizt Remix)
https://youtu.be/bXI_UAFImcI
This track served as the soundtrack for the birthday party that Mr. Gerardi threw for Erika on "The Real Housewives of Beverly Hills" during the Season 7 premiere and who could forget Lisa Vanderpump triumphantly striding towards to women ready for another season of battle with this track in the background. Between the throbbing beats and provocative video, this track serves as one of the pivotal moments of Jayne's recording career, and gives us a peek into the artist that she is to become.
Pretty Mess (Dave Aude Club Mix)
https://youtu.be/xnt19LVTTzo
This track not only is one of Jayne's bigger chart hits, but has also become the title of her autobiography as well as her unofficial nickname. A pivotal track in Jayne's catalog, the escalated production and uber risqué choreography (and stunning backup dancers) have this track serving as a complete game changer for Jayne, and also serving as a preview for the artist that she is to become in the not too distant future.
Party People (Ignite The World) (Bimbo Jones Remix)
https://youtu.be/pcaCIdekm_E
Bimbo Jones are known for their high energy diva stompers, so having them matched up with Erika Jayne is more than a natural fit. All of the classics of a standard Bimbo Jones mix are there; the pre chorus buildup and the hands in the air chorus, with some experimental electronic fun tossed in. Delving back into this mix only makes us hope for a reunion between Ms. Jayne and Bimbo Jones on a future track.
One Hot Pleasure (Ralphi Rosario Club Mix)
https://youtu.be/5ura8UW2QbY
With hints of The Pussycat Dolls "Dontcha" sneaking in throughout, legendary remixer Ralphi Rosario put his magical touch on this earlier track from Jayne's catalog. Rosario keeps the remix simple and lets Jayne's club friendly vocals speak for themselves, and the verses in this one are particularly friendly for the boys to his the dance floor too. Matching Janye up with a remixer like Rosario who has a proven diva remix pedigree was a match made in disco heaven.
XXXPENS$VE (Original Mix)
https://youtu.be/3hL99eTKil8
Arguably one of the biggest tracks of Jayne's career and coming at the height of her "Housewives" fame, this track has served as the anthem for anyone who has complete adoration for Jayne. You would be hard pressed to find more aspirational lyrics anywhere, and I challenge you to not watch a drag queen tear into "XXXPENS$VE" and not get caught up in the moment yourself. This one is the true personification of who Erika Jayne is as a performer (and the video on it's own merit, is scorching)!
Cars (Original Mix)
https://youtu.be/3lZSR7Hp8pY
Jayne's latest offering pays tribute to one of her favorite Beverly Hills accessories, a good old fashioned high end automobile. The track has heavy offerings of pulsing beats (and double entendre) and while it's not as high energy as some of her previous tracks, the one thing it does have is an infectious beat line and chorus, which will keep Ms. Jayne's name on our lips (and our feet on the dance floor) for quite some time.
Catch Erika Jayne live on December 2nd, 2018 at Borgata Hotel Casino & Spa in The Music Box Theatre. Tickets available at https://www.theborgata.com/shows/event-details/erika-jayne-atlantic-city