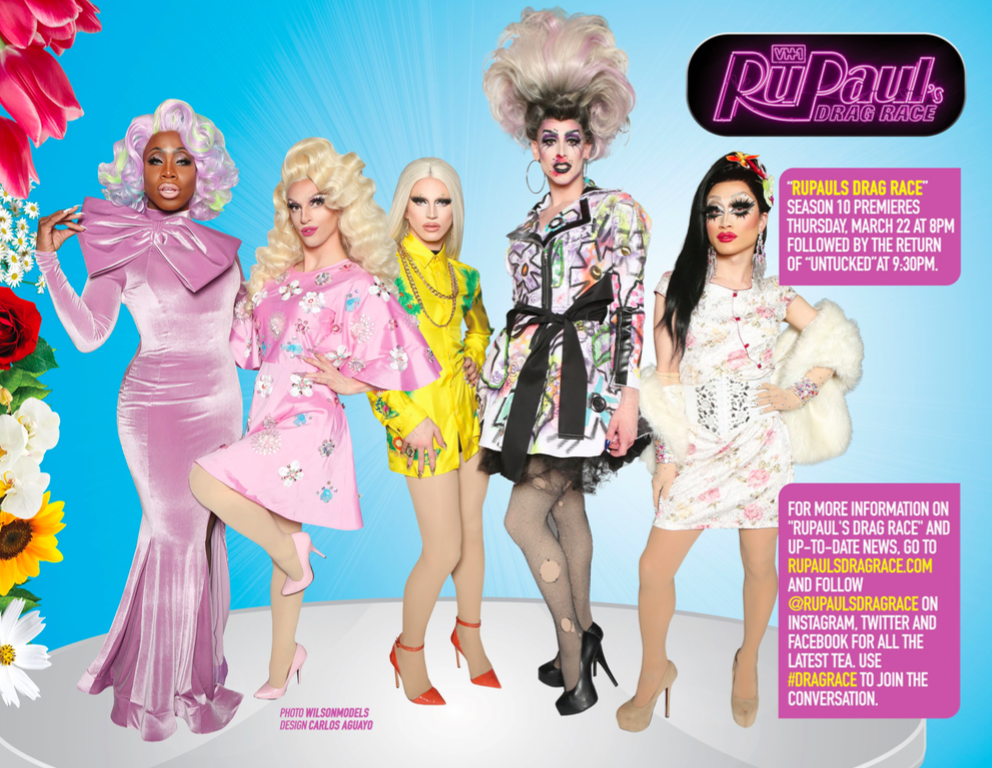 Nearly a year ago in April 2017, VH1 renewed the award-winning, one-of-a-kind spectacular, "RuPaul's Drag Race." Auditions began and ended in May, and finally the contestants were revealed. The season premiere will air March 22, with judges Michelle Visage, Ross Mathews and Carson Kressley. It promises to be a "neon" extravaganza!
Five special queens were chosen to represent New York, including Yuhua Hamasaki, Miz Cracker, Monet X Change, Dusty Ray Bottoms and Aquaria.
On behalf of Get Out! magazine, we would like to wish all of the contestants the best of luck in the competition, and introduce the New York queens to the world up close, intimate and personal during a photo shoot at Boxers HK.
Thank you to Boxers, which welcomed us to any of its four NYC venues, and a special thanks to Boxers HK and its staff and management. And to RuPaul, of course, as this never would have been possible without her and her amazing management team at VH1, Logo and MTV.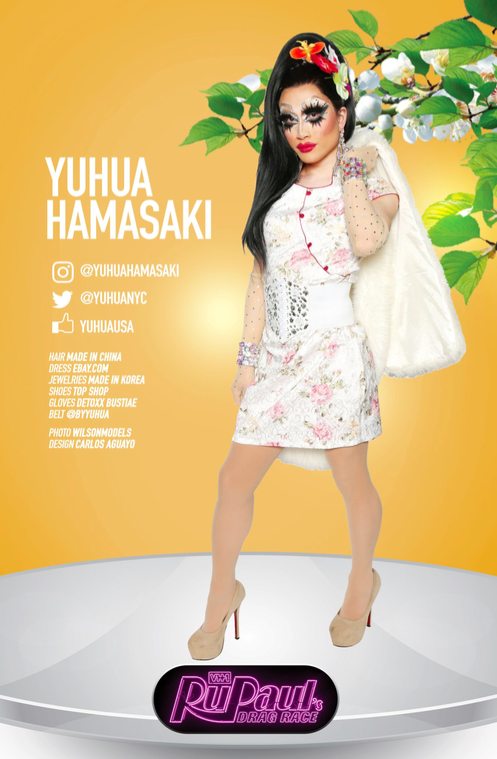 One of the most refreshing, beautiful and talented queens to hit New York, Yuhua was born in China and began doing drag for Halloween, as many queens do. She was born with the name Yuhua, and her drag last name Hamasaki came from the Japanese pop star Ayumi Hamasaki, thereby distinguishing her as an Asian queen through and through.
What took you so long to become a "Drag Race" contestant?
I don't know. They didn't want me till now.
What have you been doing lately?
I've been doing shows, and I went away for the summer and filmed "RuPaul's Drag Race." I had so much fun. It was a lot of hard work, a lot of up and downs, but overall a good experience. I loved it. I would totally do it again. I would recommend for anyone to do it.
How do you think being in "Drag Race" has changed your life?
Well, #1, it is a stamp of approval from RuPaul, the greatest drag queen of all time. Also, it's an honor, but also a level up performing in clubs, because being on "RuPaul's Drag Race" is a level up in doing what I love to do, which is drag.
Was there a favorite thing for you being part of "RuPaul's Drag Race"?
It was getting to know the girls, and also the full experience of being in it, because when you watch it from TV you don't really know how everything is done. So the magic behind the scenes was really the fun part for me.
Do you feel like having been in "Drag Race" that your life will never be the same?
I think it won't be the same. I think that more people will recognize me, and more people will attach me to "RuPaul's Drag Race," which is the greatest drag show competition in history so far. I don't think my life will be the same again. That's what comes with being part of "Drag Race." You get this exposure, and then there is stuff that goes attached to it.
I remember you putting your makeup on in the train.
Yes, that will never change. I will still do that. I'm still that girl.
Aside from "Drag Race," what are you currently doing in New York City?
I will be doing some music, videos. I don't want to say too much, because everything has to be a surprise. I think there's more of an effect when something happens that people don't expect from you. It's more of a surprise.
Did you make any besties on the show?
I was close with the New York City girls already, so it was easy to hang with them, but I also met some really cool performers that were part of the cast of this season. All in all they were very, very friendly, very welcoming, very sweet and very, very kind. I can get along with anyone, I think.
Is there anything that you'd like to say to your brand new fans and followers?
Buy my t-shirt! They are $25, 100% cotton, and it comes in different sizes: small, medium, large, extra-large and extra-extra large. You support me, I support you. I'm pro-body positivity.
Looking back, knowing what you know now, what advice would you give yourself going into "Drag Race"?
When I was younger I always kept the momentum of being true to yourself, and always be yourself. If you are yourself it's real, and you don't have to try so hard. That's what makes you sparkle. That's what makes you you.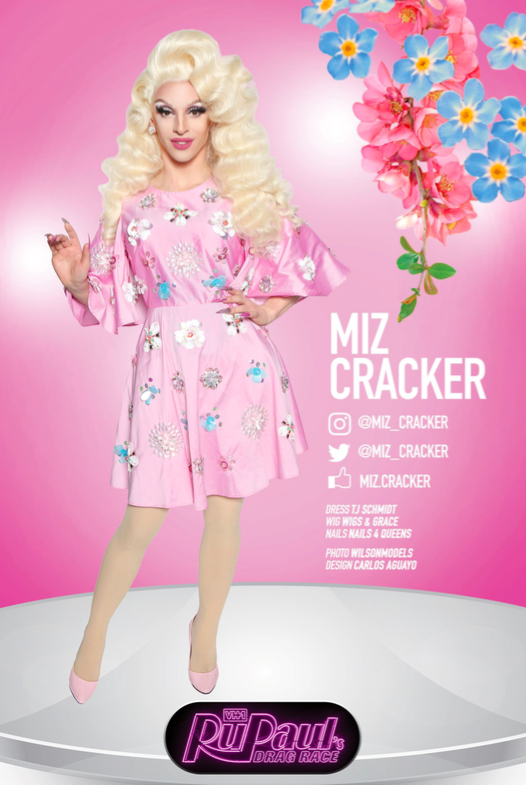 This karate black belt has a YouTube series called "Review With a Jew" and is credited with getting Sasha Velour her first booking in Manhattan. Miz Cracker's drag mom is Bob the Drag Queen, and fellow contestant Monet X Change is her drag aunt. She's beautiful, smart and full of effervescence, with some great advice to give.
How are you Miz Cracker?
I've been better.
Why?
I'm wearing a corset right now. She's thin, she's white, she's lovely…she never has to wear a corset.
What did you take with you being on "Drag Race"?
Well, I used to get so impatient on the train or on planes, any time I was going to do something incredibly difficult, but "Drag Race" really taught me no matter what the world throws at you, and how difficult it seems, apparently you can survive it.
What inspired you to audition for "Drag Race"?
Well, when you are in drag you don't make a big splash in the world, and you don't make a lot of money. Just like anyone else, you have to survive. There is a ceiling; once you reach the top in your city, you can't get any bigger. The only way to survive, like anybody else if you are a drag queen, is to go to "RuPaul's Drag Race" and try to reach a different level. It was about survival.
Do you feel that being in "Drag Race" has changed your life?
If there is any doubt that drag queens have created an incredible community, "Drag Race" got rid of that for me. I saw incredible people under incredible pressure, taking time to help one another. That changed my outlook on drag, and drag is my life. So I guess we can say it changed my outlook on life.
Do you have any advice for anyone who is considering doing drag?
Yes. If you can prevent yourself from doing drag, don't do it. If you're listening to me right now, and you feel chilled by me telling you don't do it, don't bother. But, if nobody can stop you from doing drag, and you won't listen to any advice to the contrary, then you can do it! Because it's unlikely that you'll ever make any money or do well if you're a drag queen. The only reason it's worth doing is if you absolutely cannot help it.
That's some of the best advice I've heard.
You're a writer, right? I think that that applies to being a writer, a dancer, an artist of any kind. If you can prevent yourself from doing it, then don't bother. The only reason to be an artist is if you absolutely cannot resist it.
Who was your bestie during "Drag Race"?
I had my beautiful sister Monet X Change. We have had a show together for three years now in Hell's Kitchen in New York City. It's easy when you're doing the show with someone to still keep a barrier or a wall between you. Drag queens are very extroverted, but they are also very solitary creatures. So being on the show with Monet X Change put us under the pressure that we needed to finally break down the barriers between us and fully get close. Fuck the other thing I said about "Drag Race," that was the important thing that I got out of "Drag Race," damn it!
Is there anything that you'd like to say that I haven't asked you?
Yes, there is. I try to communicate this every time I talk. Having friends is great, having lovers is great, going out to brunch is fine, but we live in a world where there is so much wrong. All of us should be focused on trying to make the world a better place. So get off of Grindr, forget brunch with your so-called friend and stop fretting over your so-called boyfriend. Focus on something important and fight to make this terrible world a better place for just a little bit.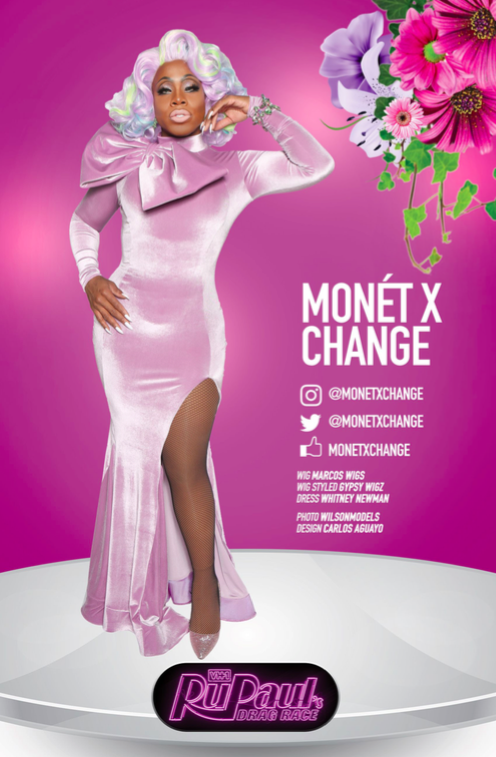 Known for her eclectic and captivating fashion and her super mixes, Monet X Change is one of New York's most sought-after drag queens. In her introductory interview, Monet says that she wants to be most known for her lovability and jolliness. This queen is a blast! Hailing from Brooklyn, she says she doesn't take life too seriously.
How are you?
I'm blessed.
I love that we're speaking. I've been trying to talk to you for years.
I'm happy that we're having the time, girl.
What was the most important thing that you got out of being in "Drag Race"?
The most important thing that I got out of "Drag Race" is that when you go to the show, it is really easy to get caught up in the rigmarole and trying to build up this thing of what you want the world to see. But what you realize on the show is that RuPaul asked you to be there because he liked your persona, he liked what you have to offer for our community. So being on the show taught me, hey, I am adequate enough, and who Monet X Change is is who the world wants to see.
You've been in New York for a while.
I was born and raised in Brooklyn.
Me too.
I went to Marine Park Junior High School, and that was the craziest thing I ever did besides "Drag Race."
Looking back, if you could give yourself advice about "Drag Race," what would it have been?
If I could've given myself advice, it would be what I said earlier about just being adequate and being enough, and there is no need to be something that you are not. The reason why I am at the top of New York, working five nights a week, and the reason why people come back to my shows week after week is because who I am is enough. There is no need to give RuPaul and all the judges anything but who I am, because the reason I'm there is because who I am.
That makes sense. If you could tell your new fans and followers anything, what would it be?
If I could tell my new fans and followers anything, it would be: when in doubt rhinestone it out. If you are going to your office Christmas party, and you are wearing a Christmas sweater that needs a little more pizzazz, go to Michael's or Joann's or the dollar store and just get some stones and some glitter and throw it on there. Everything looks better with glitter.
YES! Is there anything else that you want to say?
I have a one-woman show that I'm going to be traveling across the continental United States, and hopefully I'll do Mexico and Europe. One thing I've learned is that a lot of people outside of New York do not have the New York drag experience. Many of the shows in New York are just one girl on stage for two hours. In New York the bars are so small, and they literally don't have time to get a cast. So for me, as a New York queen, it usually involves being the singer and a dancer, the comedian, everything in one being. So I wanted to take that idea and that concept and put it in my one-woman show so that people in Little Rock, Arkansas, can see an amazing drag experience with just one girl on stage with the microphone and telling jokes. So that's what I wanna do and take around.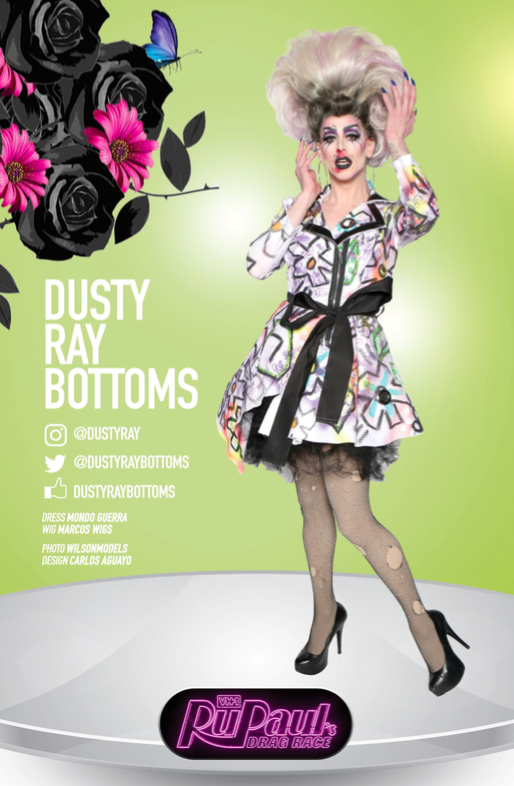 Originally from Kentucky, this queen moved to New York to pursue a career in acting. Her grandfather was an evangelist, and her father was also involved in the church. Her name, Dusty Ray, comes from the shortening of her boy name (Dustin Rayburn), and while she was working as a waiter in New York her friends would call her a bottom. She said that they would go around and tease her, calling her Dusty Ray Bottoms, so she claimed that name and used it to her advantage.
What does it mean for you to be on "RuPaul's Drag Race"?
Oh my gosh, to be on "RuPaul's Drag Race" is an absolute dream come true. Not only have I been working so hard in New York City as a struggling artist, but now I have the seal of approval from RuPaul, and I just feel like I'm an Olympian in my art, and I feel like I'm on top of my game.
What has been your best experience thus far?
I would say literally my best experience from the show would have to be the sisterhood that I made with my season 10 sisters. I got to meet so many people that have similar stories as I do that are in a different part of the country, who are pursuing the same artistic endeavors that I am. So it was really nice to get to meet some sisters that way and to share our stories and to really get to know each other. Our stories are really huge right now, and I hope we can use that to change the world and to change younger viewers as well.
How do you think that "Drag Race" has changed your life?
I remember I used to watch "RuPaul's Drag Race" at my mom and dad's house. I know this was 10 years ago. I'm 30 now, so I had to be about 19 or 20. I was terrified to watch the show. I would watch it in my bedroom and literally sit an inch away from the TV with the volume on one and worried that somebody would know that I was watching the show. It taught me how to live out loud, and coming from where I come from in Kentucky, it really changed my life. It made me a bigger person than what I thought I was.
It had to be a little tough coming from Kentucky.
It was rough. It was something special. My puzzle piece really didn't fit there, and drag really helped me find out where my puzzle piece fit and where I belong.
What's your drag specialty?
Oh, it's all special honey. From the look to the performance, it's all great.
If you could say anything to your new fans and followers, what would it be?
I would just want them to know that anything you want to do with your life you can absolutely get it done and do it. Any obstacle life may throw you is just a small roadblock for now. Nothing lasts forever but your positive attitude and your good look on life. Just keep that up, and just don't stop. That's what I wish I can go back and tell my fifth grade self. Like, it's just for today, keep going, everything is going to be awesome.
Is there anything else that you want to say?
I'm just so honored to be talking on the phone with you and to be on this platform today. It's a dream come true. I never thought in a million years, back when I was 15, I never thought I would be a drag queen, let alone traveling the world being a famous drag queen, being a Ru girl. I just feel so very lucky, and I'm so very honored. I'm very grateful, so thank you for your time.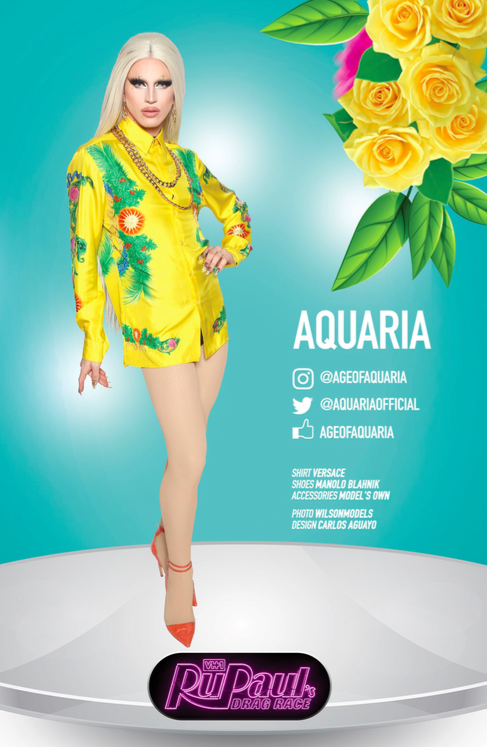 Aquaria, the drag daughter of season four winner Sharon Needles, is the youngest queen on the show and looks like a high-profile fashion model. With more than 200,000 Instagram followers, it is not surprising that she is very popular.
Has "RuPaul's Drag Race" changed your life, and if so, how?
"RuPaul's Drag Race" has absolutely changed my life! I think before the show I was definitely a lot less comfortable with myself as a human, despite feeling very comfortable with myself as a performer. There were a lot of things Giovanni was missing, because I was too busy focusing on making Aquaria happy. Since going through the audition process and the show, though, I've definitely become much more in tune with myself, and I think in return that creates even more opportunities to grow as a person.
What advice would you give your past self after knowing what you know now?
The advice I'd give my past self before auditioning would be to keep your same mindset, but maybe don't make too many jokes with the girls that might rub them the wrong way. As a person who struggles with self-doubt, I always love to say positive things about myself and put good energy into the universe, but sometimes this can lead to people thinking that I'm stuck up about myself, when in reality I'm just trying to convince myself that I can be strong enough to believe what I'm saying.
What would you love for your new fans and followers to know about you?
I'd love my new fans to know how excited I am to meet them all! We all know how crazy life can get with touring and gig after gig, and it can totally get tiring, but I'm super excited to meet and greet everyone, because that's always something the fans remember. And even if we can only chat and take a picture for a second, hopefully everyone is happy!
What inspired you to do drag in the first place?
I was inspired to do drag because it truly encompasses a lot of my talents, interests and strengths like fashion, dance and makeup artistry, while combining it with things that maybe don't come as naturally to me, like having a huge personality or being hilariously comedic. Drag pushes me to always be out of my comfort zone while still being able to rely on the things I know I'm good at for comfort.
What was your favorite thing about being on "Drag Race"?
My favorite part about drag is creating unique and specific looks. I like the ability to switch things up at any time, and as someone interested in styling and fashion and makeup, drag is the perfect outlet to be a fashion chameleon, and who better to be my muse than myself! Haha!
Which judge are you most afraid of?
The judge I fear the most is Ross Matthews! She's one of my favorite reality television stars, and I just hope he likes everything I put out!
For more information on "RuPaul's Drag Race" and up-to-date news, go to RuPaulsDragRace.com and follow @RuPaulsDragRace on Instagram, Twitter and Facebook for all the latest tea. Use #DragRace to join the conversation.