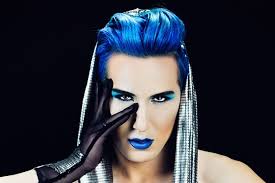 West coast glam rocker Ricky Rebel heads east in August to perform "Boys & Sometimes Girls" and songs from his new album, The New Alpha, live, as part of the Summer Nights Tour.
Presented by Artist One, the fifth annual Summer Nights Tour launches August 3rd on Long Island and continues through August 7th with local dates in New York City and New Jersey. Once again, the show will spread its anti bully message by showcasing a diverse group of music performers who have demonstrated perseverance against adversity. They include Rebel along with headliners Jax, from American Idol, and Youtube rapper Adam Saleh. Special guests are social media star Lucas Bradlee and hip hopper Tre Trax.
"I am excited to get out east for Summer Nights," says Ricky Rebel. "I live in LA, so a lot of my East Coast fans have never seen me perform live. They're in for a real hot and steamy treat," he promises.
Rebel says he was particularly drawn to the Summer Nights Tour for its strong, anti-bullying message. "Growing up, I got bullied for being feminine," he admits. "My voice was high, I was shy and very small. I was also really polite and some bullies confused my niceness with weakness. They didn't realize that as a pro gymnast, I was strong and could pack a punch. I never cowered to bullies. They quickly learned that I could not be stepped on."
He encourages his fans to stand up and defend themselves when confronted by bullies. His  album, The New Alpha, was inspired by his desire to change the current state of victimhood in society.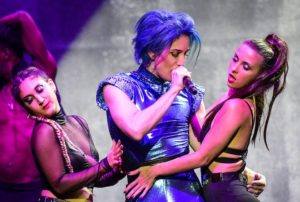 "My message is to love yourself and respect yourself," he explains. "Sure, try to communicate first and do what you can to keep it peaceful, but if that doesn't work, do not allow things to continue as they are. Take charge. Sometimes you have to fight back."
Ricky Rebel burst on the music scene in 1997 as the lead vocalist of the boyband No Authority. Signed by Michael Jackson to Michael's MJJ Music label at Sony, he toured with 98 Degrees, Destiny's Child, Aaron Carter, and Ashlee and Jessica Simpson. In 2000, the band moved to Madonna's Maverick label where they released "Can I Get Your Number," a song that peaked at #33 on the Billboard Top 40 chart. Another song, "I'm Telling You This," appeared on the Rugrats in Paris soundtrack. While with Maverick, the band toured with Britney Spears.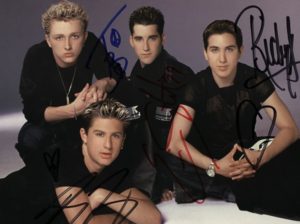 Ricky went solo as Ricky Rebel in 2012. Since then, he has released two albums, Manipulator featuring the singles "Geisha Dance," "Get It On" and "You Need a Woman" and The Blue Album featuring hit singles "Star" and "Boys and Sometimes Girls".
His songs are noted for being inspirational. In "Star," Rebel inspires listeners to be the celebrities of their own lives. His latest single, "If You Were My Baby," delivers a message that we are all worthy of love. It's something Ricky Rebel truly believes. In fact, on the Summer Nights tour, he is especially looking forward to meeting and hanging out with YouTube star Adam Saleh. "I'd love to unlock his brain and his belt buckle. Kidding! Well, not really."
Ricky Rebel's next album, The New Alpha, releases this fall.
Ricky Rebel performs The Bitter End/Wicked Willys (147 & 149 Bleecker St, NYC) on Sunday, August 6th.  For more information, visit Summernightstours.com and www.rickyrebelrocks.com.