Review: "You're A Mean One Ike Avelli" At The Triad Theater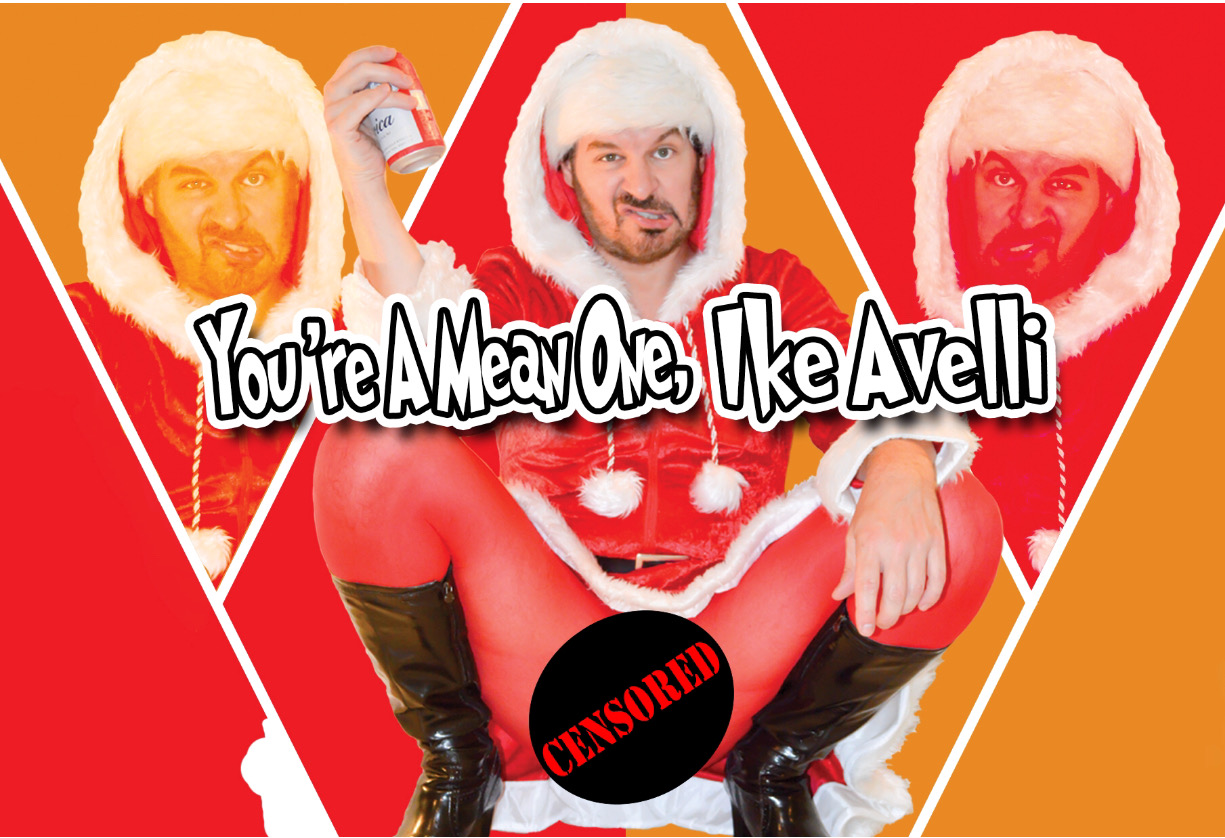 I had the extreme pleasure of attending a very funny holiday comedy show by famed NYC comedian Ike Avelli entitled "You're A Mean One Ike Avelli" which took place at the Triad Theater on W. 72nd Street in New York this past Saturday night.
Having Ike Avelli as a guest on my popular webshow The Jimmy Star Show with Ron Russell, and seeing him host a few events for some really great acts at different hot nightspots in the city recently, I was excited to see a full show of comedy and music, and this show did not disappoint.
The theater was packed to a sold out crowd, everyone smiling and looking forward to a great evening of laughter. VIP celebrity attendees included hair stylist to the stars Mark De Alwis, Pop/Dance superstar Aaron Paul, famed NYC photographer Billy Hess, and my television co-host and celebrity interviewer Ron Russell.
Prior to the beginning of the show we were entertained by classically trained piano aficionado Richmond Chandler, an amazing talent who was superb at keeping everyone's attention throughout the night.
Opening act comedian TJ Garafolo was hilarious, and the audience was laughing constantly at his wit, and sometimes crass jokes about his life and the world we live in. Very entertaining, and I am sure you are going to see him a lot in the future as a comedy superstar all over the world.
Singer/entertainer Tym Moss, just off his starring role filming the new musical "Junk" sang a beautifully stirring rendition of "Have Yourself A Merry Little Christmas" filled with emotion and vulnerability I never heard from an entertainer who's popularity has made him a staple in NYC nightlife. He later returned for an upbeat and fun original song "I Love New York at Christmas" that had the audience singing along with him, which showcased his talent as a great entertainer, and joined Ike Avelli for many other hilarious numbers.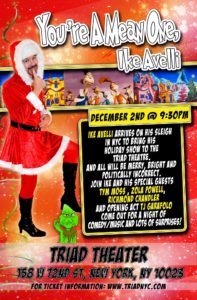 There were several amazing appearances by philanthropist, activist and drag queen socialite Zola Powell, who was the consummate professional, extremely gorgeous and a huge hit with the audience as she worked the room and sang to the audience in a flirtatious way. Zola Powell is a super talent.
Ike Avelli, the star of the show, and a very funny comedian was totally on the mark. The show was advertised as a politically incorrect comedy show, and he definitely did not disappoint, and it seemed that nothing was too risqué as the audience did not stop laughing for the entire show. He engaged the audience, even bringing several attendants on stage for a lip synch contest, and it was a BLAST!!!! Ike Avelli assembled an all-star cast, and along with his incredible talent put on a Christmas show I will never forget…..
Anyone who loves comedy should make a conscientious effort to go see Ike Avelli in whatever show he is performing. You will not be disappointed.
You can see his touring schedule here: www.ikeavelli.net or follow him on twitter @ike_Avelli