Q&A: Out Singer Sir Ari Gold
Bronx-born Ari Gold is one of the few out, gay recording artists who has made a name for himself in the mainstream. The pop and R&B singer is releasing a new single, "Sparkle," along with a hot music video kicking off later this month at the Monster with appearances around the city and in Fire Island.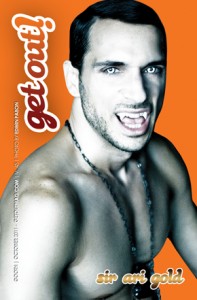 You're one of the few out, gay artists that has made a name for himself among not just the gay community but in the entire music industry. Tell us about some of the recognition you have had.
There have been so many milestones! Performing at SummerStage in Central Park, at Wrigley Field in Chicago for the Gay Games, being on Top of the Pops in the UK, being the first openly gay artist to debut at #1 on LOGO, Billboard Magazine, working with Boy George, singing "Time After Time" with Cyndi Lauper, singing my song "Sparkle" with Sarah Dash from the original Labelle. But I honestly have to say that the best recognition is from fans both young and old who tell me that my music has changed their lives, because I have always been dedicated to the LGBT community first and foremost, for better and worse, thick and thin.
What are your roots? How did you get started in the business, and did you have a "big break"?
I was discovered singing at my oldest brother Steven's bar mitzvah when I was five years old and was put into an American Idol-like competition for Orthodox Jews. I grew up in the Bronx and now I live on the Lower East Side, which makes me the fourth generation from my mother's side to live and work there. I don't feel like my career has ever been about a "big break" but rather an exercise in tenacity and building a body of work. But who knows? Maybe the cover of Get Out! will change all that!
Tell us about your latest album. Does this take you in a new direction?
"Between the Spirit and the Flesh" is the only album I've made that grooves from beginning to end – no proper ballad. It's harder and more electro but I think all my music has a foundation of soul. Each song has to do with matters of the spirit, the flesh or the conflict of the two. It was born out of my own journey of finding the right balance.
You are "Sir Ari" now – where did the title come from?
I was knighted by the Imperial Court of New York, which having just celebrated their 25th anniversary makes them the second-oldest human rights organization in this country. I kneeled in front of a drag queen, and for me, considering drag's history in the LGBT rights movement, it was a bigger honor than had the Queen of England knighted me herself!
It seems there is no shortage of gay artists hiding in the closet to protect their careers. Would you say there is a lot of homophobia in the music industry? You are evidence that out, gay artists can have successful careers.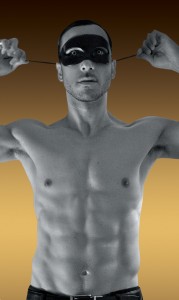 Yes, but I am also evidence to the struggle of being an out artist as well. I've written a lot about this. I've had to kick down a lot of doors, and I'm still kicking and screaming. So while it would certainly help the cause for more people to come out in the industry, I don't necessarily blame them for not. I think it's great that a platform like American Idol can produce a star like Adam Lambert, because otherwise we would never have let him be the star he is. Some of the worst homophobia I've experienced was from gay men. We don't realize how much we've been through historically, what with bullying, hate crimes, not having rights and the AIDS crisis. Don't get me on my soapbox, but before we start blaming the artists who would prefer to make music without coming out, we need to look at ourselves and who we are supporting as an audience and even more so the people behind the scenes of the industry with money and power. I think gay folks have some internal healing to do when it comes to self-hatred, but for me, music is the great healer so that's why I do what I do.
You released perhaps the first mainstream gay-themed R&B/pop songs at the beginning of the last decade. Did you do it to take a stand or because it came to you naturally? Did you receive any flak from it?
I don't know if it has to do with my religious upbringing, but as soon as I came out I got very politicized and felt like I wanted to be the kind of artist I did not have growing up: a pop star who not only was out, but also writes and sings about it and celebrates it as a part of my artistry. People get scared of being defined by being "gay." It's certainly not all of who I am, but it informs all the other parts of me. So many artists, even the openly gay ones, shy away from really exploring it, and sometimes it seems like we only care when we are being addressed by straight artists as apposed to other gay people. But I believe that the more specific we are about our experiences, the more universal we can be.
When the mainstream press writes about you they always say "Gay Singer Ari Gold" or "Gay Artist Ari Gold." Do you mind being known as the "gay singer" – do you wish you were just known as a "singer"?
It all depends on what is said after that. I don't mind the word gay. In fact, when I think of "gay" I think of the most creative and inspiring art in history and today. I think of innovation. I think of irony. I think of the good fight. I think of icons and iconography. It's only when gay is used in a limiting way, as a way of saying, "that's all you are," that's when I have a problem with it. Katy Perry can use "You're So Gay" as an insult, but to me its the highest form of flattery.
I heard you were a back-up singer for Diana Ross. What was that like?
I sang on her "Swept Away" album when I was like 12 or 13, and she told me that my duet on the Cabbage Patch Kids album was her favorite and that she wanted to cover it. She never did, but I think she was just really into it because she had daughters around my age. Looking back, I do feel like it was a christening of sorts from the ultimate R&B diva icon. Diana Ross made me a gay pop star! Or singing for Jem…or both!
You had an issue recently where you were asked to move to the back of a public bus for holding another man's hand. What was that all about?
It was one of those times that really shows you how alive homophobia still is even as we have marriage equality in New York. It was broad daylight and me and my boyfriend were sitting in the front row holding hands. We weren't even kissing. I'm very grateful to have used my platform to make change in corporate America by working with Lambda Legal to implement sensitivity training for the Shortline bus company, and I only hope more corporations will follow suit. I must also thank Get Out! cover boy Michael Musto for breaking the story when I first tweeted it so that it got the attention it deserved. Discrimination like what happened to me happens every day, and the only reason why anyone knows my story is because I am already a public person.
What are you working on? Anything exciting coming up?
I am celebrating the release of my latest single and video "Sparkle" at the Monster October 21. DJ James Anderson is letting me get behind the decks for a special DJ set, and James knows his beats and his house music! I also have some Halloween performances I'm planning now with DJ Lina on Fire Island. I'm going to be DJing every other Friday at the Cock, and I'm hoping to get back on the road after the New Year. I'm working on the video for the next single, "My Favorite Religion," and I'm also working on what I call an autobiographical homotheatrical multimedia musical.
October 21st
James Anderson Presents FRIDAY NIGHTS ONLY
MONSTER (80 Grove Street)
SIR ARI GOLD's "Sparkle" Release Party
Special performances by Mila Jam and Peppermint and DJ set by SIR ARI
10 p.m.
$8
"Spirit & Flesh" Halloween Party
Monday, October 31st
Interstate
74 Orchard St. (between Grand St & Broome St)
New York, NY 10002
Neighborhood: Lower East Side
9 p.m. – 2 a.m.
DJ set by Sir Ari
Free