Paula Abdul Kicks Off LA Pride Weekend w/ Free Friday Concert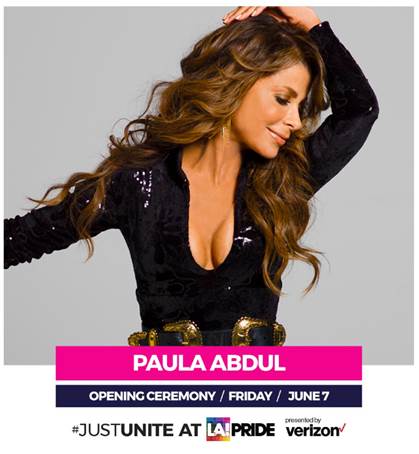 Paula Abdul Continues Her Support of the LGBTQ+ Community with Special Performance at the LA Pride Festival Opening Ceremony on Friday, June 7 at West Hollywood Park
LOS ANGELES, April 30, 2019 – Today, Christopher Street West (CSW), the 501(c)3 non-profit that produces the annual LA Pride Festival and Parade presented by Verizon, is excited to announce that EMMY and GRAMMY® Award-winning artist Paula Abdul will headline the 2019 LA Pride Festival Opening Ceremony with a special outdoor performance on Friday, June 7. As a trusted ally to the LGBTQ+ community, the iconic pop star is proud to show her support for her LGBTQ+ fans with an unforgettable 60-minute performance in West Hollywood Park as part of the free Friday night festivities.
"I am so happy to be a part of this year's LA Pride Festival and to celebrate this year's theme, #JUSTUNITE. Throughout the course of my career, the LGBTQ+ community has stood behind me, and I'm honored to now have the opportunity to show my support and gratitude by performing at this year's Opening Ceremony. I'm hoping the night will be a chance for all generations of the community to come together to celebrate one another and the work that has been done," said Paula Abdul.
As part of LA Pride's vision to engage the local Los Angeles community and beyond, Friday night programming is returning to provide more events and activities in which the community can participate at no cost and for the first time, CSW will host an official Opening Ceremony. The ceremony will include welcoming remarks from a diverse mix of community and spiritual leaders and advocates for the LGBTQ+ community. In addition to the headlining performance from Paula Abdul, entertainment for the night will include a WeHo Vogue Ball & Drag Show, as well as a full night of music and dancing from local DJs.
The Opening Ceremony provides a great opportunity for the community to #JUSTUNITE and come together before the festival. #JUSTUNITE makes a simple, yet powerful statement: that the work the LGBTQ+ community does together is ultimately what will make it stronger and more resilient than ever before.
While the June 7 event is open to the public, LA Pride Festival goers are encouraged to purchase tickets for the weekend's festivities (June 8-9) in advance online at lapride.org. Volunteers who work a four-hour shift will receive complimentary single-day tickets to the festival. Ticket sales and proceeds from the LA Pride Festival support and fund the LA Pride Parade, LGBTQ+ community grant programs and scholarships, and CSW's ongoing programming at Casa del Sol. CSW provides free festival tickets to LGBTQ+ non-profits and service organizations to distribute to their members.
To be added to our email list and for more information about LA Pride, including ticketing information and event updates, please visit lapride.org. Follow all LA Pride's happenings on Facebook, Twitter, Instagram, LinkedIn, and YouTube.