Move over Sir Elton John – the real bitch is back!
After last month's sold-out run at Joe's Pub, Pam Ann – the hilarious air hostess to the stars – returns to New York with a brand new one-woman show, "Around the World." Performances will be every Thursday in February at The Triad NYC (158 West 72nd Street) beginning Thursday, February 2, at 9 p.m.
The show's title references the opening theme song of the TV series, Pan Am, which is suitable as Pam Ann is said to have inspired the show. It also plays on the fact that this will be Pam Ann's next show to tour around the world. After New York, "Around the World" moves to Tel Aviv.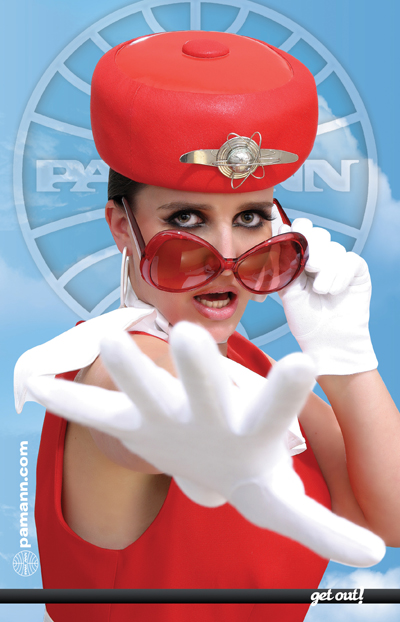 "I've been around the world too many times to count," reflects Pam Ann. "Let's just say I have children all over the globe in every ethnicity and of all ages. I make Angelina Jolie look like a beginner."
Dubbed the original queen of the skies, the comedienne's shows whisk passengers on thrill rides at 30,000 feet above ground. A recent review in the Sydney Morning Herald gushed, "Glamorous, vicious, camp and larger than life, the bitchy yet heart-warming trolley dolly in her tight candy pink uniform, enormous hair, huge lashes and disco boots rules the skies."
Pam Ann has toured with Cher and crewed private jets for Elton John.
Performances poke fun at air travel, identifying the individual quirks of some of the biggest international airlines and their stereotypes, while mixing in a generous dose of camp, humor and fabulousness.
Pam Ann is the alter-ego of Australian comedienne Caroline Reid. Reid's portrayal of the outrageous air hostess has been featured in advertising campaigns for British Airways and Sky Team. In fact, she is the celebrity spokeswoman of Sky Team Terminal 4 at Heathrow, featured on all in-flight video programming, and seen on CNN and CNBC. Pam Ann has appeared in promotions for KLM/Air France, JetBlue, Lufthansa, British Airways, Qantas, SAS and even low-cost British carrier EasyJet uses her videos in their training.
In Australia, Pam Ann starred in her own TV talk show, "The Pam Ann Show," on the national Foxtel channel. She also hosted Australia's live broadcast of Mardi Gras that aired in more than two million households. Even Madonna is a fan, describing Pam as "cruelly funny." Her previous shows, Pam Ann: Air Scare and Pam Ann New York City Layover – Get 'em Bitch played to capacity crowds at the downtown comedy club Joe's Pub.
She has no plans to slow down anytime soon. "I love how fast my world spins," says Pam Ann. "You won't see me jumping off. Falling from a stupor, maybe. I intend to keep spinning until the world flings me off."
Pam Ann's first live concert DVD, "Come Fly With Me," is available now on Amazon.com. Pam Ann's second live DVD is scheduled for release via Starz in June 2012. Pam Ann's travel app is available on iTunes.
Advance tickets for PAM ANN – AROUND THE WORLD are on sale now at brownpapertickets.com. The show contains adult material and is not suitable for children.
PAM ANN'S 10 Cool Ways to Beat the Winter Blues
1. Step outside in your tighty-whiteys and a scarf and run back in again before the cops nab you.
2. F*ck the gym and order Dominos.
3. Put a fake photo up on Grindr and see how much attention you get.
4. Make origami swans.
5. Make friends with vodka. After a while you won't know what day it is.
6. Just before passing out, go back on Grindr and call some hairy stud over.
7. Watch YouTube clips of Pam Ann. That bitch is funny!
8. Make prank calls. Here's one: Dial any number, ask if Mr. Wall is there. They will say no. Ask "Is Mrs. Wall there?" They will say no again. Ask "Are any walls there?" They will say no. Reply, "Well what the f*ck is holding up your house?" Hang up. Don't answer when they call you back. Damn you, caller ID!
9. Since the hairy guy didn't show up because they never do, tap on Grindr again and call some chubby guy over. They'll come. They always do.
10. Shut the blinds, mix a gin and tonic, run a warm bath and grab some razor blades.
By Adam Janovich