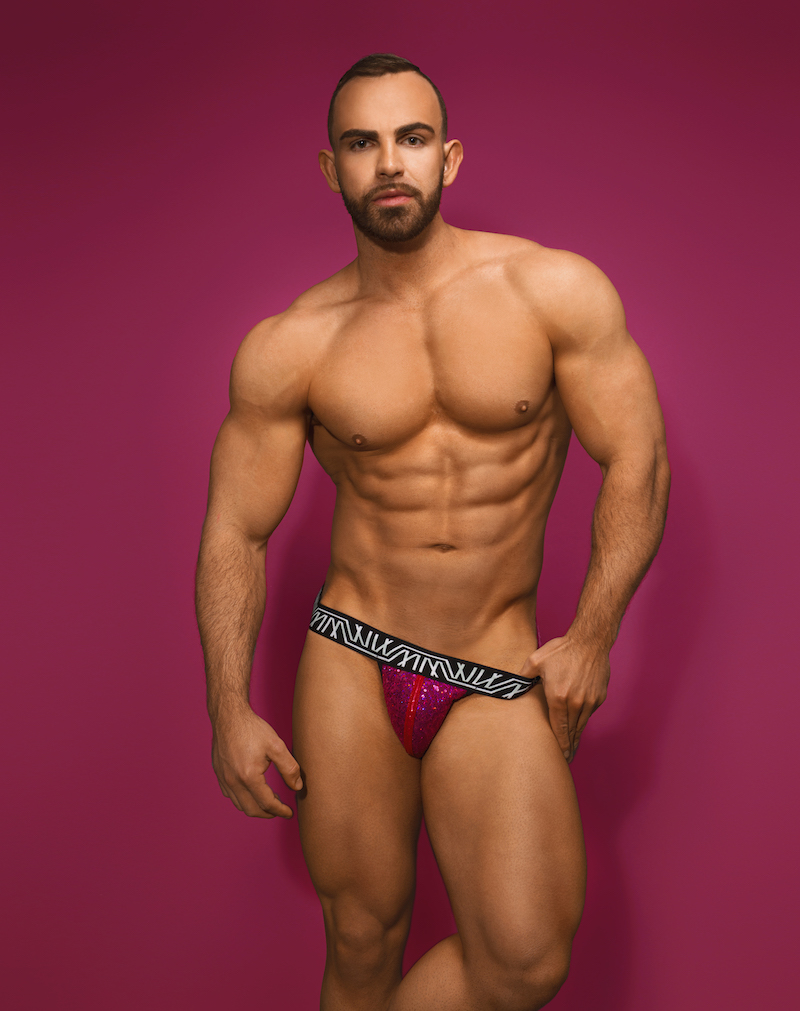 He's a DJ, remixer, social media influencer, flight attendant and soon-to-be-husband. What doesn't Nick Stracener do?
>By John Stein
Nick Stracener is best known to his nearly 200,000 followers on Instagram for wearing close to nothing at all. In real life, however, he wears many hats. In addition to being a social media star, he's a nationally qualified men's physique athlete, an international flight attendant, and a DJ/producer whose new remix of Lindsay Lohan's "Back to Me" was recently heralded by the Hollywood actress. We spoke with him from his Dallas home.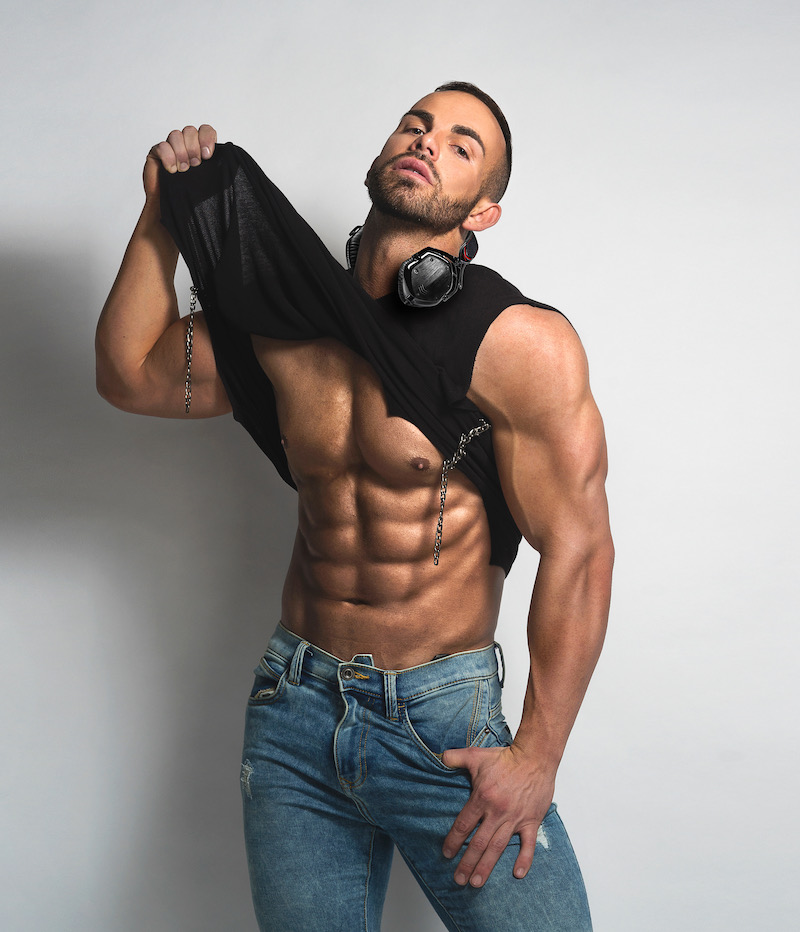 INTERVIEW
Before breaking into DJing, you traveled the world as a gogo boy!
I've go-go danced in Dallas, Chicago, Seattle, Los Angeles, San Diego, Toronto, Oklahoma City, Austin, and a few other cities that I can't remember off the top of my head.
Was it fun?
It was a great opportunity to really let loose, express myself, be creative and come out of my shell. I'm naturally a shy person, but when I'm onstage or on the box, I feel confident.
Do gogo boys get the respect they deserve?
I don't think so. These guys spend countless hours in the gym and maintain strict diets year-round just so they stay booked at all the biggest events. It takes a lot of commitment to stay in top physical form all year.
So, how did you make the jump from the box to the booth?
I am a self-taught DJ. After putting my second mix on SoundCloud, the DILF Party reached out to me to open up for Kitty Glitter in Dallas. That went really well and I was booked for DILF Atlanta and DILF L.A. and the gigs kept rolling in. Then covid hit.
How would you describe your style of music?
It's a combination of indigenous rhythms with a lot of sultry, uplifting female vocals. I want to give you something upbeat to dance to most of the time, but also take you on a journey with slow moments so you can experience different emotions. Music, to me, is therapy and a way to escape life's biggest hurdles.
Who are your favorite divas?
Taylor Swift, Lady Gaga, Whitney Houston, J-Lo, and Lindsay Lohan
Let's talk Lindsay. Has she heard your remix of "Back to Me"?
Yes, she did! My friend, who knows Lindsay, sent it to her. She sent me a video telling me how much she liked the remix and that she would like to meet me at some point. So yeah, that was pretty exciting. I hope I do get the chance to meet her one day.
What inspired you to remix her song?
I am drawn to Lindsay's confidence and how she comes across so fierce. She's an entrepreneur, which is something that I can relate to.
She also battles her share of criticism online. Do you?
I encounter bullies every week on my Instagram. When people are behind a keyboard, they will say anything. It really used to get to me. I've gotten better at not taking things personally. The more I ignore, the happier I am.
Are you as bold and confident as you project on Instagram?
Bold, yes. Confident, not always. I want people to know that behind the risqué pictures and the body, there is an actual human being. I have feelings, just like everyone. I am a shy and introverted person, until you take a minute to get to know me.
What's the deal with the leotard?
(Laughing) I don't usually sport women's clothing, but every once in a while, I do like to create a post that makes a statement. The brand I'm wearing is called EXSL and it's a men's lingerie company. You can be as masculine or feminine as you want. I hate labels. Masculinity is not defined by what you wear.
Tell us about becoming a nationally qualified men's physique athlete. What did you have to do to achieve that?
To become nationally qualified, you have to place first or second at a show. My first show took place in Houston in 2018. I placed fourth. Shortly after, I competed in Dallas at the Ronnie Coleman Classic. I worked on my posing and tweaked my diet, and I took first! It was one of the proudest moments of my life!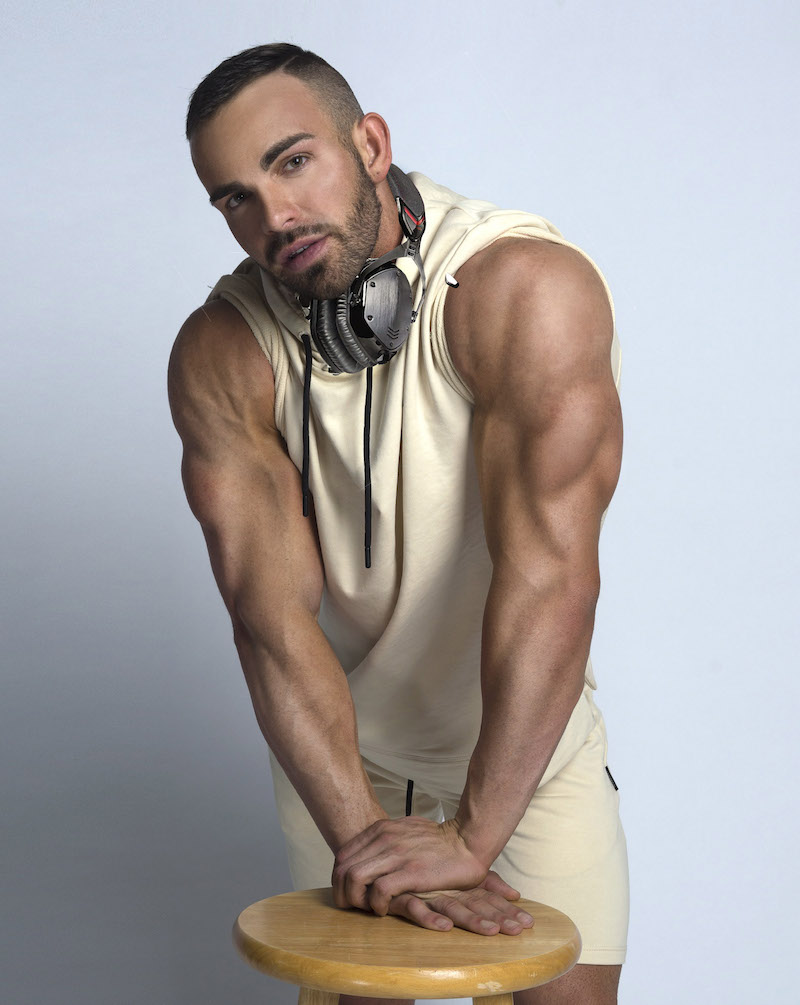 How often do you work out?
Pre-corona, I would work out six days a week. Chest is my favorite. It's also one of the hardest muscles for me to grow.
Are you keeping up with your workout routine during these weeks in quarantine?
I'm trying! I found a set of dumbbells on Craigslist and bought some cables.
Do you follow a strict diet?
My meals usually consist of a good protein, a good carb, and a good fat, like avocado. I try and stay away from fried foods and sugar. I drink a lot of tea with Splenda to satisfy my sweet tooth; definitely a southern thing.
How has the pandemic impacted your job as a flight attendant?
The pandemic has vastly affected everyone in the airline industry. Personally, I haven't been able to pick up any extra flying and that means bills are getting harder to pay and my anxiety has been super bad lately.
You've been open on Instagram about your struggles with depression and anxiety.
My anxiety levels have skyrocketed over the last few weeks. I expected it would. A lot is from worrying about things that are out of my control.
Is your fiancé helping to keep your spirits up?
My fiancé, Cx, has been an incredible source of light through all of this. He reminds me how far I've come and encourages me to stay positive. We have been staying very busy with our two new fur babies, Oliver and Olivia. They don't allow us a whole lot of time to dwell on the situation at hand, which has been a blessing.
Where can fans find you during this time of COVID?
I have done a couple of livestreams on Instagram and Facebook. I just got some better equipment, so I will be doing even more soon.
Visit https://www.nickstracener.com. Follow Nick Stracener on Instagram at thenickstracener. A free download of Nick Stracener's remix of Lindsay Lohan's "Back to Me" is available now at https://soundcloud.com/nickstracener/lindsay-lohan-back-to-me-nick-stracener-remix