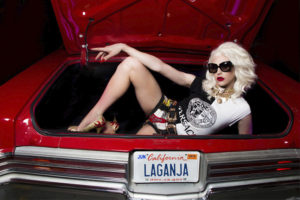 Beloved, Controversial, Misunderstood…so many words describe Laganja Estranja's time on Season Five of RuPaul's Drag Race, but one thing that cannot be denied is her talent and drive for more. This dancer/singer/jewelry designer/artists has moved past her Drag Race fame and is delving into her truest passions, starting with her single "Look At Me" and her recent Miami art installation. We talked about everything from Drag Race controversies, an All Star return and her scorching turn on So You Think You Can Dance. One thing was clear during our conversation; we have only begun to see what the force of nature that is Laganja Estranja is capable of.
Laganja, how was your summer? Now that the warm weather is over, it's back to the grind!
No summer for me, I was working! I spent a lot of time in Miami where I created an installation art piece of immersion dance theater. I am so excited about it. There was so much to get done with writing, choreographing, writing, and composition, so it was really just about getting the last of the installation done.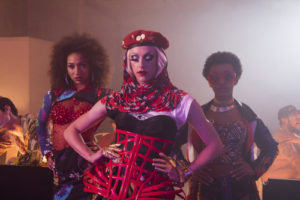 Since RuPaul's Drag Race, your life has changed drastically since before you did the show. What do you miss the most about the pre Drag Race life of Langanja?
You know, I don't miss anything. I mean, I guess there are things that are different, but I believe that life is about change and your ability to adapt to that change. Everything that has happened for the most part is a positive thing. I believe in looking back at your past, but I do not believe it is something that you should look back at all the time. I think it is all about moving forward. For me, there is not really anything that I miss. It was easier to have a better relationship with my friends, now it definitely takes more work. Overall though, I am happy and thankful for the life that I live and for the things that have come to me because of Drag Race.
You recently appeared on So You Think You Can Dance which was spectacular to see you do. How different were those experiences?
Thank you! I am going back this next year also! Drag Race was extremely hard and stressful, while So You Think You Can Dance was extremely hard and fun!
Do you think the reason that experience was so much fun was because dancing is one of your truest passions?
I think it's because at the end of the day, So You Think You Can Dance is an actual talent competition RuPaul's Drag Race is more about storyline, the arc of the character, much less about your talents as an artist. For me, being in a competition where I am actually being judged on my talents that I have worked on for thirty years, it was very rewarding. That is why I want to return to the competition. I believe that with some additional training, I am a shoe in for next year. I definitely believe I will go back and be successful. My gut feeling is that it will be just the beginning of my journey on that show.
You could always take on Dancing With The Stars and be the first drag competitor on the show…
Well I have a feeling Miss Alyssa Edwards would beat me to it! (Laughs)
The cannabis community and you definitely have a close kinship. Why do you think it has taken people so long to get on board with cannabis as a legitimate medicine and moneymaker beyond other things, and start ending the stigma it has been attached with for so long?
Well for me, I grew up in Texas where I was told that cannabis was the devil's lettuce. The stigma is still very much alive. I think the reason people are not more open to it is because education has not been provided. It's recreationalizing at a very fast rate now and with that comes big business. Big business is not interested in medicinal properties, they are interested in one thing and one thing only and that's money. I believe its going to be quite some time before we are open to the plant like we should be. I have a fear that white men who have lots of money are just going to come in and buy these businesses that have been around for many years who genuinely care about the plant, getting the products to the client, things like that.
On another note, It is always interesting to talk to former Drag Race contestants to get their perspective on the show and their post Drag Race life. What kind of a change to you see in the show from your season to now?
I believe that in the beginning the show was about positivity and showing gay people in a positive light. Having people understand we are real human beings, that we have jobs, issues like HIV in our community, things like that. I think now it has become much more abut the ratings, the drama, much more about "look queens", who is more popular on Instagram, and less about finding authentic voices who are really speaking to our community.
On Drag Race, There was a notorious off camera interaction between RuPaul and Season 7 finalist Pearl, where suffice to say (and in Pearl's words) Pearl felt that she was treated coldly by RuPaul and given a master class in Hollywood very quickly. Would tend to possibly agree with her perspective on the show?
I understood how Pearl felt and I can understand how something like that could break her. At the same time, you sign up for this show and that is RuPaul's way of showing her the ways of hollywood and I had to learn that as well. When the camera is not rolling, you are really wasting your energy. There is truth on both sides. I think that both parties are right in their feelings.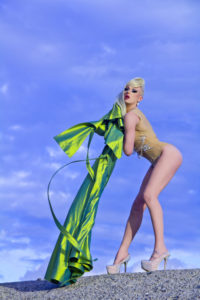 What would it take for you to go back for an All Stars season of Drag Race?
It would literally take the entire world to get me to go back for All Stars. It is not in my interest as an artist. That space is best left for those that want to work as a drag queen for the rest of their life and that's not my wish.
Your passion has always been dance and it is something that we always saw that is what your true inspiration; what is it about dance that keeps that fire going in you?
Well you know, dance is a universal language. Like when Bianca Del Rio went to Brazil and did her english comedy act, it did not go over that well. Whereas when I went and did my signature dance moves it did. That is because we all speak the language of movement. It does not matter who you are ,where you live, what religion you are, at the end of the day, bodies moving is part of our integral system of communicating from a very young age. For me, dance comes from a very ancestral place. When I am dancing I am lifted to a new place, it is the ultimate high for me. That is why dance has always been in my vocabulary.
Speaking of dance, I am sure that you are gagging about Alyssa Edwards' new Dancing Queens show on Netflix that just premiered!
I am very happy for her. This has been a long time coming and I cannot wait for her to blossom into the true star that she is. I actually think I am in a couple of episodes. The show is really about her and her life and the dance studio. While I am a part of that life, I think she was aiming to show a different part of her life. I am excited for people to get to see what I have known for the past eleven to twelve years.
Music is still very huge for you and you have an album coming out; what is "Exhibit A" all about?
Yes! I just released my first single from the album called "Look At Me" with a music video that I all about the racial injustices in the prison system and the need for prison reform in regards to arrests via cannabis.That was a very powerful thing for me to be able to make a video that was more than a drag video, having a statement for the brands that I have built. My next single will be coming out in November and I am actually filming a video in this month. The album is soon to release at the end of this year or the beginning of next year.
And you also have a jewelry line correct?
I did a jewelry line after my season of Drag Race and it was called "Laganja Estranja is My Enemy" by CHRISHABANA. It was a 24k gold line of original cast pieces that were beautiful. We discovered that my predominant fan base does not want to spend ore than around twenty dollars. This year, I was able to team up with another company by the name of Blunted Objects and we have begun releasing limited edition necklaces. Rings are soon to follow as are lighter colors. I am always working in the fashion industry, as fashion is a huge passion of mine as well. I believe that the pieces I have released are incredibly unique and unlike anything from any other artist you have seen from Drag Race.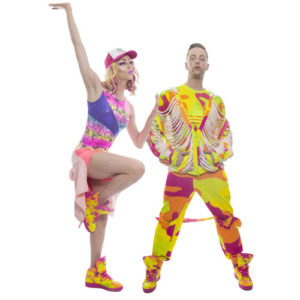 Where do you get inspired to be so uber creative?
My biggest inspiration is Missy Elliot. I think that she speaks to many things as an artist that I like to speak to. First and foremost, a fun beat and a way to shake your ass and have a good time. More importantly ,she has made so many statements. For example, in the video for "Supa Dupa Fly" she wore the giant fat suit and was making a commentary n the hyper sexualization of the black female body. She has always had the undertone of something serious and important to her and the black female community.. I find a lot of similarities between us. I am inspired by so many things, museums and art around the world. I am inspired by shows like Ozark, The OA, things like that. I believe that life is full of inspiration and its really how you look at life. Some choose to wake up and be tired and hung over, while people like me choose to wake up and have a blunt and find something to make them smile. It's all about how you approach what we are given in this life.
So tell me- have we seen the last of Lagnaja Estranga?
I am moving away from the drag and Drag Race. Opportunities like my own art installations are showing me why I am making the choices. Not because I am not grateful or proud of the experience, but because I feel I have done as much as I can in that industry. There is only so many times I can meet people and hug them and feel I am doing my absolute most. I feel that most of my followers understand that I am making this transition. As sad as they may be that I am not at things like Drag Con, they are thrilled to know that I am doing something I am passionate about that they can see on Instagram, Its a win win because I think fans should want their artist and queens to be the best they could be; and I believe I am at my best when I am in the art world.
www.LaganjaEstranja.com
All photos courtesy of LaganjaEstranja.com