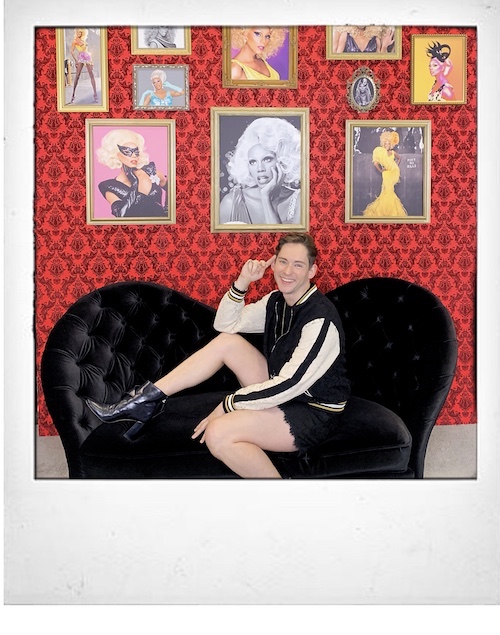 On September 6 through 8, fans of "RuPaul's Drag Race" poured into the Javits Center for the third-annual RuPaul's Drag Con NYC. And I was one of them.

Prepped with a badge around my neck that proudly proclaimed PRESS in all capital letters, I stomped my way onto the Pink Carpet in a pair of four-inch block heels. (When my feet began to ache an hour later, I kept repeating my RuPaul mantra: "You betta work!") There's something electric in the air: I know that's a cliché, used time and time again, used to death, but it's the best way to describe the energy in the center.

I arrived on Friday at 2:30, just in time to meet RuPaul's newest batch of girls from the U.K. It was inspiring to see how excited all the fans were to meet them, and I was excited too, excited to see a different culture's drag. (And most excited to meet Blu Hydrangea, quickly becoming a fan favorite.) Later, several of the girls from "Drag Race Thailand" performed, including Angele Anang, winner of Season Two. I overheard a group of girls all cosplaying as the winner of Season Ten, Aquaria, murmuring about "Drag Race Australia."

On Sunday, in a RuTalk with RuPaul and Whoopi Goldberg, RuPaul said, "This is like the world we were promised in the '60s and '70s, finally coming to life." Whoopi responded, "It's up to us to create the world we want. We can't wait for other people to do it for us. We have to talk it into existence."

For me, the best part of RuPaul's Drag Con is immersing yourself in queer art. That's what Drag Con is: a queer art festival, showcasing queer art from the vendors selling crystal-studded tiaras (of which I bought two) to the attendees in their very best drag.

Alexis Michelle (Season Nine) stole the show for me: Her three days of DragCon were three days of Judy—Judy Garland, naturally. I used to see Alexis Michelle weekly pre-"Drag Race" at my favorite bar, the now-extinct Boots and Saddle in The Village, and it's always good to catch her when I can. On Saturday, she was Judy as Dorothy in a gingham dress and, of course, the ruby red slippers. There's no place like home.

Down the aisle was a Kids' Zone, complete with an inflatable bouncy house. I noticed a group of children gathered around a drag queen: She was reading to them from a storybook. They watched her so closely, so intently—they were mesmerized, not by the story she was reading, but by her presence. In the middle of the story, one child jumped from his seat, ran up and wrapped her in a hug.

There's no place like home I thought again, looking around—only I didn't need to click my Chloé heels together three times. I was already home.