ALONE Celebrates "Fine" Men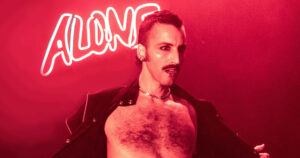 "Fine", the new single from NYC-based Queer artist ALONE, is out to expand the prevalent notions of sexuality, masculinity, and what it means to be a sexy man today. "There are many expressions of masculinity and they all can be hot," the artist insists.
Produced by ALONE and recorded in NYC with a full live band, the celebratory track, with its dark, sultry vibe, pays homage to 80s Rock strip songs but from an unapologetically Queer perspective. "'Fine' is meant to get listeners in the mood for lovin'," ALONE reveals, "and my hope is that it liberates people to be vocal and proud about who they are and what turns them on."
"Fine" is ALONE's second release following his debut single "Everything" which has garnered over 50K views on YouTube. "Fine" departs from the bright, classic RnB style of "Everything" and introduces listeners to ALONE's darker side with a Rock-inspired production.
"It's the kind of song that makes you wanna take off your clothes and give someone a lap dance," ALONE explains.  His powerful Blues-Rock vocals ride a dirty rhythm set by distorted guitars and a throbbing low-down bassline as the lyrics narrate a story of Queer passion.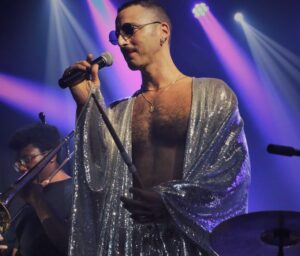 "I feel like today's culture looks at Rock music, including its Pop incarnations, as a 'straight' genre and I beg to differ," ALONE continues from his NYC home. "The Queer legacy of Rock 'n Roll dates back to its inception with artists like Big Mama Thornton and Little Richard, and has always been present through artists such as David Bowie, The Velvet Underground, and Freddie Mercury — it's time we reclaim it."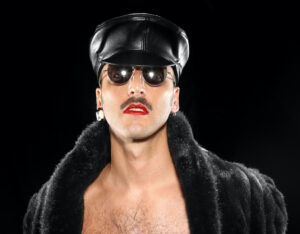 ALONE, born "Alon," was raised in Israel, in a small coastal town called Herzliya. His father died in military action when he was three and a half years old. He grew up in a household of women, with only his mom and sister. His musical influences were Prince, Grace Jones, George Michael and Sylvester.    "Growing up as a Queer kid who never fully fit in anywhere, seeing a Queer artist like Sylvester was a beacon of hope," ALONE reflects. "It made me feel like I wasn't alone, like there was a future for me and that there were others out there like me."
Upon moving to New York City, Alon changed his name to ALONE to reclaim the word; empowering its meaning from something sad and scary to independent and in control. "Being alone is one thing everyone experiences from time to time. There is beauty and strength-building in it. The binary concept that being alone is bad and being together is good is false. Both are equally important to our growth and well-being."
ALONE's "Fine" is available now on Apple Music, Spotify and all digital platforms.  Visit his website and follow ALONE on Instagram @ TogethALONE.