Aiden Leslie burst into the dance music scene last April when the music video to his song, "Worlds Away," landed the top spot on LOGO's "The Click List" and remained there for four solid weeks. The song examined human struggle and its aftermath. It was a personal message from the artist, written at a time when he was grieving over the loss of his sister.
In Leslie's new release produced by Mike Degen (who has worked with Public Enemy and Rupaul), he continues to use music as his personal therapy session. "Trying to Leave Now" is about salvaging what is right in a relationship before losing everything. Leslie based the song on his own dead-end relationship with a man, when he was forced to battle trying to leave while the feelings were still strong and alive.
Ultimately, leave he did and it was Leslie's first step to becoming the man he is today. Hear for yourself when Aiden Leslie performs his new track at Griffin Sundays (by Rafferty/Mazur Events) on February 12.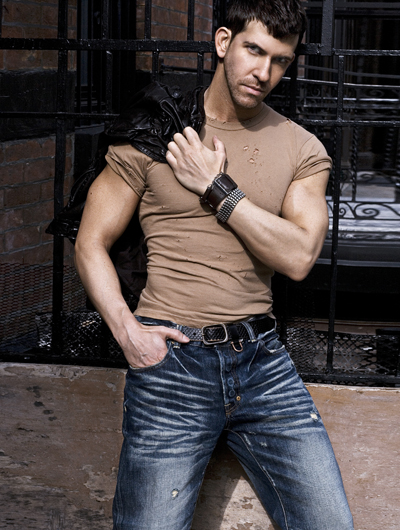 Why is love so complicated?
When it comes to matters of the heart, everything is complicated. Love is not black and white. The hardest thing to do is show someone who you really are. Being intimate with another person is often like looking in a mirror. You're not always prepared for what you may see.
What's your advice to guys who are trapped in their relationship?
Being trapped in anything is never good. I can only speak for myself and all the mistakes I have made in relationships. What I really know is that in order for anything to grow, you must have freedom and trust. You cannot have any success if you don't have both. Make the change or it won't go away.
Do you learn from every experience?
Nothing holds more truth for me than the saying, "Lessons are repeated until they are learned." I think it's how you choose to handle and see a situation for yourself. I don't always get it right away, but yes, I'm always looking deeper to get the answer. I try and see things not so much as good or bad, but more about right and wrong.
What did you learn from World's Away?
I learned from World's Away that everything is a stepping stone. One thing leads to another, and it's important to give full energy to each moment. At some point, though, you have to surrender and let it go to see where it ends up on its own.
Are you talking about love again?
It's all connected. This is something I'm learning.
Are you still single?
Yes. I have my eyes and heart open now, which hasn't always been the case. I can honestly say, for the first time in my life, I am doing what I set out to do. I'm finding my way and connecting to my purpose.
Does that include more music?
Yes, absolutely more music is on the way. I am back in the studio working on my new single and writing my debut album. I also can't wait to do more touring and traveling around the world.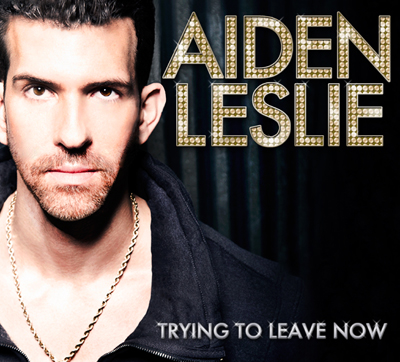 Who is responsible for making you look so great in all the red carpet shots that have been popping up online?
[Laughing] Thank you for noticing! I work with my creative director, Robert Vasquez, on all my shows and shoots. Recently, Armani Exchange dressed me for some events and right now, I'm working with Rufskin on some upcoming projects. Rock Victorious Jewelry has been kind enough to allow me to wear several of their pieces for my shows.
Have you seen the photo circulating online with you, Kristine W, Michelle Williams (of Destiny's Child) and Deborah Cox?
Oh yes! It was taken at the birthday celebration for one of my favorite photographers, Mike Ruiz. Everyone came out to celebrate him and support an incredible cause, The Ali Forney Center. That was a fun night hanging out and catching up with everyone.
Your new song is "Trying to Leave Now." What's one thing you would never leave, Aiden?
My dreams. I will always take them with me.
By Mark Grey
Find Your Fred This Valentines Day!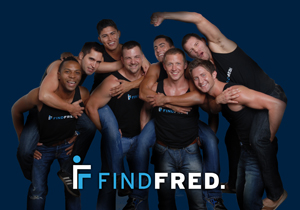 FINDFRED is awarding free 12-month memberships ($120 value) to 10 lucky GET OUT! readers. Go to FindFred.com and enter promo code GETOUT.
Also, be sure to check out Aiden Leslie's profile, featured on the main page of FindFred.com.
Aiden has agreed to allow FINDFRED to find him a date this Valentine's! Aiden's match will be chosen on February 10 and will meet Aiden one-on-one for a drink after his February 12 performance at Griffin Sundays*.
*Griffin Sundays by Rafferty/Mazur Events takes place every Sunday from 7 p.m. to 1 a.m. 50 Gansevoort Street. Open bar 7-8 p.m.
Aiden Leslie performs Griffin Sundays (by Rafferty/Mazur Events) February 12th. 50 Gansevoort Street. Open bar 7-8 p.m. Visit: raffertymazurevents.com

Visit AidenLeslie.com or reach him on Facebook!