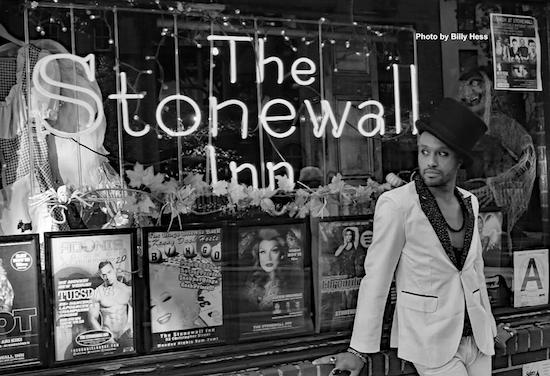 On Thursday, April 27, at Stone Wall in New York City, recording sensation Aaron Paul will be celebrating the fact that "Every Life Matters", by launching the video by the same name. All profits from the video will go to benefit the victims of the Orlando tragedy. The video itself was filmed at Stone Wall, and directed by Billy Hess. It features Tym Moss and Honet Davenport.
He will be performing several songs, with several surprise guests. The show will be hosted by Logan Hardcore. I spoke to Aaron who was kind enough to give the works some insight on the inspiration for the creation of "Every Life Matters".
What was the inspiration for your new video?
The song has a very powerful message…to end hate and to honor and remember those who we have lost because of hate. So many of us in all of our communities are being killed senselessly for being different, or our gender, race and even profession, This songs speaks to all of us. Even tho each group is 100% per cent right in their fight or cause. I wanted to include everyone in this song..ie: African Americans, The LGBTQ community and Cops. All of these lives do matter. And there is no reason for anyone from any of these groups to be hurt, abused or have their lives taken. So as inspiration for EVERY LIFE MATTERS music video I wanted to go back to where it all began .. The birth place for the LGBTQ civil rights movement….STONEWALL INN. In my music video for I DON'T CARE! I had previously used photographic images of STONEWALL as the basis of that video but not the actual real thing. So it made sense this time around for this video and for the songs subject matter to actually shoot directly inside Stonewalls famous walls and its outside location and then shoot a very powerful performance on its stage. Many famous artists have appeared on its stage. And I wanted to capture that on film with me. The management who I know from performing at STONEWALL over the past 3 years granted us permission to shoot inside. So it was truly a honor and privilege to have been given the the opportunity to film at this historic NYC landmark with so much history.
Why film the video by Stonewall?
Well firstly it is a historic NYC landmark. And it is one of the very few last standing LGBTQ bar/clubs left on Christopher St. Most of all the other past clubs/bar are now gone forever. But Stonewall stands strong and remains a major hub and platform for many us artists who perform within the NYC nightlife scene. So I wanted to capture that essence, that feel and that raw performance energy. My whole album is structured around my performance in a bar/club like Stonewall with its many colorful characters that go in and its doors daily and nightly.
I also knew that people would instantly recognize this famous building. And also the message that this song stands for. This message is what Stonewall has always stood for since its early days and since it gave birth to the early LGBTQ civil rights movement… Stonewall screams "Every Life Matters" so the video had to be done there.
What do you hope the video to accomplish?
There is a lot feelings this music video will awake… It has so many facades.. Laughter, Anger, Sadness,Joy, Pride, Hope and Celebration. This song embodies of these emotions…but most of all….just like my lyric says.. "UNITED WE ARE". We are all one and all need to support and love each other and celebrate our differences because that is the real beauty of life. We come in all different shapes, colors, sizes, and uniforms. But at the end of the day….We are all equal and have the right to live as we choose in a world without fear, discrimination, pre-judgment, hate and murder.
Tell us about your experience with a Queen, and I don't mean it drag.
I recently attended a Royal gala dinner in honor for imperial majesty Queen Wuraola Ogunwusi of Nigeria. A very good friend and PR person had suggested that I attend this fabulous VIP dinner event so I went all dressed up as usual for the red carpet photos etc and to be in the presence of real royalty. Anyway Queen Wuraola Ogunwusihad decided to be 5 hours fashionably late… as a Queen does.. I guess! So they decided to go ahead and serve dinner before her arrival. So halfway through eating my delicious Nigerian cuisine…The Queen of Nigeria makes her dramatic state royalty entrance. Everyone rose to their feet as the Queen made her way down the red carpet to her awaiting table surrounded by woman chanting and throwing rose petals at her feet to the sound of African drums. The whole visual scene was actually quite breathtaking as I never seen anything like this done before in person only in the movies.
Once the Queen finally sat down, She was then serenaded by a female African singer and dancer who performed a couple of spiritual ritual dances for her while the guest had their cellphones out recording the whole experience including me. The female singer then turned towards us the audience and proceeded to call for a volunteer person to come to the center with her before the Queen. She then reached out and pulled me on the center for and told me to get down. I am now looking directly at the Queens feet. The African drums began to bang their rhythms and the female dancer whispered in my ear to just copy her. Which I did.. Cause I was not about to shy away and maybe insult the Queen. So the both of us are now in the middle of the floor shaking our hips to the sounds of the African drums at the feet of a real Queen. It was all so quick but before I could fully understand what was really happening with me the drums had ended and I was surrounded by the sound of applause of the audience and the Queen herself.
What was it like meeting a real Queen?
I have actually say it was a real honor to be in a room with a real Queen. And what made it even more special she was a real Queen from African who is actually making land stride changes in her country by empowering woman and making modern needed changes to her country.
How did it feel to dance for royalty?
The whole thing took me by surprise .. and it felt like a out of body experience lol..and it happened so fast. But what a honor and memory I will have now forever to say I danced in front of her imperial majesty Queen Wuraola Ogunwusi of Nigeria. A real Queen …YAY
What's next for Aaron?
A vacation lol. I have worked so hard non-stop for the past 3 years with my music projects…. I def need a vacation! But I know thats not gonna happen. I have a few new music projects in the works. A lot of guest feature stuff on DJ / Re mixers tracks. Which was my goal really. When I got back in this game.. I said I wanted to be the #1 guy vocalist on dance club records… So that's started to happen now. I am very blessed I am doing what I love to do and so much more than I could have ever dreamt. And I'm still only scratching the surface. BRING IT ON! 😉