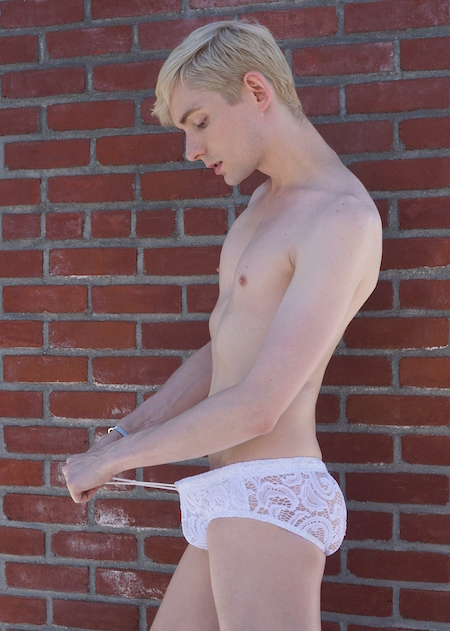 Last week, Nathan Ayon invited me to his private studio to get a sneak peek at his new collection of swimwear.
Between nights at the Grace Hotel and trips to Fire Island, I NEEDED new swimsuits. Nathan Ayon splayed his newest suits on a table for me: It was a dizzying array of colors, sparkles and hardware. "I have some special ones to show you," he winked, digging into a leather satchel at his side.
There are two ways to win me over: mesh and lace. Since his last collection had mesh backs (and I'd already bought them), he brought out the lace. "Try one on," he insisted, pouring me a glass of prosecco.
I gravitated toward one, sliding it on. It was pure lace in the back, my ass crack showing down the middle, the front concealing my dick with a thin layer of material between my skin and the lace. I picked it because it was pure white.
"That is SEX," he said, pouring a second glass for himself.
It was—but that wasn't why I picked it. We all know by now that I have an ex fiancé; what we may or may not know is that, every now and then, I become marriage-obsessed. Like, really obsessed. My browser history becomes overpowered with searches of lace shirts and crisp white suits, floral crown arrangements on men and New York wedding venues.
I'm ashamed to admit I've pictured it a million times: me, in a white lace Valentino shirt and white suit with a matching lace pinstripe down the pant leg, lavender-dyed flowers in my hand. I was engaged at 19 and nearly married at 21, and now, 7 years later, I can't seem to shake the image of me walking down the aisle.
And there in Nathan Ayon's studio, standing in front of a full-length mirror in a barely-there lace speedo, I imagined myself wearing it on my honeymoon, on some quiet Hawaii beach or in the personal hot tub back at the hotel suite.
I knew I was being full-on crazy. And, with that knowledge, I bought three swimsuits—including the white one, which I decided to store in the back of my closet.
Why am I like this? I asked myself, opting to walk home in the summer heat and clear my head. I didn't feel any clearer: just sticky and tired. What is it about marriage that I'm so obsessed with?
I certainly wasn't into marriage when I was younger: I renounced love at age 14, thinking that I was above the mere idea of it. (That's the same age I read Romeo & Juliet, and let's be honest, they were dumbasses.) All I know is something in me has changed, and I can't stop thinking about it.
When I got home, my boyfriend was watching Netflix on my computer. "Get anything good?" he asked, smiling.
"A few things," I nodded, reminding myself to clear my browser history.