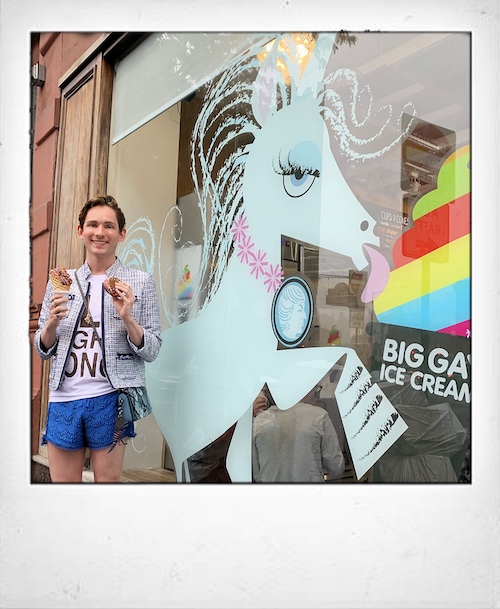 I am someone who is constantly late for everything.
I truly don't mean to be, and it's never super late—think 10 to 15 minutes late—but consistently. Because I'm perpetually running behind, I often skip dinner, so when people ask what bar I want to meet at, I wonder: Which bar has the best food?
My first choice is typically Boxers: They have three locations (Chelsea, Hell's Kitchen, and Washington Heights), one which is a hop, skip and jump away from my apartment, and I get to look at half-naked men serving me in their bright red boxers. The nachos, my choice when I missed dinner on my way to a "Drag Race" viewing party, are perfect if you're sharing (and even if you're not), and their new burger is the best thing to eat while your friends talk about how they had time for dinner before and weren't 15 minutes late. (Not to mention their happy hour drink specials!)
And speaking of burgers: The cheeseburger and fries at Julius' bar (159 West 10th Street, aka New York City's oldest gay bar) is to die for. I feel like a burger is hard to master: Everyone in New York has one on their menu, and it has to be exceptional to be remembered above the rest. You'll remember this one—well, if you don't have it with too many margaritas on the side. (Which, let's be honest, I always do.)
I do have to mention, if you leave the bar early or happen to have the time before grabbing a drink, my favorite place isn't a bar, but it is basically across the street from Duplex and down the street from Stonewall: Big Gay Ice Cream. I'm honestly not a big sweets person, but damn good ice cream is damn good ice cream. They have quirky names (which I LOVE) like The Dorothy (vanilla core injected with dulce de leche), The Salty Pimp (chocolate crunch injected with dulce de leche) and American Globs (ice cream with dark pretzels smashed into it). Last time I went with my boyfriend, I got The Sally V Trucker (ice cream sandwich), and he got Rocky Roadhouse—which I made him share.
When you're out and about for Pride, especially if you're drinking, don't skip a meal—just find a place where you can have it all!
@boxersnycwahi
@boxersnyc
@juliusbarnyc
@biggayicecream