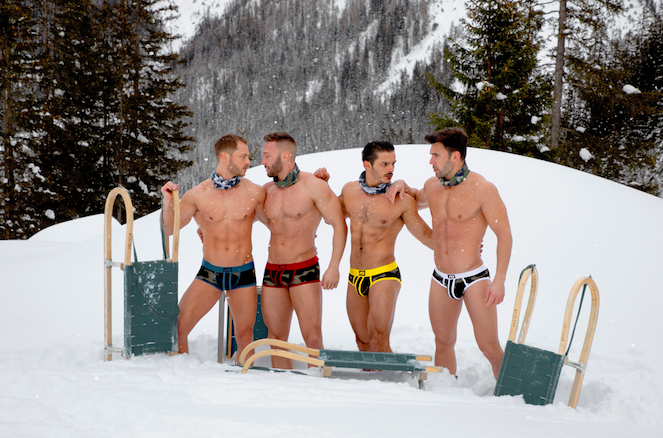 Addicted Unveils Its Steamy 'Flammable Ice' Collection
"This winter's underwear collection is designed to transport men to the kingdom of their deepest fantasies," says Chris Lynch of Addicted USA. The brand's new "Flammable Ice" underwear collection features tight-fitting briefs, boxers, jocks and long johns in bold primary colors and camouflage prints. Some have padded garments, others include faux fur; all include their new 3D spacer.
What is that, you ask? It is a highly breathable, cushioned, multi-faceted fabric that is water resistant and provides a solid and comfortable fit.
"The collection is sporty, stylish, futuristic and interchangeable," Lynch continues. "All gear is perfectly suited to be worn in the gym, bed or outdoors in the snow."
Because who says sports briefs have to be hidden under snow pants? Addicted has always been intended for guys who feel good about themselves, are comfortable with their bodies and are daring enough to be overtly racy.
All garments in the collection are finely and meticulously crafted by Addicted's artisan team in Barcelona. "As a men's fashion label, materials and craftsmanship are top priority," designer Carmen Monforte confirms. "More time is put into the sewing of each garment so that they are built to last through the roughest play. They are tailored to fit every body type perfectly."
Back to the 3D Spacer: Unlike regular, 2D fabrics, 3D Spacer uses two separate fabrics, joined by a microfilament yarn. It creates a breathable, 3D "microclimate" between each layer of the brief. Heat and vapor leave the body, moving to the brief's first highly permeable layer. Then, cool air provided by natural ventilation pushes the heat and vapor out, providing temperature control and maximum air circulation in the brief.
Get it now? If not, just enjoy the photos of half-naked men in ice, shot by photographer Leonardo Corredor.
Addicted is the sister line from ES Collection, the popular men's athletic wear company. Since 2009, the brand has been dedicated to the design, manufacturing and sale of men's underwear, swimwear and sportswear. It was founded by Eduardo Suner, also the founder of ES Collection, and has distinguished itself by setting trends and pushing the envelope in stylish, sexy and very wearable men's fashion.
Addicted's "Flammable Ice" collection is sold directly at AddictedUSA.com.
Photo by Leonardo Corredor