When a Kiss is More than Just a Kiss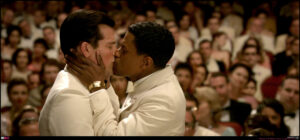 This Pride, Mr. Man looks back on the top 100 Iconic Gay Kisses that lit up big and small screens and helped make a positive statement, infusing "love is love" into the mainstream ethos.  They include Heath Ledger and Jake Gyllenhaal in 2005's monumental Brokeback Mountain, Sean Sasser and Pedro Zamora in 1992's The Real World, Ashton Sanders and Jharrel Jerome in 2016's Moonlight, and more.
LGBTQ+ representation in TV and film has come a long way since 1927, when the Oscar-winning silent film, Wings, was the first to premiere a kiss between two men on screen.  Ninety years later, romantic relationships between two characters of the same sex in major motion pictures and on TV are much more prevalent.  This past year alone showed Charlie Carver in a steamy lock with Zachary Quinto in The Boys in the Band, the adorable George Sear and Lukas Gage sharing a sweet peck in the coming-of-age film Love, Victor and Paul Bettany and Peter Macdissi exchanging a mature romantic kiss in Uncle Frank.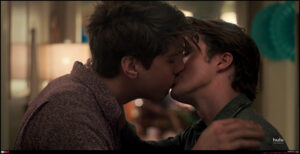 Still, man on man kissing in TV and film has encountered opposition.   Will Smith refused to kiss Anthony Michael Hall for their kissing scene in 1993's Six Degrees of Separation.  In an interview, Smith stated that Denzel Washington advised him not to kiss a man on-screen because it would harm his career.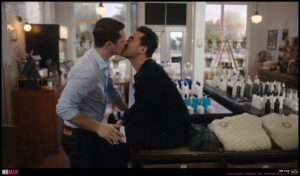 Twenty years later, in 2013, Luke Grimes left his role on HBO's True Blood when it was announced that his character was heading into a same-sex relationship with the character played by Nelsan Ellis, and would require kissing scenes between the two men.  Grimes claimed that his exit was due to a scheduling conflict but Ellis called out his co-star in media for quitting his job.  "If you have a child, if you have a son, and he comes out as gay, what are you going to do? If you have a daughter who comes out gay…? You just made a statement, and it has ripple effects."
In addition to "100 Iconic Gay Kisses", Mr. Man has compiled a brief but compelling history of iconic gay scenes in film and television, including clips from Paris is Burning, The Crying Game and Queer as Folk.
Mr. Man launched in 2013.  Its collection includes more than 8,000 stars, 90,000 photos and video clips and a vast selection of curated films and TV shows in full HD video.
Follow Mr. Man on Twitter.