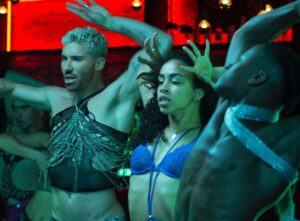 Out artist Bobby Newberry and his gal pal Fia Nyxx are offering an "Escape" to the dance floor this weekend in their steamy new club track. "Escape" aims to to make party people dance, sweat, feel free, sexy and have a good time.
"I had been feeling a lot of pressure and stress from the world and everyday life," Bobby Newberry explains when discussing the genesis of the song.  "I was hearing it a lot from friends too; how there is just always something draining our energy."
He and Fia wrote and produced "Escape" with their mutual friend, Sam J Garfield, to give people a moment to drown out their troubles and re-energize their bodies.  "It's about taking an emotional journey, letting go of the world and its problems, getting lost on the dancefloor and feeling alive."
"The song writing experience was pretty magical," Bobby Newberry recalls from his Los Angeles home.  "I had the idea for the hook and I kept singing it over and over with Fia, on continuous loop, while rallying Sam to hurry in with the house drop.   It was an incredible session.  The vibe between the three of us was electric.
The energy resonates in the high voltage music video that accompanies the song.  Filmed at Sam J Garfield's BlackRose Los Angeles, Newberry co-directed with Logan James who also shot the video.  Choreography is by Bobby Newberry, Taylor Knight and Robbie Blue.
A shoulder injury sustained by Newberry nearly shut down production on the video.  "We had to adjust all the choreography and creative," he explains.  "If you watch closely, I do ninety percent of the choreography with my left arm because my right shoulder was in pain."
Natalie Saidi styled the video and Bobby says the fashion became a whole character in itself.  "Natalie took us places we had never been, fashion wise.  She really made some iconic looks happen."
His absolute favorite are the red pants with the flowing tulle.   "I could hardly move in them but they were incredible!" he laughs.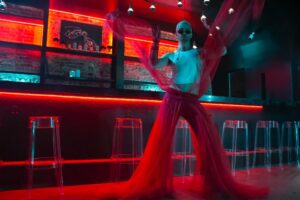 Bobby Newberry began his career in the music industry as a choreographer for Eminem.  He would go on to work with a string of the world's top artists including Nicki Minaj, The Pussycat Dolls, Missy Elliot, and Lil' Wayne.   His choreography work has been seen on TV in Dancing with the Stars and X-Factor.  In 2014, Bobby Newberry released his first single and music video, "Dirrty Up (featuring Jessie and The Toy Boys)."  It was soon after followed by his debut EP, The Newberry Special.
Fia Nyxx recently released her sophomore album, Red Umbrella.  In her music, Nyxx embraces a theatrical approach, embodying a brilliantly experimental clash of genres from rock to pop.    "Fia is passionate and rockstar glamorous with such an amazing falsetto register," Newberry says.  "It was really fun to vocal produce her on this record."
Escape is the third single from Bobby Newberry's upcoming EP.    The dancers in the "Escape" music video are Taylor Knight, Robbie Blue, Brynda Rowen, and Devin Neal.
Follow Bobby Newberry on Instagram @ bobbynewberry